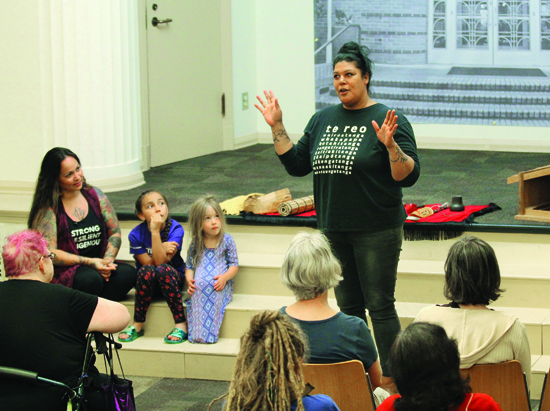 By Micheal Rios, Tulalip News 
For Native Americans, the telling of stories passed down from generation to generation remains a crucial form of knowledge transfer. Oral storytelling traditions allow tribes to communicate their spiritual and historical understandings of themselves and the world they cultivated for their children and their children's children. This all but guarantees that members of each individual tribal nation never forget their roots or lose sight of important teachings that continue a harmonious and cooperative existence with nature.
The tradition of storytelling lives on in Tulalip, where several prominent storytellers have been featured as part of a library-ran initiative to teach the general public about Native culture and to honor the Indigenous land on which they reside.
Culture bearers Michelle Myles, Natosha Gobin, and KT Jean Hots comprised a team of Tulalip storytellers who shared their craft at the Everett Public Library. The event was part of the city of Everett's 125th anniversary celebration.
"The city of Everett, including the Everett Public Library, has been putting together a series of programs to celebrate the anniversary," explained Mindy Van Wingen, Assistant Director Everett Library. "We wanted to include the Tulalip Tribes and honor the Native heritage of Everett and what came before the city was developed. The storytellers offered a great program. We are really happy with the attendance and the visitor engagement."
The library's auditorium was filled to capacity with eager listeners willing to explore local history from the Tulalip Tribes' perspective, while learning about a vibrant culture and community. 
"We were invited to share traditional stories from our area and ancestors," said Natosha Gobin, Lushootseed Teacher. "We shared oral history and helped the listeners gain a better understanding of the life ways of Coast Salish people. 
"Storytelling is significant because that is how all of the teachings were passed on, from the elders to children through oral teachings, and those teachings were passed on daily. We didn't have a written language until the late 1960s, so storytelling is how everything that makes us who we are was passed on."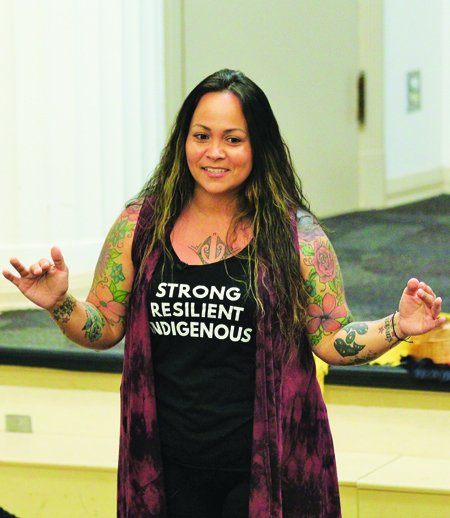 Natosha and Michelle took turns sharing traditional stories, such as The Seal Hunting Brothers, The Gossiping Clams, The Basket Lady, and A Story About Coyote. In each story were lessons learned about living in a good way, instructional survival skills, and even explanations for natural phenomena. 
At one point, storyteller apprentice, nine-year-old tribal member KT took center stage and shared the story Her First Basket. After finishing her favorite story, KT received a loud applause from the audience.
"I think it's important for kids to learn to tell stories. They can learn and go home and teach their parents and brothers and sisters," shared KT after her storytelling session. "Kids can learn our culture and Lushootseed and help teach it. Family or friends can help you like the cedar tree helped the little girl in Her First Basket."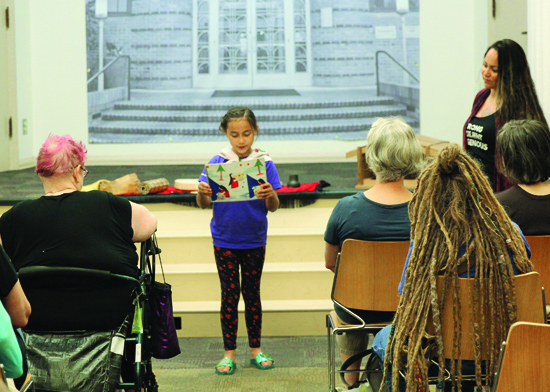 Native American storytelling has always been and continues to be equal parts real, metaphorical, spiritual, instructional and transformational. Most of all, however, the stories are entertaining and memorable to the audiences who hear them. This way the stories are remembered and passed down to the coming generations, who needs to understand who they are, where they come from, and why the world is the way it is.
"Storytelling means being the example, being the one that kids can look up to and ask questions to," explained tribal member artist and storyteller Ty Juvinel. "Having a story to tell children, instead of yelling or chastising when they've done something wrong allows them to learn in a good way. From stories they learn the values of their people and how to present themselves."
Ty has recently partnered with the Seattle Public Library system and will be sharing Coast Salish stories and tradition through the summer. Intended for kids ages 7-11, there is no registration required for families to bring their kids to a Ty story time.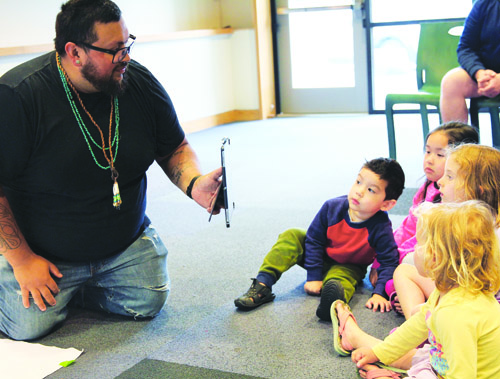 Using modern technology, Ty has fully illustrated and digitized several of his stories for use on an iPad. Of note, the University of Washington has purchased his digital stories to be used in their travelling exhibits and Burke Mobile for educating people on Coast Salish culture.
Seattle's Broadview Branch was the latest to host the storytelling series. Children were treated to several original stories, including How Mouse Moved the Mountain, When Beaver Taught Man, and How Puppy Got His Ears.
"I loved it!" remarked Irene Haines, Librarian and enrolled member with Confederated Tribes of the Colville Reservation. "Ty did a wonderful job of being patient with the kids and speaking to them in their own language. There's such a wealth of art and culture to be shared." 
Although the tradition of storytelling is less common today than it was many years ago, the rich oral tradition lives on through the current generation of culture bearers.