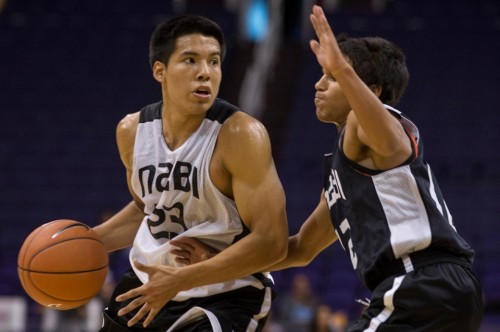 By Tristan Ahtone, ALJAZEERA America
PHOENIX — Coach Andrew Bowers was exhorting his players on the court at the US Airways Stadium, his voice cutting through the din of cheering spectators, the squeaks of basketball shoes, the shrill blasts of the referee's whistle.
"Defense!'' he roared. "Lock it up! Lock it up! Lock it up!''
The 18,422-seat stadium is the home of the Phoenix Mercury, a Women's National Basketball Association franchise. But that wasn't the team on the court. Bowers is the coach for the Rez Runners, a team of young men from the Seminole, Miccosukee and Winnebago tribes from Hollywood, Florida, where their home court has an audience capacity of just about 200.
By halftime on Saturday, they were tied 31-31 against the Cheyenne Arapaho team in the final game for the gold championship at the Native American Basketball Invitational (NABI).
The Cheyenne Arapaho, representing the tribe of the same name from Oklahoma, have been NABI champions five times. The Rez Runners had made it to the quarterfinals before but never this close to the big prize.
The two teams knew each other. Well.
"It's a rivalry. It's not friendly at all," said Trewston Pierce, an 18-year-old Seminole tribal member and a Rez Runner. "We're looking to smash 'em."
At halftime, a victory for Pierce and the Rez Runners was fragile but within grasp.
For five days every July, 128 high school teams from the United States, Canada and New Zealand compete in the nation's largest Native basketball tournament. The prizes: a trophy, T-shirts, hats and — most important — bragging rights.
For many in Indian Country, basketball is the game of the gods, just as hockey is to many Canadians or soccer to many Brazilians. It's not clear how it gained such a foothold or why — it just is — but it does have a style and name among those who have been initiated: Rez Ball.
"We've been playing this way for decades," said Tahnee Robinson. "It's in our blood."
Robinson was the first Native American drafted into the WNBA, after a fruitful career playing college ball in Nevada, and has been playing professionally overseas the last few years — Israel, Bulgaria, Ukraine, China and now Poland.
"Depending on where you go overseas, they play a fast pace, and some other places they like to really play with more finesse and set the ball up and things like that," she said. "Rez Ball is a fast-paced game where anybody on the court can bring up the ball at any time."
Guards, shooting guards, posts, forwards — it doesn't matter what your position is; in Rez Ball, anyone can take the ball up, and everyone is on the hook to pass, break and rebound.
"It's just good court sense," said Robinson. "Just knowing that that person is going to be there without you even having to look."
In other words, Rez Ball is more democratic — or more chaotic, depending on how you want to look at it.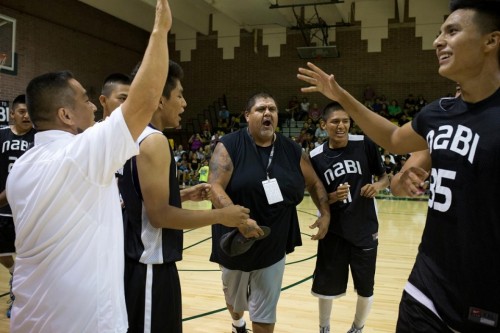 The air conditioning roared in the modest Phoenix College gymnasium. Outside, the temperature hovered in the triple digits, but inside, brown faces and black hair filled the stands as Northern Thunder squared off against NN Lady Magic for the title of Girls Silver Champion.
"A lot of people in Indian Country love basketball," said John Andreas, a coach from White Mountain Apache, Arizona. "It's a part of life. Navajos, they herd sheep. Cowboys they get the cows together. Natives, they love to play basketball. That's just the way it is."
In many ways, the NABI is like Gathering of Nations or even Indian National Finals Rodeo: Teams, spectators and families get together to mingle, catch up and support.
"It's very important to remember that this is all about the youth," said Andreas. "This is our way of life."
There are myriad Native basketball tournaments across the country during the year. The NABI is the largest and is focused entirely on high school students, with the purpose of attracting scouts. By allowing only 128 teams per year to compete — 64 each for boys and girls — organizers hope to keep the quality of games high and to match NCAA brackets.
Roughly 1,600 student athletes attend annually, and teams must apply to play and follow guidelines. All players must be tribally enrolled and in high school and must attend educational seminars while participating.
"You can teach so much through the game of basketball," said Yvonne DeCory, manager of the South Dakota Many Feathers team. "You can build character. You can build self-esteem. You can teach math."
Because of NCAA rules, the big division schools don't recruit at the NABI — only community and tribal colleges. However, the very prospect of a college career is enough for many coaches to push their kids.
"A lot of these kids are onsika. That means kind of poor, a little bit," said Many Feathers coach William Good Eagle Jr. "Most of these kids don't get a chance, or they're too scared. We just want them to get out and try it."
Overwhelmingly, coaches said basketball was also a way to keep kids off the street and out of trouble. With so many depressing statistics available to describe day-to-day Native life, a basketball game can be a huge breath of fresh air as well as an unassuming nod to a brighter future for the next generation.
"We may be seeing future councilmen or tribal chairmen on these courts," said Martha Tommie, a Seminole tribal member and spectator. "Why wouldn't we want our kids to blend together and our tribes become friends as youth? Then when they're older and wiser — 'Hey, remember us? Let's help each other out.'"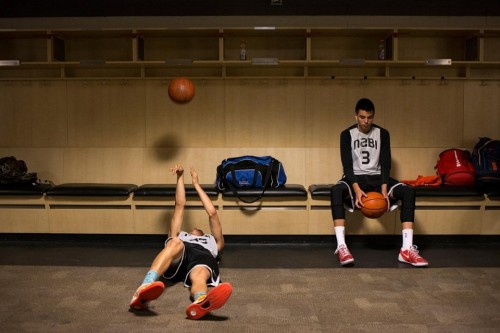 It was quiet in the locker room, save for the sound of a few basketballs bouncing. The boys stretched as the sounds of music and the muffled voice of an announcer filtered down the halls and through the concrete walls of the stadium.
Ryland Moore had A$AP Ferg on his headphones, Mathew Wingett listened to J. Cole, and Trewston Pierce listened to a mix of 50 Cent and traditional Seminole hymns.
Coach Bowers had something to say to the Rez Runners.
"Intensity — let's start it out from the beginning," he intoned. "Punch 'em in the mouth, like we always say. Make 'em not want to play anymore. Intensity. That means on offense and on defense."
The boys nodded. They knew what they had to do.
"We said 'one game at a time' the whole way here," said Bowers. "We're at that last game. Go get what's yours. Go get what's yours. Let's go! 'Win' on three."
The boys huddled up and in unison yelled, "One, two, three, WIN!"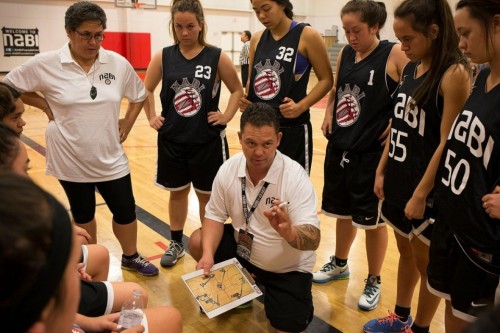 Basketball is important not just to Native communities in North America; it has made its way to tribes in other parts of the world.
"Our major sport in New Zealand is rugby," said Ramari Leonard, the delegation head and a coach for Nga Hau E Wha. "Our Maori youth grow up dreaming of becoming an All Black, so usually, basketball becomes secondary."
Nga Hau E Wha, or "four corners," is named that because team members represent Maori tribes from across the island nation. Essentially, it's a Maori all-star team.
"For Maoris, when we come to do our tournaments, we have a cultural night, and it's an expectation that each tribe will perform," said Leonard. "That is a highlight of the tournament, and that's what we expected, so we're a little bit intrigued that it doesn't happen [at the NABI]."
At the NABI, Native culture isn't front and center like at other events, at least not what one might easily identify as Native culture. Instead, basketball is the culture, and despite the difference in basketball customs, tribes from both sides of the Pacific are finding more similarities than differences.
"I'd like to think our interactions with the Native Americans would be positive so they think well of Maori people," said Leonard. "It's more about the social context. The game is just a reason why we come together."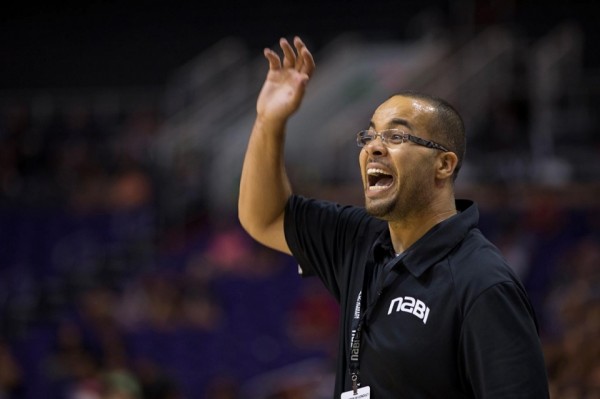 Three minutes left on the clock, and the Rez Runners were ahead, 60 to 47.
Timeout.
"Try and run the clock if you can," said Bowers as the boys gathered around him. "If they give it to you and it's there, take it. If not, pull a Steve Nash. Go in, dribble it back out. All right?"
The 30-second timeout buzzer blared, and players from Cheyenne Arapaho began trickling back out onto the court. The crowd screamed.
"Three minutes," yelled Bowers. "Three minutes until you get what you deserve. Challenge all shots. Let's go, guys."
Fans called out to the team, "Goooooooo, Rez Runners!'' Top 40 hits blared over the stadium's sound system, and the Rez Runners did exactly what they were supposed to: They ran down the clock and took shots when they could.
With about 10 second left on the clock, Cheyenne Arapaho suddenly lost energy, like runners who had crossed the finish line and had no reason left to run. The buzzer rang, and then a cheer rose from the crowd.
The final score: 66 to 51. The Rez Runners had their first NABI title.
The boys claimed their shirts, hats and trophy, then moved on for photos. The next day, some of the Rez Runners would fly back home, while the rest would drive — a two-day journey back to the tip of Florida, the homeland of the Seminole tribe.
"Our young people are just like the whites, the blacks, the Mexicans, whatever," said Yvonne DeCory. "They put their sneakers on just like them, one at a time, and lace 'em up. But Natives? We got game."