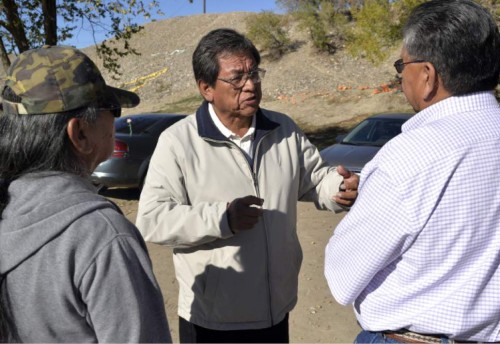 Tribal law now requires top leaders to understand, be fluent; voters will decide whether to continue or ease the qualification.
By FELICIA FONSECA, The Associated Press
Flagstaff, Ariz. » It's a question that dominated conversation in the Navajo Nation presidential election: Should the tribe's top leader be fluent in the language?
Voters will settle that question Tuesday in a referendum vote.
Tribal law now requires candidates for tribal president and vice president to understand Navajo and speak it fluently, and read and write English — a qualification that can be enforced through tribal courts. An affirmative vote on the referendum would let individual Navajos decide whether candidates speak and understand Navajo well enough to hold office.
The debate goes beyond tribal politics and to the heart of the identity of Navajos. The language is a defining part of the tribe's culture, said to be handed down by deities, but not all Navajos believe it should dictate who gets to seek the tribe's top posts.
Judy Donaldson says she's willing to let a Navajo president learn the language along the way, as long as that person is well educated and can navigate politics on and off the reservation. She said voters should question candidates at campaign rallies to get a true sense of where they stand.
"The voters know who they want to lead us," she said. "They're not just going to pick my uncle because he gave us 20 bucks. They'll say, 'look at this person here, he can do it, he has a Ph.D.'"
A simple majority of voters would have to approve the referendum for it to pass. The revised requirement would be in effect for the 2018 election.
The Navajo Nation Council approved the referendum after efforts to make changes to the fluency requirement failed through other legislation. It came as the result of Chris Deschene being disqualified from the most recent presidential race because he refused to show he could speak fluent Navajo.
Some Navajos rallied around him, questioning the definition of "fluency" and saying a well-educated Navajo who intended to learn the language shouldn't be ruled out for the presidency. But others said Deschene lied when he attested to being fluent in the language and deserved to be knocked out of the race. The tribe's high court ruled that fluency in Navajo is a reasonable requirement for the presidency.
More people speak Navajo than any other single American Indian language, about 170,000 out of 300,000 tribal members, according to the U.S. Census Bureau. Tiffany Manygoats doesn't want to be counted among the non-speaking statistic and strives to learn the language, going so far as to seek out a partner who knows it.
"Being someone who doesn't speak fluently and trying to learn my language and culture and everything, I don't want to have our Navajo Nation president lacking what I lack," she said. "It's a little scary knowing it could die out pretty soon and I would be just another wash out."
Tribal President Russell Begaye said the Navajo people should insist that the top two leaders speak Navajo, a language that the federal government tried to eradicate but also sought out for a code that helped win World War II.
"The referendum is part of this whole brainwashing agenda to say that we should lay down our language and assimilate into the American society," Begaye said.
Christina Platero sees learning the Navajo language as a personal decision and one made within families, not one tribal government should mandate. Not knowing the language fluently shouldn't be a black mark against candidates, she said, and suggested the president could have an interpreter to speak with tribal members who don't understand English.
Above all, she encouraged Navajos to vote Tuesday.
"Think about it first before you make that decision, think about the consequences," she said.