An educational partnership aims not only to fight the disease among the Native American population, but to engage more students of native descent
By Charly Edsity, 12 News & The Arizona Republic
There isn't a word for cancer in most indigenous languages, yet it affects Native Americans at an abnormally high rate.
The Partnership for Native American Cancer Prevention (NACP), a joint effort between Northern Arizona University and the University of Arizona Cancer Center, is the recipient of a $13 million grant from the National Cancer Institute, that will be split between the both universities.
"People die of cancer in Native American populations higher than other groups," said Jani Ingram, associate professor of chemistry and biochemistry at NAU and member of the Navajo Nation.
According to the Intercultural Cancer Council, cancer is the third-leading cause of death among Native Americans, but there is no conclusive evidence to determine why.
Since 2002, NACP has worked to understand the reason cancer affects Native Americans, specifically tribes in the Southwest, at higher rates and seeks to engage Native American college students in entering science fields to help further research.
NAU's program has 10 student researchers working under Ingram, some whom have been personally impacted by the deadly disease.
"It started with my grandfather, who worked in uranium mines and he died from lung cancer," said NAU senior Erik Peaches, who is of Navajo descent.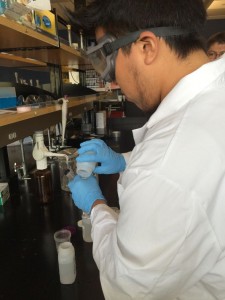 In recent years, cancer spikes among older Navajos have been attributed to uranium exposure, a mining industry that boomed on the Navajo Reservation during the 1950s. The radioactive element still threatens communities surrounding abandoned mines and even contaminates drinking water.
NAU senior Ethan Paddock's grandmother battled breast cancer that he says was caused by uranium exposure on the Navajo Nation.
"My family is from Cameron (Ariz.) and I know there is a huge uranium deposit over there," Paddock said. "And it's actually affected my grandmother and (she) got breast cancer."
After a round of chemotherapy, Paddock's grandmother has been declared cancer-free, but most with the disease don't have the same outcome.
The grant money will continue the research being conducted in the Hopi, Navajo and Tohono O'odham communities, work that Ingram said more Native American students should consider.
"If it is a native student, a Navajo student, a Hopi student working on an issue that's really important to their community, the passion is just right there," Ingram said.