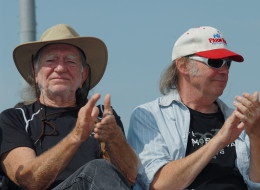 Source: Huffington Post
Aug 18 (Reuters) – Veteran musicians Willie Nelson and Neil Young are teaming up for a benefit concert in Nebraska to raise funds in the fight against land being sold for the Keystone XL oil pipeline project, charity organization Bold Nebraska said on Monday.
,
Nelson, 81, and Young, 68, both known for their ties to country rock and folk music and their environmental activism, will perform at the "Harvest the Hope Concert" on Sept. 27 at a farm near Neligh, Nebraska.
The farm is owned by Art and Helen Tanderup, who are campaigning against selling their land to TransCanada Corp to lay a pipeline that would carry crude oil from northern Alberta to refiners in Texas.
"Our family has worked this land for over 100 years. We will not allow TransCanada to come in here and destroy our land and water for their profit," said Tanderup.
The concert is being hosted by Bold Nebraska along with Indigenous Environmental Network and Cowboy & Indian Alliance, comprising agricultural and tribal landowners who believe the pipeline will negatively impact the environment.
The Nebraska Supreme Court will hear arguments next month in a dispute over the planned 1,200-mile (1,900 km) planned route for the controversial $5.4 billion pipeline. A court ruling is not expected until 2015.
(Reporting by Piya Sinha-Roy in Los Angeles; Editing by Leslie Adler)