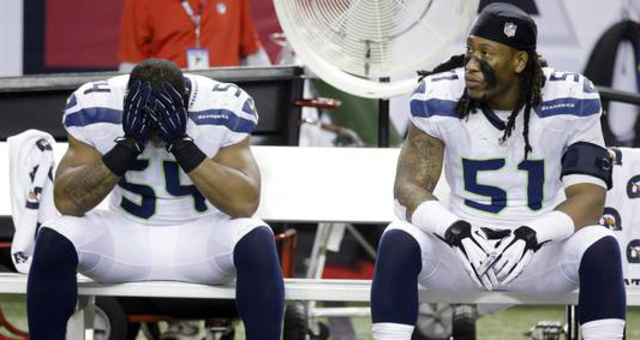 BY JOSH KERNS  on July 31, 2013
Whether it's a decade of futility from the Mariners, the failed efforts to bring the NBA back to town or last season's heart-breaking, season-ending Seahawks playoff loss in the final minutes to Atlanta, Seattle sports fans know misery. And now Forbes is making sure the rest of the country feels our pain, naming Seattle the most miserable sports city in America.
The annual ranking isn't solely about absolute futility, Forbes says. Coming up short in the playoffs can cause even greater agony, like the Seahawks' 2005 Super Bowl loss to Pittsburgh.
Writer Tom Van Riper came up with the list based on a misery index, giving the most misery points for the worst records in pro-sports championship round play. That includes the Super Bowl, World Series, NBA Finals and NHL Finals. Teams then get fewer points for futility in preceding playoff rounds. All told, only major U.S. sports towns with at least 75 cumulative NFL, MLB, NBA and NHL seasons are eligible.
Close, but no cigar isn't the only criteria. Van Riper also gives points for championship droughts, adding points based on how long it's been since the last title (Seattle's last was the Sonics in 1979, as the WNBA isn't counted in his rankings.)
The index also gives bonus points for cities that lost a team to relocation. We certainly know how painful that is with the Sonics move to Oklahoma City.
The new rankings could spark plenty of arguments from fans in other cities who've certainly suffered more than their fair share. Atlanta comes in just behind Seattle, thanks to a regular pattern of playoff disappointment from the Braves, the Falcons frequent playoff losses and the city losing its NHL franchise twice.
Fans in Phoenix have experienced plenty of playoff pain with the NBA Suns making it to nine western conference finals and two NBA Finals without a title. In Buffalo, the faithful have suffered four Super Bowl losses by the Bills while the NHL Sabres have yet to win the Stanley Cup despite making the playoffs 29 times since 1973.
As they say, misery loves company. So I guess we can take some comfort knowing we're not alone. And with Super Bowl hopes so high for the Seahawks, maybe we'll get off the list by this time next year. Or at the very least, we can solidify our spot atop the index. We certainly spend plenty of time there. Seattle was most miserable in 2011, slipping to number two a year ago before reclaiming the top spot.
Forbes most miserable sports cities:
1. Seattle
2. Atlanta
3. Phoenix
4. Buffalo
5. San Diego
6. Cleveland
7. Kansas City
8. Houston
9. Washington, DC
10. Denver