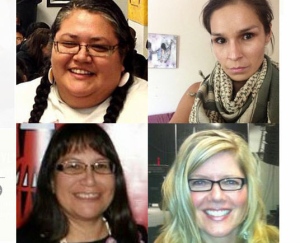 Derrick on December 10th 2013 WC Native News
What started in Saskatoon one year ago with a small teach-in grew into a global movement whose founders were recently named by Foreign Policy magazine to its top 100 global thinkers list.
The founders — Jessica Gordon, Sylvia McAdam, Sheelah McLean, and Nina Wilson — are on the list with other notables such as NSA whistle-blower Edward Snowden, U.S. secretary of state John Kerry, Pope Francis, teenage activist Malala Yousafzai, Canadian astronaut Chris Hadfield, and Facebook founder Mark Zuckerberg.
The group's entry on the list explains how the global movement started when the four women started emailing each other about concerns with proposed federal legislation affecting land management, water management and several other issues related to First Nations, Metis and Inuit people. They started a Facebook page called "Idle No More" to coordinate local meetings and events.
"Before long, #IdleNoMore was trending on Twitter, and protests under the same name spread across Canada. Solidarity demonstrations also occurred in the United States, Europe, and Australia," the entry states. "The protests in particular targeted Canada's extractive industries, asserting that new pipelines and other projects would destroy land and disrupt ecosystems. One protest delayed exploratory drilling in British Columbia."
This is the fifth year the magazine has put out the list.
"This (is a) remarkable list of people who, over the past year, have made a measurable difference in politics, business, technology, the arts, the sciences, and more," the magazine states on its website.
Link: http://www.foreignpolicy.com/2013_global_thinkers/public/