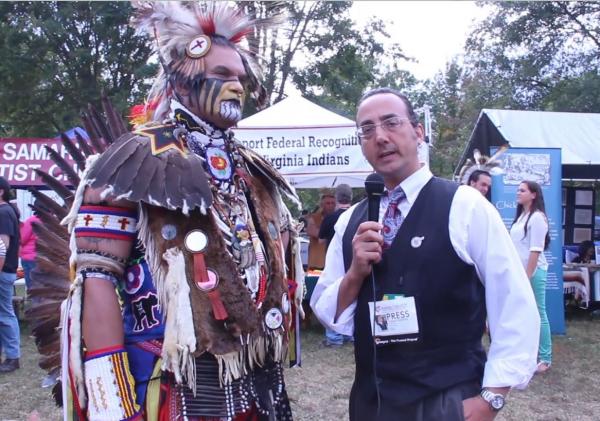 Source: Indian Country Today Media Network
As a way to celebrate Native American Heritage Month, Cox Communications in Virginia will air "Hampton Roads Community and Culture," a television program that highlights several powwows in the Virginia and North Carolina areas and teaches about Native culture in the region. The show was produced and hosted by ICTMN correspondent and Schilling Media Inc. owner and executive vice president, Vincent Schilling.
"Over the course of this past summer, I attended a lot of Native American powwows and I realized there are still a lot of people in the Hampton roads community who don't know about Native culture," Schilling said. "I filmed my adventures over the summer, asked a lot of questions and created this television program."
During the program, Schilling interviews tribal members in Virginia and North Carolina from the Meherrin, Chickahominy and the Nottoway Indian tribe of Virginia powwows.
"Cox is pleased to partner with Schilling Media to air this special programming during Native American Heritage Month," said Emma A. Inman, director of public affairs of Cox Communications Virginia. "This is a wonderful opportunity for us to engage the community in the celebration of the rich history, culture and traditions of Native Americans from our region."
In addition to providing several airtime dates for the entire month of November, Cox Communications Virginia will also be filming a segment of Schilling's Native American Heritage Month Celebration at Pembroke Mall in Virginia Beach called "Hot Ticket," this coming Saturday, November 9.
Brad Scott, CEO and president of Cetan Corp., a Native American-owned business software company has also been a major supporter of the event and the television program. "Cetan Corp appreciates this opportunity to support our region's Native American community and this event by Schilling Media wholeheartedly," said Scott.
"I think it is fantastic that a mainstream media company like Cox is so genuinely interested in the rich and vibrant culture in society including the Native American Community here in Virginia and outlying regions," Schilling said.
The "Hampton Roads Community and Culture" television program will air most Mondays and Wednesdays at 6:30 p.m. and Saturdays at 8:30 p.m. in November on COX 11 in the Hampton Roads region in Virginia.
"I commend their efforts to pave the way for other media organizations. I hope folks can learn a lot about Native culture each Monday, Wednesday and Saturday this November," said Schilling. "I had a fantastic time producing and hosting this program. I am also looking forward to the event on Saturday."
The Native American Heritage Month Celebration at Pembroke Mall will be taking place this Saturday from noon to 4 p.m.
Read more at
http://indiancountrytodaymedianetwork.com/2013/11/07/tv-program-created-honor-virginia-and-north-carolina-native-communities-152101