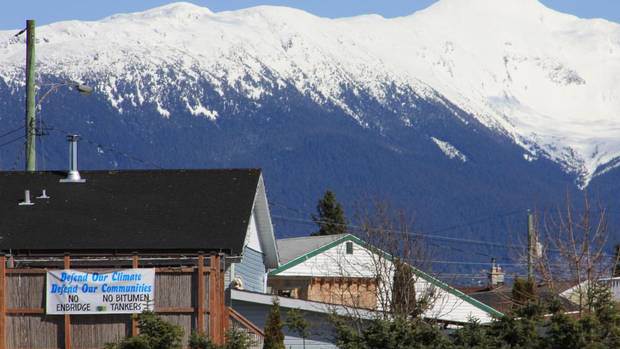 Globe and Mail Jun. 17 2014
The federal government's decision to go ahead with the Northern Gateway pipeline brought chiefs and elders to tears when news reached them at a scientific conference on ocean health in the Great Bear Rainforest.
Shaking with anger, their voices trembling with emotion, native leaders brought the conference to a standstill Tuesday as they spoke of their dismay over the decision – and of their commitment to fight to stop the project from ever getting built.
"Pretty shocking … it's a tough, tough piece of news," said Wigvilhba Wakas, a hereditary chief of the Heiltsuk Nation.
"We see this all over the world, where corporate interests are overriding the interests of the people," said Guujaaw, past president of the Council of Haida Nation and one of the top political leaders among native people in B.C.
"It's way out of control and it's probably going to take decisions like this for people to stand up [together]. I think this is a test of humanity now to stand up and fight back," he said.
Wickaninish, former president of the Nuu-Chah-nulth Tribal Coucil, said the federal government had made "an ominous decision" that he hoped would unite native and non-native people in a common cause, as the battle over Clayoquot Sound did in his traditional territory on Vancouver Island, where mass arrests stopped logging near Tofino.
"This is not just an Indian fight … it's all the people," he said.
Wahmeesh, vice-President of the Nuu-Chah-nulth, said he felt an emotional blow when he heard the decision, which spread around the conference as participants read the news bulletins on their smartphones.
"My heart kind of sank, like I'd lost somebody. Like a death in the family," he said.
Wahmeesh said he was going to return to the Nuu-Chah-nulth, a large collection of 14 tribes on the west coast of Vancouver Island, for an urgent meeting on the pipeline project. And he promised that the chiefs would be united in pledging support to those tribes along the pipeline route across Northern B.C.
"This is probably the biggest decision this government will ever make in my lifetime [affecting First Nations]," he said, struggling to find a way to describe the magnitude of the decision.
Wahmeesh echoed those who urged a coalition between native and non-native people to fight the pipeline.
"We'll stand together as Canadians," he said.
Margaret Edgars, an elder from the Haida Nation, was in tears as she spoke to the gathering of scientists and native leaders from Alaska, B.C., Washington, Oregon and California who had gathered for a conference to discuss the resurgence of sea otters on the West Coast.
"I was hurt a bit when I heard it," she said of the news of Ottawa's support for the project. "But with everyone speaking out about it here I'm feeling a little stronger. … I think we've had enough of what they're doing. It's time to stand together united. … We have to continue with the fight."
After Alaskan delegates had reminded the gathering of the long, enduring impacts of the Exxon Valdez oil spill, Ms. Edgars said tankers pose too great a risk to coastal B.C.
http://www.theglobeandmail.com/news/british-columbia/first-nations-leaders-urge-natives-and-non-natives-to-unite-against-northern-gateway/article19214189/?cmpid=rss1