Erik Brady, USA TODAY Sports  April 13, 2014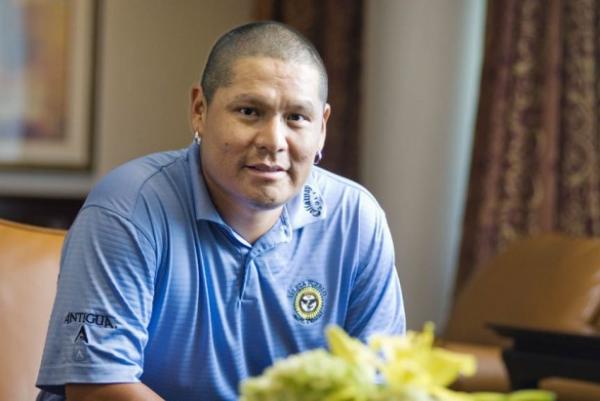 The Notah Begay III Foundation pulled its support from this weekend's Arizona golf tournament to benefit scholarships for Native American students when it learned the title sponsor was the Washington Redskins Original Americans Foundation.
"I find it underhanded and despicable that the Washington football team would co-opt this event," Crystal Echo Hawk, NB3 foundation executive director, told USA TODAY Sports on Sunday. "As soon as we found out about their involvement we withdrew our support."
Begay, a four-time PGA Tour winner and an analyst with the Golf Channel, is Navajo, Isleta Pueblo and San Felipe Pueblo. He is a longtime critic of the Washington team name, which he called "a very clear example of institutionalized degradation" on ESPN last year.
MORE: Nonprofit National Indian Gaming Association pulls support
Echo Hawk, who is Pawnee, said the NB3 Foundation was asked in February to donate silent auction items for a golf tournament to be held in Chandler, Ariz., this month; the foundation donated golf apparel.
When she found out Friday that Saturday's event was sponsored by the NFL team's foundation, she called the radio station that asked for the donation. Echo Hawk spoke to Tony Little, general manager of Arizona radio station KTNN, and demanded that NB3's name be removed from the event officially called the Washington Redskins Original Americans Foundation (OAF) 1st Annual KTNN Celebrity Golf Tournament.
"The NB3 Foundation does not support the Redskins or its organization OAF," NB3 said in a statement. "We are adamantly opposed to the team's continued use of this derogatory name."
Echo Hawk said she believed OAF came in as title sponsor very recently. She said she asked Little how much money the football team's foundation paid for that but that he couldn't talk about it.
The Washington football team did not immediately return a message asking for comment. KTNN's Little also did not immediately return a message asking for comment.
The National Indian Gaming Association, a nonprofit that includes 184 Indian nations as members, pulled its sponsorship Friday after learning of the involvement of the football team's foundation, as reported by USA TODAY Sports that day.
Ernest Stevens, chairman of the gaming association, said his organization finds the team name offensive and he criticized team owner Daniel Snyder for starting the foundation.
"It's a blatant attempt to try to buy out the issue," Stevens said.
Contributing: Brent Schrotenboer