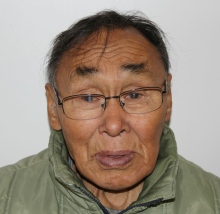 CBC News May 23, 2014
The victims of a polar bear attack near Arctic Bay, Nunavut, are still receiving medical treatment.
Isaac Shooyook, MLA for Quttiktuq, spoke about the attack in the Nunavut legislature Friday morning.
Two people were attacked during a hunting trip nearly 100 kilometres outside of Arctic Bay.
Shooyook says the bear pulled his grandson out of a tent by the head in the middle of the night.
"When he started screaming, the bear turned to the other man," he said in Inuktitut. "My grandson then grabbed the gun and the bear threw the other man."
Another group of hunters drove the two men back to the community. Shooyook says neither of the victims have broken bones, but they were scratched and bitten.
The two were flown to Iqaluit for treatment Thursday night.