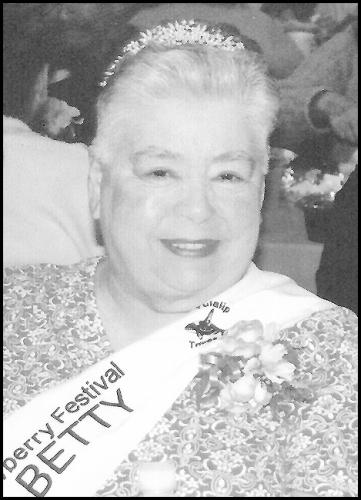 (Gobin) July 11, 1936-March 15, 2015 Betty J. Taylor (Gobin) was born on July 11, 1936 to Joseph and Ruth Gobin. She passed away peacefully surrounded by her family and friends as she began her last journey to see our Lord, her husband, son and daughter on March 15, 2015.
She was a lifelong member of the Tulalip Tribes and worked for Tulalip Elementary School until she retired after 33 years, at which time her last grandchild graduated from the Tulalip Elementary School. She enjoyed retirement and spending time with her husband of 63 years. One of her favorite passtimes was going to the casino. She loved going on trips to the ocean with her children and grandchildren, taking long rides and having family dinners. She always opened her home to her Seone family and the new baby dancers. Her family was the most important things in her life especially raising her great grandson "Nico".
She is survived by children, Connie (David) Watters, Calvin (Marguerite) Taylor, Clifford (Janet) Taylor, Sharon (Steve) Taylor, Lance (Tammy) Taylor, son-in-law Rod Simpson Jr.; grandchildren, Scott, Shannon, Montoya, Erin, Shane, Lee, Angie, Jason, Curtis, Skylor, Christina, Matt, Avel, Georgina, Joe, Tara, Ryan, Shana, Rodney, Malory, Lavon; great grandchildren, Kirsty, Brooke, Kavan, Keegan, Austen, Cailee, Daylin, Madison, Morgan, Brittany, Adriana, Makia, Colt, Evan, Blaize, Samuel, Abigail, Samara, Maia, Odessa Rose, Jaidis, Brayden, Kalista, Robbie, Autumn, Cole, Conner, Nico, ShyeAnne, Elyssa, Shylah, Ryelon, Tiyanna, Cruz, Wanisha, Muriel, Ashlynn, Caleb, Kiley, Cicero, India, Tan, Ant, Jeddy, Zion, Nile, Jamaisia, Mircale, Diamond, Caidance, Krissy, Jaylynn, Jared, Levi, Kiana, Haylen, Lala, Solay, Draven, Sage, Zach, Tyson.
She was preceded in death by her husband of 63 years, Curtis G. Taylor; daughter, Kim (Taylor) Simpson; son, Gordon Lyn Taylor; granddaughter, Shannon Morning Sun; grandsons, Jamen Henry and Dallas Kane Taylor; her parents Joe and Ruth Gobin; brothers, Bernie and Tom Gobin; sisters, Harriett Erickson and Lavon Schneegan, Violet Parks, Ida Schlosser.
She will be missed by all who had the opportunity to know her. Services at the family home were held at 5:00 p.m. on Wednesday, March 18, 2015. Funeral services were held Thursday, March 19, 2015, 10:00 a.m. at the Tulalip Tribal Gym with burial following at Mission Beach Cemetery. Arrangements entrusted to Schaefer-Shipman Funeral Home