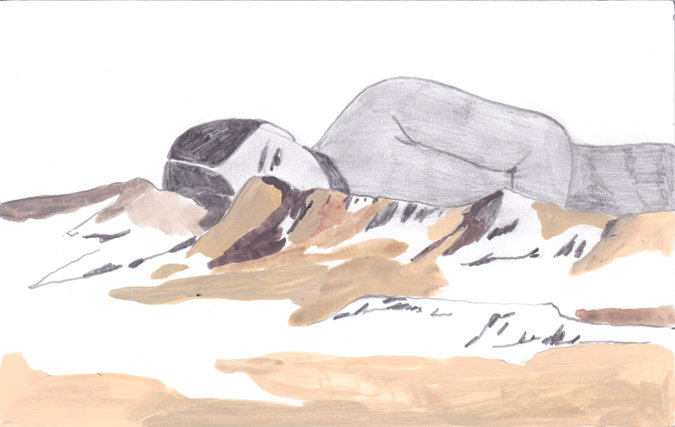 By Joe Flood, New York Times
PINE RIDGE, S.D. — OUTSIDE the Oglala Lakota tribe's child protection service office, staff members updated a police officer on the latest emergency: An 11-year old girl had texted her cousin that she wanted to kill herself and then had gone missing.
A damp breeze swirled smoke from the caseworkers' cigarettes, and the sun flitted between mottled clouds, the advance guard of an approaching spring blizzard. The officer jotted down some specifics on the girl and the remote area where she was last seen, then pulled away from the curb. They didn't want to lose another child.
Since December, nine people between the ages of 12 and 24 have committed suicide on the Pine Ridge Indian Reservation — home to Crazy Horse's Oglala band of the Lakota — in southwestern South Dakota.
They come to Pine Ridge every few years, these suicide epidemics, with varying degrees of national media attention and local soul-searching. What the news media often misses though, and what tribal members understand but rarely discuss above a whisper, is that youth suicides here are inextricably linked to a multigenerational scourge of sexual abuse, with investigations into possible abuse now open in at least two of the nine recent suicides.
I'm a wasicu (Lakota for "white person") from Massachusetts, but I've spent about half of the past decade living on the rez, working mostly as a teacher and archery coach. Within two weeks of starting my first job teaching high school English here, a veteran teacher told me something he thought was critical to understanding life on Pine Ridge: By the time they reach high school, most of the girls (and many boys, too) have been molested or raped.
His anecdotal observation seems to track with the available statistics. According to the United States Department of Justice, Native Americans are 2.5 times more likely to be sexually assaulted than other Americans, and the numbers on Pine Ridge, one of the largest, poorest reservations in the country, appear to be even greater. "We started two clinics for reproductive health in the largest high schools on the reservation," said Terry Friend, a midwife who works at the year-and-a-half-old Four Directions Clinic, which specializes in sexual assault and domestic abuse. "When I take a sexual history of a patient, I ask, 'Have you had sex against your will?' At the high schools, girls answered yes more than no."
Numbers are harder to come by for boys, but local medical professionals estimate that they are also high, and that such rates of abuse can translate to high rates of suicide. One recent study found that nationally, teenage boys who were sexually assaulted were about 10 times more likely to attempt suicide, girls more than three times more likely.
At some point, most local child sexual assault cases cross the tribal prosecutor's desk. "Unfortunately, many of those same kids have suicidal ideations and attempts," said the tribe's attorney general, Tatewin Means. "I definitely think there's a strong connection between sexual assault and suicide here on the reservation."
THE BOY LOVED the sweat lodge. He was a troubled student but took solace in the traditional Lakota form of prayer, with steam hissing off big glowing rocks in the center of a small lodge made of bent saplings and canvas tarps. School and tribal officials said the boy showed up to school one day last spring when he was supposed to be on suspension, climbed a pine tree in the schoolyard and hanged himself from a thick branch. Teachers and students saw him, and he was quickly cut down. Struggling to breathe, he sprinted for the school's sweat lodge, where he took refuge until the police and a relative calmed him down.
It wasn't the first time he had attempted suicide in or around school grounds, administrators said. He'd been depressed, and behaving erratically, with signs that he was using drugs and "huffing" gasoline. There had also been signs of sexual abuse, involving not only him but also a younger brother and male cousins he lived with. Every time one of the boys showed new signs of abuse or talked about suicide, school officials said, they called the tribe's child protection unit, and every time they were told the same thing: "It's still under investigation."
The child was not removed from the home. Then in December, two weeks after his 14th birthday, the boy hanged himself at home and became the first in the recent string of nine suicides.
His case was lost, it seems, in the web of tribal bureaucracies and federal oversight bodies that are long on backlogged cases and short on funding. The tribal child protection unit, for instance, currently has two investigators for the entire reservation, which the federal census puts at more than 18,000 total residents (though tribal officials say is closer to 40,000). The two investigators are responsible for handling upward of 40 new cases a month, and hundreds more in the long-term case management system.
About a month after the boy died, a 14-year old cheerleader killed herself. Soon after, rumors of an all-too-familiar detail started to spread: Before her death, the girl told friends that her stepfather, a longtime teacher and coach at her school, was sexually abusing her. What followed broke the usual mold, though: Her friends came forward to tell school officials. Charles Roessel, a member of the Navajo Nation and director of the federal Bureau of Indian Education, which oversees the school, said administrators acted quickly to suspend the accused teacher and refer the case to federal investigators. No charges have been brought.
Shortly after his suspension from the federal school, the cheerleader's stepfather was brought on, according to school officials, as an unpaid intern by the reservation's Shannon County school system, which is overseen by the state. His job was to shadow one of the system's principals so that he could learn to be a school administrator. The stepfather did not respond to requests for comment.
TRIBAL LEADERS and experts are struggling to understand the recent suicide epidemic (specifics on many of the cases aren't widely known), but there's general agreement on one underlying cause: the legacy of federally funded boarding schools that forcibly removed generations of Native American children from their homes. Former students and scholars of the institutions say that the isolation and lack of oversight at the mostly church-run schools allowed physical and sexual abuse to run rampant.
"My grandmother used to tell me that she didn't think she was pretty," said an E.M.T. friend of mine who responds to a suicide attempt every week or so, "because when the priests used to sneak into her dorm and take a little girl for the night, they never picked her."
Left untreated, such sexual abuse can lead to elevated rates of drug and alcohol abuse and suicide, said Dr. Steven Berkowitz, director of a center on youth trauma at the University of Pennsylvania.
One sad irony of the recent suicides is that they come in the middle of new initiatives to address sexual assault. The Four Directions Clinic is treating young abuse victims who were previously sent to distant hospitals off the reservation. Tribal and federal law enforcement officials now confer regularly to better coordinate investigations. High school students recently petitioned the Pine Ridge school board to create health classes for vulnerable middle school students, and the board unanimously voted to find necessary funding.
Still, the challenges are enormous. Six days after the 11-year-old girl went missing, protection services still hadn't located her, though a caseworker says the hope is that the girl and her mother have gone to a domestic violence shelter somewhere — the reservation doesn't have its own.
Shortly before the 14-year-old boy committed suicide, a school administrator tried to counsel him. Lakota tradition, she told him, teaches that a spirit set free by suicide is doomed to wander the earth in lonely darkness. "You don't want that, do you?" she asked. He looked her in the eye, a minor taboo for Lakota children to do with their elders, and said, "Anything's better than here."