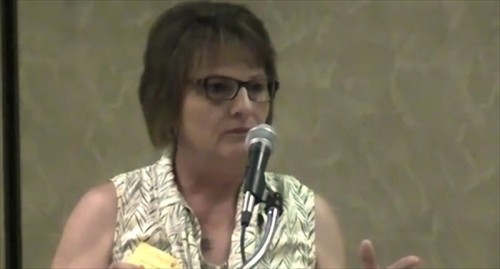 By Arturo Garcia, RawStory.com
A South Dakota lawmaker made the bizarre claim on Tuesday that Common Core educational standards was partly to blame for a rash of deaths among Native Americans, Think Progress reported.
"We've buried eight kids down on that reservation in the last week," state Rep. Elizabeth May (R) said. "We need to sit up and pay attention. I'm not naive enough to think the Common Core is what's causing all of this, but it's part of the effect. We've got teachers down there who have just quit teaching it."
May did not mention any specific cases or even name which of the state's nine reservations where these deaths occurred. She said she had spoken to an unidentified "Indian educator" who opposed Common Core but had not been able to discuss the issue with lawmakers.
Indian Country Today Media Network reported last week that five Oglala Sioux teenagers had committed suicide on the Pine Ridge Indian Reservation over the past two months. However, the curriculum was not cited as a possible reason for any of the deaths. Yvonne DeCory, who works with a tribal suicide prevention program, mentioned bullying, poverty and "tenuous family relationships" as factors.
"Being a teenager is hard," DeCory said. "Being raised by your great-grandma because your parents aren't around, that's a hard life. You don't stay young long on the reservation. You have to grow up pretty fast."
May made her remarks as legislators debated revisiting a bill that would have repealed Common Core within the state. As MSNBC reported earlier in the day, the state spent $4 million to implement it and is slated to begin testing based on the standards next month. The bill had failed to advance in the House Education Committee a day earlier.
"This is a very emotional topic — especially for me," May said. Despite her efforts, however, the effort to bring the bill back to the House floor was defeated.