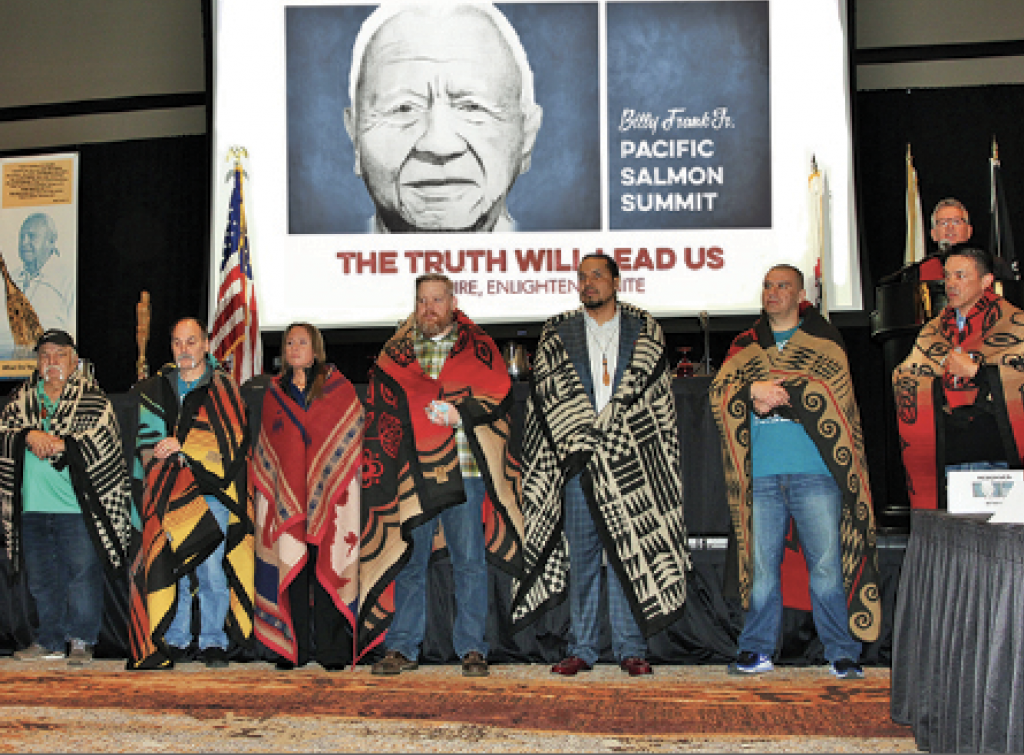 By Micheal Rios, Tulalip News 
The life and legacy of Billy Frank Jr. was honored on March 19, as a dynamic group of tribal leaders and state representatives assembled for the Billy Frank Jr. Pacific Salmon Summit, held at the Orca Ballroom in the Tulalip Resort Casino. The goal was to continue the teachings of a fearless leader and historic visionary, while igniting others to carry the torch to advance and strengthen policies to protect and defend salmon and salmon habitat.
Billy Frank Jr., who died four years ago in May, committed his life to protecting his Nisqually people's traditional way of life and to protecting the endangered salmon whose survival is the focus of tribal life. Beginning with his first arrest as a teenager in 1945 for "illegal" fishing on his beloved Nisqually River, he became a leader of a civil disobedience movement that insisted on the treaty rights (the right to fish in "usual and accustomed places") guaranteed to Washington tribes more than a century before.
His activism ultimately led to the Supreme Court's landmark Boldt Decision in 1974, affirming Native American treaty fishing rights. The Boldt Decision held that the government's promise to secure the fisheries for the tribes was central to the treaty-making process, and allocates 50 percent of the annual catch to treaty tribes.
Pacific salmon have long played an essential role in the cultures and lives of the Indigenous People of the Pacific Northwest. Today, salmon and their precious habitat are in a critical state because of unchecked commercial fishing, waterway contamination, habitat destruction, net-pen farming, and road culverts that restrict fish habitat.
In order to ensure future generations can continue to practice their traditional ways of life, existing efforts to protect the salmon must be enhanced and strengthened. That is why the Billy Frank Jr. Pacific Salmon Summit was the perfect opportunity for tribal leaders, fishery managers, policy makers, state representatives, scientists, and the public to come together and discuss strategies for protecting salmon for the future.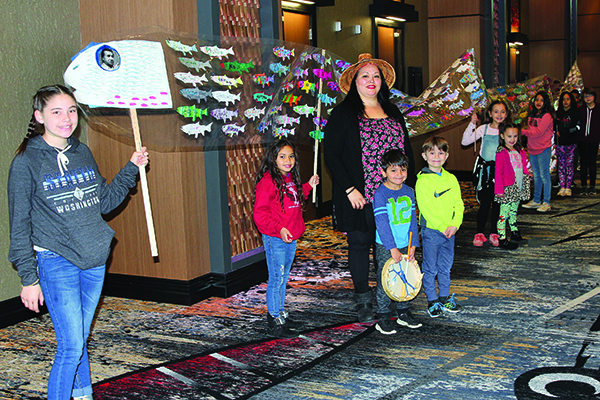 The Pacific Salmon Summit opened with traditional drumming and prayers by the Tulalip Canoe Family. As the welcome song echoed through the Orca Ballroom, students from Quil Ceda Tulalip Elementary proudly displayed their banner created from hundreds of salmon cutouts they created during Billy Frank Jr. spirit week.
Speaking beneath a conference banner bearing Billy Frank Jr.'s portrait and the slogan, "The Truth Will Lead Us," Quinault Indian Nation President, Fawn Sharp, gave the summit's keynote address.
"I saw Billy as a historic visionary. He had this ability to go back to treaty time and had an incredible understanding of what those words meant," Fawn said. "As a visionary, he understood the many challenges facing humanity, facing our generation. Billy would want people to come together to have a real discussion and understand the current state of the salmon.
"You're going to find this is the beginning," she continued. "Because the salmon is – as Billy said so many times – the true measure of our health and our life. And who's paying attention to that? We are."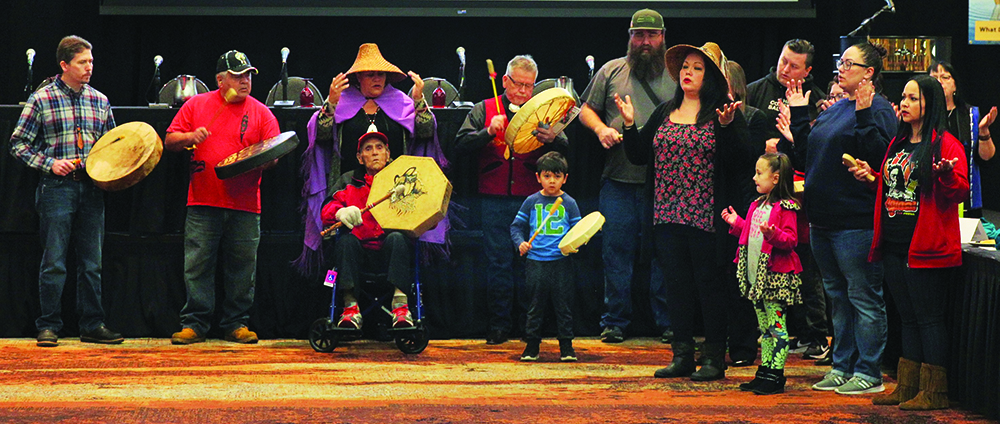 A most diverse gathering, the summit brought together a broad range of people to share information and exchange ideas about how to continue to restore and protect salmon. Together, participants in the inaugural Billy Frank Jr. Pacific Salmon Summit identified and developed an advocacy strategy to strengthen protection policies for salmon and salmon habitat.
"We freely step up and we take on the battle to protect our salmon because the salmon is our culture," explained Tulalip tribal member, Glen Gobin, who was the summit's master of ceremonies. "We hold events like this to keep people vitalized, to keep that passion alive, and most importantly to keep our future alive. The future is for each and every resident in Washington State. We have to pull together and take ownership of what that means; it's not somebody else's responsibility, it's each and every one of our own responsibility to take control of our future. We need to heal this environment and protect our salmon so that our children and great-grandchildren have a future."
The summit wrapped up with a call to action to challenge the status quo, and to create meaningful partnerships with co-managers who will work as diligently and responsibly to protect the salmon as tribal programs do. A work group was formed to develop proposed actions and investigate conflicts and failings in reaching recovery objectives. Their common goals include increased use of hatcheries and more aggressive salmon habitat restoration.
There was also a joint declaration with representatives of several Pacific Northwest tribes and First Nations from Canada calling for a shutdown of Atlantic salmon net-pen farming all along the West Coast. Like Billy Frank Jr. said, "It is going to take all of us working together to turn the tide for the Salmon."
The summit was sponsored by the Tulalip, Lummi, Puyallup, Squaxin Island, Snoqualmie and Nisqually tribes and organized by Salmon Defense, a nonprofit salmon recovery group founded by the late Billy Frank Jr.