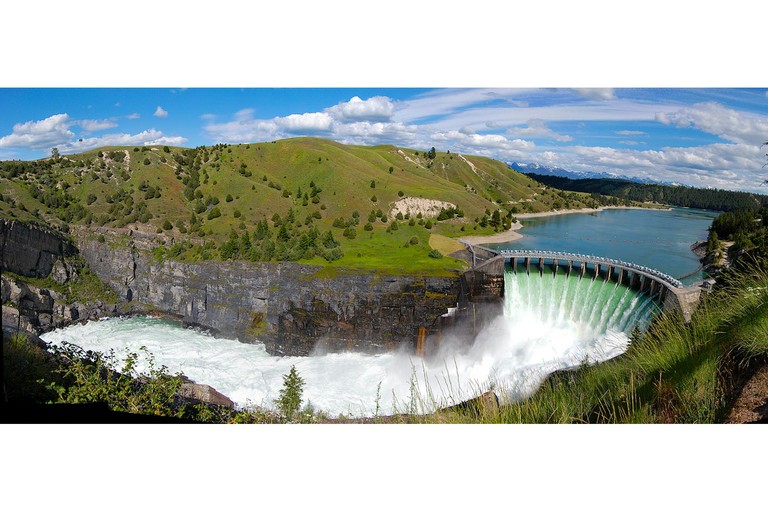 High Country News
Nov 25, 2013
Most of the people who run Kerr Dam on northwest Montana's Flathead Reservation sit hundreds of miles away, and some are even across the country, in the offices of Pennsylvania Power and Light.
But that's likely to change in 2015, when the Confederated Salish and Kootenai Tribes have the option to buy the dam, thereby becoming the country's first tribal hydroelectric owners and operators. Rocky Mountain Power Company built the 205-foot-tall impoundment on the Flathead River, four miles downstream of Flathead Lake, against the will of many tribal members in 1938. Gaining control of Kerr Dam will have significant economic and cultural benefits for the Salish, Kootenai and Pend d'Oreille – the three tribes of the Flathead Reservation.
It's also given tribal member Daniel Howlett the chance to come home. When he left the Flathead Valley to study business and renewable energy management in Denver, he never expected to have a career on the reservation. Now, he's a power-marketing coordinator for his tribe's new energy company, which plans to offer 1.1 million megawatt hours of electricity from the dam annually, enough to power roughly 79,000 homes each year.
The Confederated Tribes already run the reservation's utility company, have a top-notch natural resources department, and oversee the first tribally administered wilderness in the United States. Obtaining the dam will be another major step in self-determination, probably with impacts far beyond Montana.
Other tribes, such as the Confederated Tribes of Warm Springs in Oregon and the Seneca Nation in New York, are vying for full or majority ownership of hydroelectric dams on their land. They are keeping track of the Kerr Dam purchase, which will shape outside perceptions of tribal energy development. "I think a lot of eyes across the nation, and certainly Indian Country, will appreciate the milestone significance of this achievement," says Pat Smith, a former attorney for the Salish and Kootenai.