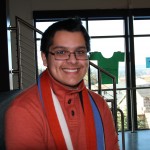 By Jeannie Briones and Kim Kalliber, Tulalip News staff
MARYSVILLE, Wash – Braulio Ramos, Tulalip Tribal member, and senior at the Bio-Med Academy located on the Marysville Getchell High School campus, never realized that he could excel in public speaking, especially poetry recital, until he joined Poetry Out Loud, a nation-wide high school program that encourages youth to learn about great poetry through memorization and recitation, while mastering public speaking skills and building self-confidence.
Ramos, along with six other students, participated in the second finals for the national Poetry Out Loud contest in December, held at Marysville Getchell. With his confidence and natural flare, Ramos won first place, making him eligible for the regional Poetry Out Loud competition in March.
Ramos chose to read 'Bilingual/Bilingue' by Rhina P. Espaillat and 'Jabberwocky' by Lewis Carroll, stating that Alice in Wonderland is one of his favorite books.
Each year over 300,000 students take part in the national poetry recital contest. 2012 marked Marysville Getchell's first year entering the contest, which is funded by the Poetry Foundation and the National Endowments for the Arts.   Participating students must choose two pre-approved poems from the Poetry Out Loud online poem anthology; one that has fewer than 25 lines and one that was written before the 20th century.
"By trying news things, you find that you are good at something that you never thought you would actually do," said Braulio. "Two days it took me to memorize one of the poems. I would read it and listen to it and see if I could recite it without any help. A method my teacher showed us was to write down and compare what you know, and compare it with the actual poem itself."
The judging panel for the December competition consisted of the Mayor of Marysville, John Nehring, Marysville School District Assistant Superintendent, Gail Miller and MSD Board of Directors Vice President Wendy Fryberg and Board member Pete Lundberg. Student's scores are based on six main criteria: physical presence, voice and articulation, dramatic appropriateness, level of difficulty, evidence of understanding and overall performance.
The Regional Poetry Out Loud competition will take place January 30th at the Burlington Library, located at 820 East Washington Ave. Winners of that competition move on to the state contest, which takes place in March, and then on the nationals, held in April.
These events are free to the public. For more information on the regional and state competitions, contact Nancy Menard at nmenard@newesd.org.
Jeannie Briones: 360-716-4188;jbriones@tulaliptribes-nsn.gov