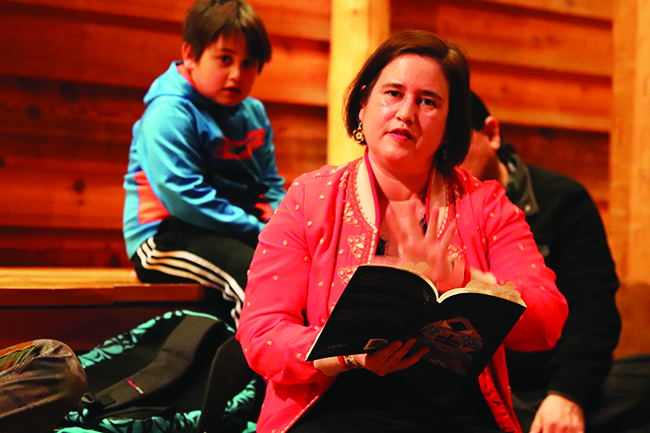 By Kalvin Valdillez, Tulalip News
As far back as many can recall, long before precontact times, Indigenous Peoples used the art of poetry to engage their communities and convey important life lessons. Through stories, the younger generations learn how to navigate through their journey and avoid some of the many pitfalls life has to offer. 
Poetry has always been a way to cleverly portray a story, rhythmically using words to paint vivid pictures into the audience's mind. Traditionally, poems were crafted as blessings to the creator and countless storytellers throughout time used poetry to explain how Mother Earth came to be, with such verses describing the raven stealing the moon and tossing it into the sky. And across the world, generation after generation, romantics relied on the expressive art form to win the hearts of their main attraction. 
Once a month, the Hibulb Cultural Center hosts a poetry series inside of their longhouse where local Indigenous poets are featured and invited to share their words with the community. The series provides a space where creatives can tell their story and explain the thought behind each of their readings, while listeners delve into the deeper meaning, paying close attention and hanging onto every word.  
"Tulalip elders were the foremost poets in our area," says Hibulb Cultural Center Education Curator, Lena Jones. "Our ancestral language itself is rhythmical and expressive. When one translates the elders' words and wisdom from Lushootseed, the words contain profound meaning expressed in a beautiful way. Our elders tell us that the ancestral elders advised us to use words as medicine for the people.
"Hank Gobin," she continues. "The first director of the Hibulb Cultural Center and himself a talented poet, included poetry as one of the objectives of the Center, feeling poetry was becoming a lost art."
On the afternoon of January 3, Shawnee tribal member and renowned Indigenous Poet, Laura Da' read poems from her most recent book, Instruments of the True Measure, the follow up to the critically acclaimed, Tributaries. During Hibulb's first poetry series of the year, she explained that she created fictional characters to tell the true story of the relocation of the Shawnee people.
"I see them [my books] as part of the same art, they definitely go together," says Laura about her publications. "They both have a sense of going back and forth from the history to the present time and kind of wobbling along that line and taking the linear piece of time out. Mostly they [show]how the past impacts the present, particularly for Shawnee people and how the history informs how we live today and how knowledge of it can gives us more strength, but also understanding of our conflicts within our own nation. Knowing what my own ancestors have gone through is helpful to me to know how to interact with challenges today."
Poetry is an essential art within many cultures and has led to modern day music and film. To Native American culture specifically, poems are integral to many tribal communities' way of life. Since the years of forced relocation and assimilation, contemporary Indigenous writers use poetry to speak about important issues and accurately recount the colonization era that is far too often romanticized in U.S. History. While displaying incredible resiliency, the poets give insight to rez life, coping with generational trauma as well as many other issues happening across Native America. 
"Poetry is the way I love to write best because I like that it allows a lot for the unsaid," Laura explains. "I feel that it gives you time to sit with difficulty and also with beauty but it doesn't tell you what to do with it. It's a meditative kind of writing and I like to do it because it's so difficult. It makes you notice things so much as a person. You work so hard to get the line, the image and the rhythm, you create a relationship with words that ebbs back to an original appreciation of what it means to say something."
The one-hour poetry series allows the featured artist to express their words for approximately half-an-hour. The floor is then opened up for fellow wordsmiths to share their poems and ideas with the people. 
"Poets such as Laura Da' bear historical witness to the strength of the Native American spirit and inspire appreciation for the diversity of the American experience," states Lena. "Others, such as Tulalip tribal member Sarah Miller, a poet and Lushootseed Language teacher, illuminate Tulalip's vibrant cultural legacy. Sarah will be the featured poet on February 7. The open mic portion of the poetry series brings an endless source of wisdom and imagination, often times humor, and quite often meaningful dialogue to the Tulalip experience and current social issues."
In recent years, poetry has seen a huge resurgence within tribal communities. More and more youth are reciting original words that reflect their perspectives while tackling issues that they witness on a day-to-day basis including suicide and drug abuse. Laura encourages young Indigenous writers and artists to pursue their dream and continue creating. She also urges young Native women to use their talents as a tool to heighten their voice, expressing that stories about Missing and Murdered Indigenous Women, as well as domestic and sexual assault, need to be heard. 
 "My main piece of advice is, seek and cultivate your community," she says. "Use your writing to enhance your friendships, use your writing to talk to your elders and listen to them while honoring your voice too. For young Indigenous writers, know how much we need your story."
The next Hibulb Cultural Center Poetry Series will be held on February 7. For additional details, please contact the museum at (360) 716-2600.