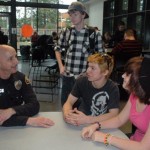 By  Kirk Boxleitner, Marysville Globe Reporter
MARYSVILLE — In the wake of December's school shootings in Connecticut, schools across America have become more conscious of their safety and security procedures, and the Marysville School District is no exception.
However, the district's security manager and one of its school resource officers from the Marysville Police Department explained that Marysville schools have already adopted a proactive approach to safeguarding their children.
Marysville Police School Resource Officer Dave White has built up a rapport with the students at Marysville Getchell High School over the course of the past four years, since a year before the campus opened, and while he also covers the district's three middle schools, he credits his presence on campus at Marysville Getchell with elevating his visibility and approachability with students and staff alike.
"It's been brought to my attention when students have been doing things they shouldn't, and I've been lucky enough to talk to them in ways that have preempted them from committing criminal acts, either at school or elsewhere," White said. "After [the Dec. 14 shooting at Sandy Hook Elementary in Newtown, Conn.], the staff has been even more interested in using our expertise to make the schools safer."
Just as the Tulalip Tribal Police Department has donated a part-time SRO to cover the Quil Ceda and Tulalip elementary schools, as well as the 10th Street Middle School and the Heritage and Arts & Technology high schools, so too is the Marysville Police Department providing its two SROs to the school district free of charge, with White's fellow SRO covering the Marysville-Pilchuck and Mountain View high schools. However, this leaves the rest of Marysville's elementary schools relatively uncovered, which is why White explained that Marysville Police regular patrol officers are conducting walk-throughs of those elementary schools several times a day.
"We appreciate the huge service that the Marysville Police Department is doing for us here, because we have absolutely no money for it," said Greg Dennis, security manager for the school district. "After Sandy Hook, everyone asked, 'What if that happened here?' Here at Marysville, we've been asking, 'How do we prevent that from happening here?'"
The school district's measures already include SROs, 11 FTE security guards, rapid-response maps that allow 911 responders to arrive at exact locations within 1-2 minutes, and regular drills for fires, lockdowns and earthquakes.
"Going forward, we're working with our safety committee and law enforcement to review our campuses and our emergency plans," said Jodi Runyon, executive assistant to the superintendent. "The city police and county sheriff's office have been very willing to work with us. As the president and state legislators weigh in on what can and should be done, we will take a second and third look at our procedures to make cost-effective adjustments."