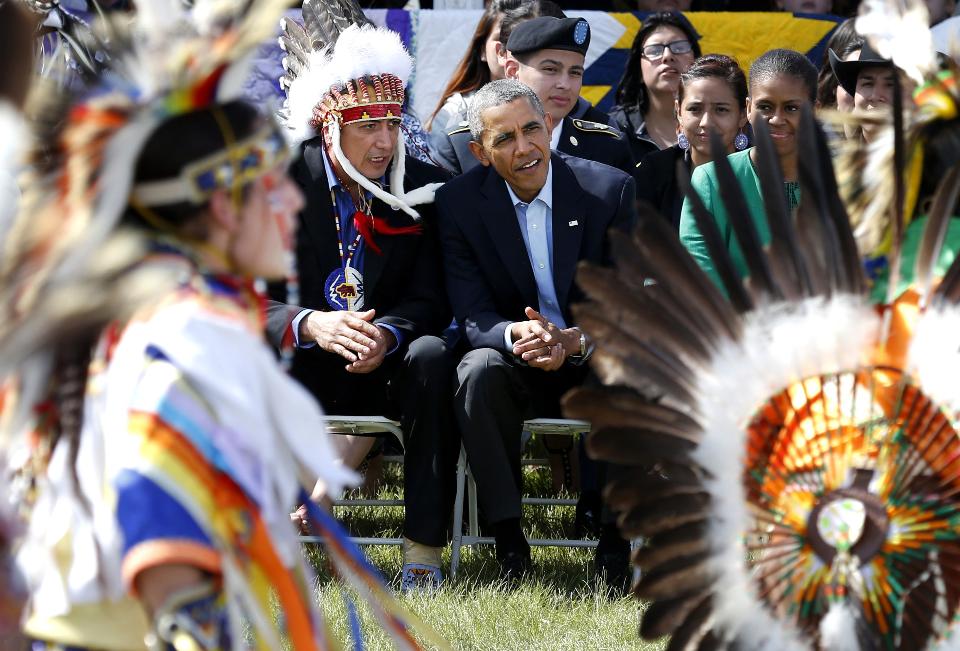 By Blake Nicholson, AP
BISMARCK, N.D. (AP) — President Barack Obama announced an initiative Wednesday aimed at improving conditions and opportunities for American Indian youth, more than a third of whom live in poverty.
Obama's Generation Indigenous initiative calls for programs focused on better preparing young American Indians for college and careers, and developing leadership skills through the Department of Education and the Aspen Institute's Center for Native American Youth. Members of the president's staff also plan to visit reservations next year.
The White House did not provide a cost estimate for the initiative, but a spokeswoman said the administration plans to fund it with existing money and the help of nonprofit and philanthropic organizations.
The announcement, made as part of the White House Tribal Nations Conference that Obama is hosting on Wednesday, comes five months after the president and his wife visited the impoverished Standing Rock Indian Reservation in the Dakotas.
The 3,600-square-mile reservation is home to about 8,500 people, many of whom live in run-down homes, and where the unemployment rate runs as high as 20 percent. The suicide rate for American Indians aged 15 to 24 is more than twice the national rate.
Cecilia Munoz, director of the White House Domestic Policy Council, said the president and first lady "were deeply moved" after listening to children's stories about challenges they faced on the reservation, such as depression and alcohol abuse. Vice President Joe Biden said in a morning appearance before the conference that for Obama, helping Indian youth is "something that he came back from his June visit fired up about doing something about."
Wednesday's conference involves leaders from 566 federally recognized tribal nations, along with 36 White House Youth Ambassadors chosen from around the country through an essay contest.
"People who grow up in a poverty culture sometimes need guidance, need values, need a little bit of structure," said Chase Iron Eyes, an attorney and Native American rights activist from Standing Rock who is attending the conference.
"Through some of the things the administration is doing, it looks like they're trying to do that," he said. "Youth — they just need the right tools, and maybe they can empower themselves."
The White House also released a report Wednesday acknowledging failures in federal policy and highlighting the need for more tribal help in the areas of economic development, health and education. Slightly more than two-thirds of Native youth graduate from high school, according to the 2014 Native Youth Report.
One of the report's recommendations is to strengthen tribal control of the education system on reservations. Officials are working to overhaul the Bureau of Indian Education, which is responsible for educating 48,000 Indian students in 23 states, Interior Secretary Sally Jewell said.
Jewell estimated it would cost more than $1 billion to fix schools with crumbling infrastructures. Officials are pursuing money through Congress, existing government programs and philanthropic organizations.
"We have to get creative," Jewell said.