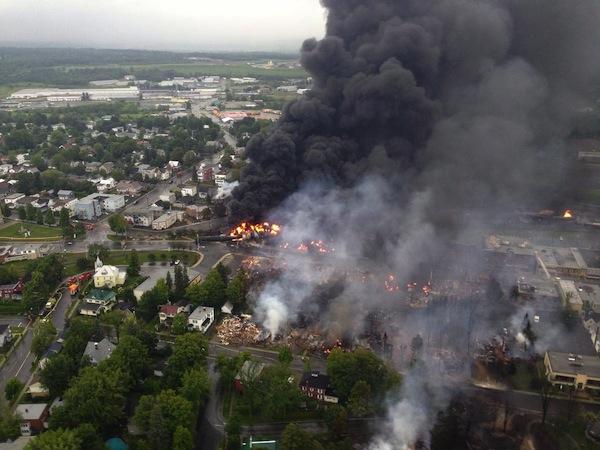 Source: Indian Country Today Media Network
As hundreds attended a memorial service in Lac-Megantic on Saturday July 27 for the 47 people killed in the train explosion that flattened the center of the 6,000-population town, the horrific accident resonated with a tribe all the way over in the Pacific Northwest.
The Quinault Nation is fighting a plan to transport oil by rail through their territory and across ecologically sensitive areas. Indeed, the July 6 accident in Quebec, in which the brakes failed on a Montreal, Maine & Atlantic Railway train and it sped downhill from its overnight resting place to derail and slam into the center of the small town, highlighted a drastic increase in rail transport of oil across the U.S. and Canada.
RELATED: Exploded Quebec Oil Train Was Bringing Crude From North Dakota's Bakken to New Brunswick Refineries
"It could have easily been Hoquiam," said Fawn Sharp, President of Quinault Indian Nation, in a statement soon after the crash.
About 234,000 carloads of crude oil were moved around the U.S. in 2012, up from 66,000 carloads in 2011 and 9,500 in 2008, USA Today reported. That makes for a more than 2,000 percent increase over four years, the Quinault Nation pointed out in its July 9 statement.
"It is not a matter of 'if' these shipments will cause a major spill; it's a matter of 'when'," said Sharp.
The Quinault are battling plans by the Westway Terminal Company out of Louisiana and Texas to build an oil shipping terminal in Grays Harbor with the capacity to store 800,000 barrels of crude. The company expects to transport 10 million barrels of crude through the ecologically sensitive harbor every year, the Quinault said in their statement.
In addition two other facilities to receive crude oil via rail shipments also being proposed in the Grays Harbor area, which includes marine shipping, would create "major environmental risks" to the community and the Quinault.
"The massive train, oil barge and ship traffic this project will bring to Grays Harbor is a tragedy waiting to happen," Sharp said. "There will be spills and they will harm salmon, shellfish, and aquatic life, trample our treaty rights and cultural historic sites, and tie up traffic for extensive distances."
Moreover the expansion of the Westway Terminals' Port of Grays Harbor facility violates treaty rights as well as the tribe's standards of "good stewardship and common sense," Sharp said. "The risk is not worth a few more, unsustainable jobs. Far too much is at stake, and there is simply no way oil train proponents can pass the straight face test and tell us that their proposal is safe. Lives are at stake. Fish and wildlife resources. Water quality and much, much more. These are the same type of rail cars that will come pouring through our area, and unquestionably threaten the lives and safety of our people and resources."
Back in Quebec, the tragedy hit home anew. Nearly 1,000 people crowded into Ste-Agnes Church for the morning Mass presided over by Archbishop Luc Cyr of Sherbrooke, the Associated Press reported. Also attending were Canadian Prime Minister Stephen Harper, Liberal Party Leader Justin Trudeau, Quebec Premier Pauline Marois and Mayor Colette Roy-Laroche, as well as the Crown representative, Governor-General David Johnston. Maine Governor Paul LePage also attended.
"This has been an emotional day followed by a very emotional period," Harper said outside the church, according to AP. "It is very difficult to absorb all this when you see all of these families who have been affected."
Several lawsuits have been filed as a result of the explosion, and both the police and federal transportation safety officials conduct investigations, AP reported.
Read more at
https://indiancountrytodaymedianetwork.com/2013/07/29/lac-megantic-rail-tragedy-resonates-quinault-nation-victims-are-memorialized-150626