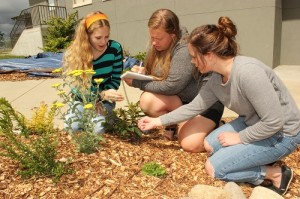 Source: Northwest Indian Fisheries Commission
Eatonville will keep its title as the "rain garden capital" because of some work being done by the Nisqually Indian Tribe and the Nisqually River Council. Working with local high school students, the tribe and the council are building six rain gardens in Eatonville this year, continuing several years of stormwater mitigation work in the community.
"If we don't do something, growth in Eatonville will have a massive detrimental impact on salmon and water quality," said David Troutt, natural resources director for the Nisqually Indian Tribe. "But, if we can handle the growth the right way, we can have salmon and a healthy community. Rain gardens are an important tool in making that happen."
Dozens of rain gardens have already been built throughout Eatonville, giving the city the distinction of the highest density of rain gardens of any community in the country.
Rain gardens landscape amenities that are designed to capture and absorb polluted runoff from impervious surfaces, like roofs or parking lots. They reduce runoff by allowing stormwater to soak into the ground instead of flowing into storm drains causing pollution, flooding, and diminished groundwater.
As a part of the project, the council's Nisqually River Education Project is engaging local high school students in building and caring for the city's growing collection of rain gardens. The education project is working with four students from Eatonville High School to design each new rain garden. Each student also participated in the tribe's Stream Stewards training course this summer.
Poor stormwater management leads to high flows in the winter and low flows in the summer. The Mashel River, which runs through Eatonville, already is too low and too warm for fish.
Low flows in the Mashel typically occur just as adult chinook salmon are making their way back to spawn. "Adult salmon need cool, deep pools to rest as they swim upriver," Troutt said.
"This kind of effort is what we'd like to see across the watershed and across the region," Troutt said. "When we end up saving salmon and Puget Sound, it will be because we've found ways to handle the population growth that is going to come."