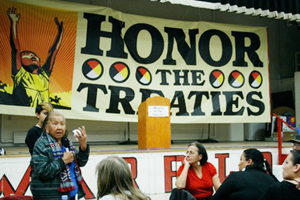 As so often happens, Native Americans are leading the fight to save the world.
By Will Falk, San Diego Free Press
While half of the world's species are disappearing, while the remaining 48 hunter/gatherer societies are literally fighting for their survival, while 32 million acres of rainforest are cut down a year, and while three hundred tons of topsoil are lost a minute, we are again at war with those who would destroy the planet.
There have been many wars fought on behalf of our life-giving land in North America. The overwhelming majority of those killed in defense of the land have come from peoples like the Sioux, the Cheyenne, the Nez Perce, the Sauk, and the Apache. Native Americans have long stood in the way of this destructive culture. It is time that we join with Native Americans and other dominated peoples around the world who are at war. It is time that we, the privileged in this settler culture, step off our pedestal and onto the battlefield to place our bodies in harm's way like so many indigenous people have before us and continue to do today.
***
As a young white radical, I have admired the long traditions of resistance found in Native communities. I find myself wondering what could have been had Tecumseh won or if Crazy Horse was not betrayed. I find myself wishing I could have been there with Geronimo or King Phillip or Chief Joseph to shoot back at the pale skin and pale blue eyes I share with so many of the soldiers, miners, and settlers who have butchered Native peoples over the centuries.
But, mostly, my heart just breaks. And breaks and breaks again when I recall the long list of lost battles and cold-blooded massacres.
My heart breaks when I think of that frigid morning in December, 1890 when Lakota Sioux led by Spotted Elk woke up next to Wounded Knee Creek in South Dakota to find themselves surrounded by 500 soldiers of the US 7th Cavalry. Some of the older women and the frailest children would have been wrapped in robes made from the skins of buffalo hunted to near extinction by the very soldiers taking positions over the camp.
They look up at the four rapid fire Hotchkiss guns pointed down on them from the hills above with their frosty breath foreshadowing the thick fog of gun smoke that would blanket the field in just a little while.
My heart breaks again looking at the photographs of Lakota men, women, and children strewn across the frozen ground. I see Spotted Elk's body frozen in a half-sitting position in the snow. His legs bent one way, and his bullet-riddled torso bent another way. His arms curl up as his dead biceps tighten in the cold.
My heart breaks when I read eyewitness accounts from the Sand Creek Massacre in 1864 where Colorado-territory militia killed 200 peaceful Cheyenne and Arapaho men, women, and children who thought they occupied their camp under the protection of the US Army. I read of soldiers putting six-shooters to the heads of infants and "blowing their brains out." I watch as white men jump off their horses with knives in hands to cut ears, noses, fingers, and testicles off corpses to take home as souvenirs.
***
Lierre Keith, the brilliant environmental and radical feminist writer, often diagnoses the problem with modern mainstream environmental activism saying, "We've got to stop thinking like vandals and start thinking like field generals."
If we are to have any chance of surviving the devastation, we must espouse courses of action based on strategic objectives. In other words, we have to act like we're fighting to win a war.
Even mainstream environmentalists recognize that one of the biggest threats to life on Earth is the use of fossil fuels. The burning of fossil fuels releases carbon dioxide – the worst of the greenhouse gasses responsible for climate change. Scientists predict an 11 degree Fahrenheit average temperature rise by 2100 due to the effects of runaway greenhouse gas emissions.
If we are going to win this war of survival, we are going to have to stop both the present use and spread of fossil fuels. Many argue that the task is impossible. Many argue that we'll never get people to voluntarily give up fossil fuels. We fill our cars with gas. Homes are heated by coal. The plastic screens we read the daily news on are made with oil. Giving up fossil fuels means giving up our very way of life.
But, what if the world is forced to give up fossil fuels because they cannot get access to them?
***
The truth is the fate of the world is bound up in wars like the ones being fought by the Sioux and their allies and the Wet'suwet'en. The United States was built on stolen land and is maintained through the theft of indigenous resources both at home and abroad. So, not only should mainstream environmentalists pledge their support to indigenous peoples to reverse genocidal historical trends, they should throw their bodies down next to indigenous peoples in order to survive.
The brutally brilliant Confederate cavalry general, Nathan Bedford Forrest explained the simple key to winning battles when he said, "Get there first with the most." On a Civil War battlefield, this meant identifying strategic locations to be controlled and then arriving with more soldiers and firepower than your enemy. At the Battle of Gettysburg, for example, Union forces recognized the way two hills – Little and Big Round Top – on their extreme left flank commanded a view of the entire battlefield. Robert E. Lee and his right hand infantry general, James Longstreet, recognized it, too. Whoever controlled those hills could place artillery on their heights and rain deadly cannon fire on enemies in the fields below.
Ultimately, Union forces arrived at the top Little Round Top just minutes before Longstreet's infantry and were able to beat off a Confederate attack, turning the tide of the battle in favor of Union forces in what many historians call the pivotal moment of the entire war.
The goals of these camps line up perfectly with Forrest's idea to "get there first with the most." The camps are being set up in strategic locations to stop the ability of the pipeline to function. If the oil is going to flow, big oil pipelines are going to have to defeat activists dug in at these camps.
Right now, indigenous peoples and their allies are there first with the most. They can win if we help them.
***
As so often happens, Native Americans are leading the fight to save the world. Battle lines are being drawn in British Columbia and South Dakota where indigenous peoples and their allies have vowed to prevent the construction of pipelines carrying fossil fuels across their lands.
In South Dakota, the Oglala Lakota and Rosebud Sioux (many of whom descend from the survivors of the Wounded Knee Massacre) are building resistance camps to combat the Keystone XL pipeline. They are calling the pipeline "the Black Snake" and are operating the Moccasins on the Ground project where participants are trained in the skills, tactics, and techniques of nonviolent direct action. These skills include blockading heavy equipment, workshops on strategic media, street medic training, knowing your legal rights with respect to civil disobedience, and building solidarity and alliances.
In British Columbia, the Wet'suwet'en have dug into the path of seven proposed pipelines from the Tar Sands Gigaproject and LNG from the Horn River Basin Fracturing Projects in the Peace River Region at Unist'ot'en Camp. (http://unistotencamp.wordpress.com/no-pipelines/) Unist'ot'en Camp is calling for volunteers to help patrol their land, build permaculture, and raise permanent bunkhouses in the path of the pipelines.
***
There's another feeling I get when I think of the massacres of indigenous peoples. It is even stronger than the staggering sadness. It is the desire to do whatever it takes to stop this culture from destroying indigenous cultures and destroying the land.
I used to imagine that I could go back in time and offer my help. I would learn how to shoot and offer my rifle to Crazy Horse or learn how to ride and ask Chief Joseph if he could use my help. As I listened to the rhythmic thump of soldiers' boots marching on where they thought my friends' village was, I would imagine approaching a fat officer in a powdered horse-hair whig with a smile coming from my white face. I would tell the officer I knew where the Indians were, only to lead him on a wild goose chase while he trusted me because I was white.
I have grown up now. I realize that there are wars being waged against the land and those who would protect the land. I realize that I can work to stop the black snakes that are being built to slither through this land, to choke her original people, and to wring the last few drops of oil from her.
All of us who have benefited from the rape of the earth and the destruction of so many of her people are being called. We are being called to kill the black snakes by those already engaged in mortal combat. We must do whatever it takes to stand with indigenous peoples and stop the pipelines.