"
Samuel Gomez
, the war chief for Taos Pueblo, was in Washington, D.C., on Monday as President Barack Obama proclaimed a new national monument near the tribe's reservation in northern New Mexico."   Originally posted
ABQ Journal
By
Jackie Jadrnak / Journal North Reporter
on Tue, Mar 26, 2013
Not a single dissenting voice was heard when community meetings were called to discuss making Rio Grande del Norte into a national monument, according to Taos Mayor Darren Córdova.
It should be no surprise, then, that the Taos County Commission Chamber was full to bursting with some 150 residents applauding Monday's signing of the presidential proclamation declaring the 242,555 acres in Taos and Rio Arriba counties a national monument.
Sen. Tom Udall, D-N.M., hosted that local gathering, while the official signing ceremony itself took place in Washington, D.C. Area residents who joined President Barack Obama in the Oval Office included former U.S. Sen. Jeff Bingaman, who was credited with spearheading the preservation of this land; Sen. Martin Heinrich, D-N.M.; Questa Mayor Esther Garcia; and Taos Pueblo War Chief Samuel Gomez.
"This is a great day for New Mexico," Bingaman said in a news release. "I'm glad that President Obama found northern New Mexico's landscape so compelling that he was willing to make the Río Grande del Norte his largest monument designation to date.
"There is no doubt in my mind that the community, which has strongly supported this effort, will benefit from the conservation and cultural protections that come with this designation," he said.
Vice President Joe Biden, center, reacts after President Barack Obama signs legislation under the Antiquities Act designating five new national monuments on Monday in the Oval Office. From left are Samuel Gomez, war chief for Taos Pueblo, Biden, and Interior Secretary Ken Salazar. (susan walsh/the associated press)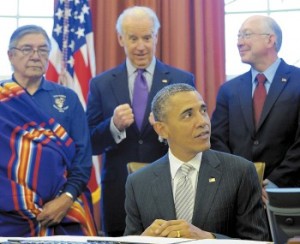 That local consensus was key in moving the project forward, Heinrich said in a telephone interview last week. Without it, action on the federal level often is stalled, he said.
"It's one of those really special places," Heinrich said, adding that in the mid- to late 1990s, as director and an outfit guide with the Cottonwood Gulch Foundation, he took kids all over the Southwest, including to raft and explore the Rio Grande Gorge.
That gorge is only a piece of the new national monument, which stretches to the Colorado border. Obama's proclamation lists the riches found in the area, including canyons, volcanic cones, natural springs and native grasslands.
"The river provides habitat for fish such as the Río Grande cutthroat trout, as well as the recently reintroduced North American river otter," the proclamation reads. "The Río Grande del Norte is part of the Central Migratory Flyway, a vital migration corridor for birds such as Canada geese, herons, sandhill cranes, hummingbirds and American avocets. Several species of bats make their home in the gorge, which also provides important nesting habitat for golden eagles and numerous other raptor species, as well as habitat for the endangered southwestern willow flycatcher."
Besides bald eagles and other birds, the area includes Rocky Mountain elk, mule deer, pronghorn and Rocky Mountain bighorn sheep, and rare Gunnison's prairie dogs, as well as the ringtail, black bear, coyote, red fox, cougar and bobcat, according to the proclamation.
Petroglyphs, some dating as far back as 7,500 B.C., are found concentrated near hot springs in the gorge, along with a number of artifacts tracing ancient habitation. The Rio San Antonio gorge also contains such historic reminders, while San Antonio Mountain is thought to be the source of dacite used to make stone tools, states the proclamation.
Ute Mountain, at 10,000 feet, is the tallest of the extinct volcanic cones that dot the area. Remnants of homes and people who settled the area right after World War I can be found on the slopes of Cerro Montoso, while other artifacts throughout the area mark the passage of Spanish explorers and settlers.
"The Río Grande del Norte has long supported our cultural traditions in northern New Mexico, such as hunting, irrigation and grazing," said Udall. "As a permanently protected national monument, it will drive even more economic progress and job growth through tourism in communities that desperately need it."