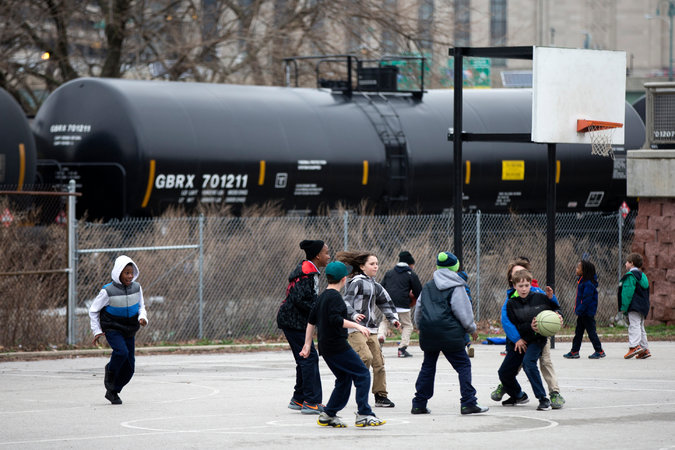 Sierra
By REUTERS
WASHINGTON — Seven environmental groups filed a lawsuit on Thursday challenging safety rules issued this month for trains carrying oil, arguing that the regulations are too weak to protect the public.
The groups, including the Sierra Club and the Center for Biological Diversity, said the rules, issued on May 1, would allow the industry to continue to use "unsafe tank cars" for up to 10 years. They also said the rules failed to set adequate speed limits for oil trains.
"We're suing the administration because these rules won't protect the 25 million Americans living in the oil train blast zone," said Todd Paglia, executive director of ForestEthics, one of the groups filing the lawsuit.
The United States and Canada issued the safety standards in response to a string of explosive accidents that have accompanied a surge in crude-by-rail shipments.
Under the rules, tank cars built before October 2011 known as DOT-111 are to be phased out within three years. DOT-111 tank cars are considered prone to puncture during accidents, increasing the risk of fire and explosions.
Tank cars without reinforced hulls built after October 2011 and known as CPC-1232 will be phased out by 2020.
In their filing, the groups asked the United States Court of Appeals for the Ninth Circuit to force the Transportation Department to reconsider the "unduly long phaseout period" for these tank cars, as well as the speed limit and public notification requirements in the rule.
While environmentalists have said the phaseout for the tank cars is too long, energy and rail groups have raised concerns that it would not be feasible to switch over the tank cars in the time allotted.
The American Petroleum Institute filed a lawsuit on Monday in the United States Court of Appeals for the District of Columbia Circuit that challenges the timetable for retrofitting rail cars and the requirements for electronically controlled pneumatic brakes.
The new regulations are expected to cost an estimated $2.5 billion to adopt over the next two decades, according to estimates contained in the rules. Two-thirds of that amount would go to retrofit or retire existing tank cars.