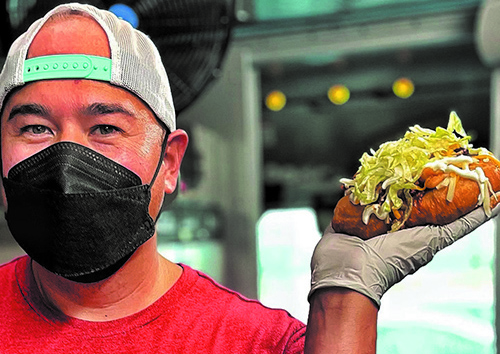 By Kalvin Valdillez; photos courtesy of Ryan Gobin 
Six years ago, a Tulalip man took a leap of faith and gave up his ten-year career as a police officer for his love and passion of food. Briefly opening a concession stand outside of the local CrossFit gym, Ryan Gobin began serving up tasty dishes to the tribal community, and the response he received from that endeavor led him to the investment of a small food truck. After hitching a smoker to the food truck, he held a competition online asking his friends and family for ideas on what to call his new restaurant-on-wheels. With a name and a very interested and hungry patronage, Ryan's REZ-ipes officially opened up shop in 2016.
Serving up the likes of frybread, truffle fries, pulled pork sandwiches and tacos, burgers, shrimp bowls and a variety of weekly specials and experimental dishes, Ryan's REZ-ipes has gone from a locally known best-kept-secret to a countrywide fan favorite with thousands of followers on social media. Many self-proclaimed foodies and food industry professionals alike often tag their friends on Ryan's photos with a comment along the lines of 'we gotta try this'. Ryan's REZ-ipes is now available through delivery services such as DoorDash and he even began selling some of his signature spices and mixes for you to try at-home.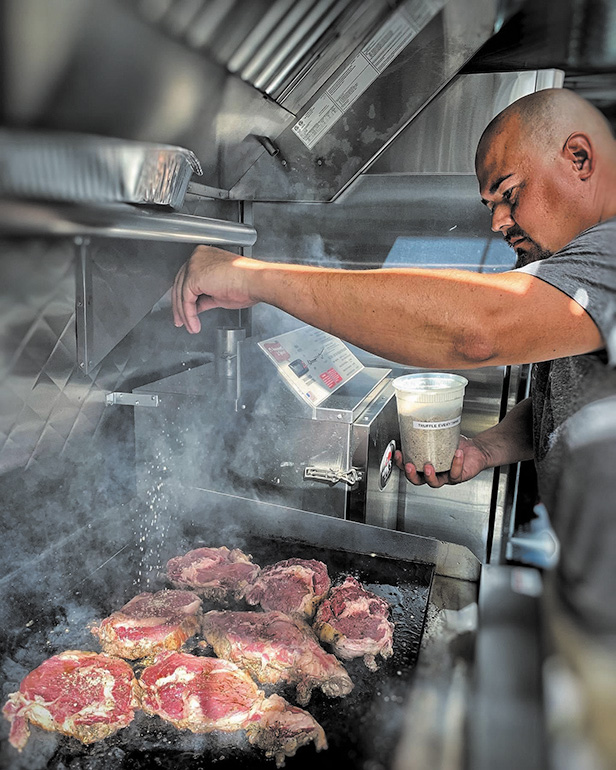 Ryan's journey is the perfect blueprint for up-and-coming tribal entrepreneurs to follow. From a concession stand to a shiny beaut of a food truck, he has grown his brand incredibly over the past several years, incorporating a Native American logo and adding catering to the business. It's gotten to the point that whenever you see his blue food truck, your stomach might growl and your mouth will more-than-likely water just thinking of his Indigenous and multi-cultural inspired cuisines.
When he was first getting his start, Tulalip News sat down with the tribal chef and businessman to talk about the inspiration behind his new venture, to which he responded, "I first got into cooking in my teen years. I have lots of family members that are amazing cooks and have been taught many recipes from all of them. I watched when people cooked in my younger years and began trying my own recipes. I could name everyone I learned from, but that would be a long list."
With six successful years under his belt, Ryan recently took some time out of his very busy schedule to talk with Tulalip News once more about his passion for cooking and growing his business, as well as to discuss all the success he's had since first beginning his culinary experience.
Since we last spoke, Ryan's REZ-ipes has continuously leveled up every year. Can you talk about your journey since then? What has been a few of the major highlights of the business over the years?
I'd have to agree with leveling up! The business has definitely taken off at a rapid pace since the upgrade of a new food truck. The amount of events and weddings have quadrupled in the past two years and are continuing to increase. I already have 18 weddings booked for 2022, and I am still getting more requests weekly.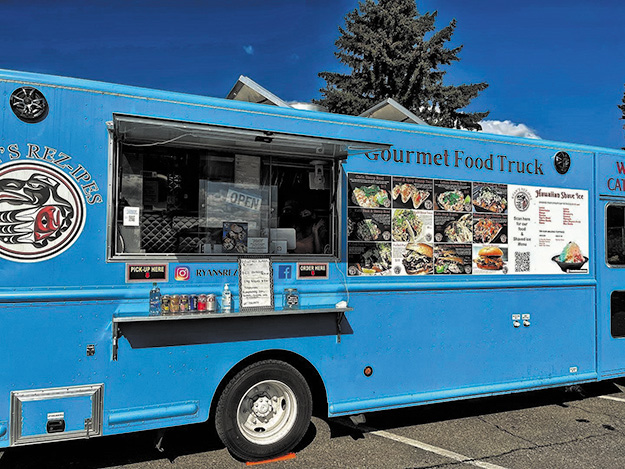 You mentioned the new truck, can you touch upon some of the truck's features and equipment? How has that benefited your dream of serving tasty dishes to the community?
Having a new food truck has helped immensely – having all brand-new equipment and an on-board smoker. Instead of having to plug multiple warmers in a power source, and having to use a loud generator mounted on the back, I now have professional plumbed propane heating warmers, a fryer and a flat top griddle.
It's the Cadillac of food trucks. I even incorporated a stereo system that sounds like an outdoor nightclub and LED lighting to create a colorful ambiance. Since having this truck and showing others the potential of what can be done, I now have had over a dozen other food truck owners coming to me for advice, from multiple states across the U.S.
You have a lot of new items on the menu and many of them have cultural ties. What are some of those dishes and what is the inspiration behind some of those popular plates?
I have multiple new items and some of my oldies too. Over the years I've utilized my skills with trial and error – making everything better and better, and finding where to gather those ingredients to achieve the best quality.
I've been all over the board in bettering different items, such as my marinades, creating more sauces, my seasoning rub for my smoked pork and coming up with desert toppings for frybread. Years ago, I was selling frybread and always ended up running into issues where it just wasn't perfect every time, it was either too heavy or just didn't look right. I was given my Grandma Nonie's recipe years ago and I just couldn't get it right, so I gave up. This past year I tried again, but told myself I wouldn't stop trying until I got it exactly how I want it – fluffy and perfect. I achieved my goal and now sell my own Ryan's REZ-ipes fluffy frybread mix in professionally sealed pouches.
I love to travel and experience new kinds of foods everywhere, which is how I came up with a few of my dishes like my Korean-style kalbi steak, my Hawaiian-style chicken tacos and even my shrimp dishes. Whenever I try something and just crave it, I figure out how to make it myself, then I put my own twist on it. Different cultures have their own kind of traditional flavors, and they all inspire me to create explosive flavors that make your tastebuds dance. It's pretty obvious that I'm greatly inspired by the Hawaiian Islands just by seeing a lot of the dishes I choose, such as one of my recent specials the loco moco with fried rice, which is a Hawaiian traditional dish. You will also see Hawaiian shaved ice on my menu, which actually originated in Japan.
After cheffing it up over the years, you are obviously still very passionate about cooking and providing meals to the people. What motivates you and fuels your drive now that you are living your dream?
My passion continues to grow the more I see smiles on everyone's faces after they eat my food. It enhances my drive to continue to figure out new dishes and to give everyone new foods to try. I now have over 8,000 followers on social media, so my foods are seen across the U.S. and also in other countries. That drives me to want to build an even larger business, which will happen in due time.
Catering is now a big aspect of Ryan's REZ-ipes that I don't believe you were doing yet at the time of the last article. Could you talk about your catering options and the process? What are some of the events you've catered this far and what makes catering enjoyable for you?
Catering is huge in the food industry. I have now catered over 150 events and still growing daily. We cater anywhere from 100 people to 1000. I have catered multiple birthdays, corporate events, baby showers, celebrations of life, weddings and we even catered last years Tulalip employee day at the amphitheater. I love it because food makes everyone happy. I also cater weekly for a company that is building an all-electric airplane, over 100 employees each week. I have a large catering menu to choose from and that can be located at ryansREZipes.com.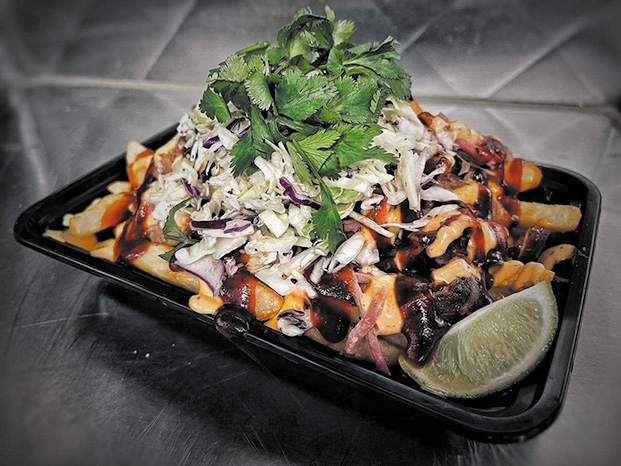 Can you talk about some of the new and exciting updates happening at Ryan's REZ-ipes?
My newest update is that I'm adding garlic rosemary truffle fries and frybread to my menu, and I will be finding new unique ways of utilizing them, such as adding dessert toppings, or pairing with a hickory smoked hot dog and a number of toppings. One update that I'm happy to announce is I will be looking to add a food trailer to the fleet. I will be separating the shaved ice from the food truck. This will allow me to have more room to focus on shaved ice and Lotus drinks with amazing toppings, and maybe even cotton candy will be added to the mix! We will also do dessert frybread there, so it will basically be more of a dessert trailer.
Ryan's REZ-ipes serves as an inspiration to many tribal members and proof that you can follow your life's passion, not only to aspiring chefs, but to all tribal entrepreneurs as well. Any words of advice for those just starting out, or those who are looking to start their own business?
The best advice I can give to those that would like to start their own business is never give up – ever. You will have doubts and there will be a lot of roadblocks. You just need to always remember that nothing is ever instant. It can take years to create the profits you aim for, not days, weeks or months. Trial and error is key. If you make a mistake, learn from it and keep pushing forward in a good way. Lastly, make small goals and work daily to achieve them. No matter how small the achievement is, it's still an achievement.
What are your typical hours and where can people find you? Any upcoming events or anything new on the horizon you'd like to share?
In the upcoming months and years, our locations, days we're open and times of operation will change, being it's a food truck that serves food and does private catering as well. But typically, right now, we're located at the Tulalip Market which is a great location. We are there Thursday – Saturday and every other Sunday. Those days and locations will even rally change though. So, you can stay up to date by following the Ryan's REZ-ipes Facebook page.