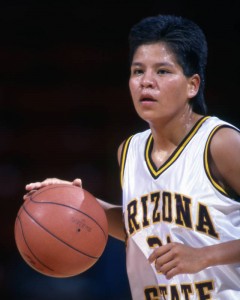 Courtesy: Sun Devil Athletics; Source: NDNSports.com
TEMPE, Ariz. – Ryneldi Becenti, a member of the Arizona State University Sports Hall of Fame who twice earned honorable mention All-America notice as a member of the Sun Devil women's basketball team, will have her No. 21 jersey honored and displayed from the rafters of Wells Fargo Arena on Sat., Dec. 21 when the Sun Devils host the University of Miami, Sun Devil head coach Charli Turner Thorne announced on Monday.
"As we started to evaluate the stars of our distinguished past, it quickly became apparent that no player was more celebrated or had more of an impact – both in her community and within our own Sun Devil community – than Ryneldi Becenti," said Turner Thorne. "While already in our Hall of Fame for her achievements as a student-athlete, we felt a program-specific tribute like this was fitting for a special individual whose influence went beyond the basketball court.
"The incredible work ethic and desire that led her to our program galvanized the Native American community. Her outstanding contributions as a Sun Devil enhanced her legendary status and remain an inspiration for many. I am so proud to be announcing that we will be hanging Ryneldi Becenti's No. 21 jersey from the rafters of Wells Fargo Arena on Dec. 21. We hope all our fans and basketball enthusiasts alike will mark the date in their calendars to come out and help us pay tribute to this Sun Devil icon."
Becenti was a two-time honorable mention All-America honoree while also becoming one of only three Sun Devils (at the time) to earn All-Pac-10 first-team honors twice in a career.
Following two successful seasons at Scottsdale Community College, Becenti joined ASU where her outstanding all-around play was pivotal in helping the Sun Devils earn a NCAA Tournament berth in 1992, the program's first tournament invite since 1983.
By the conclusion of her two-year Sun Devil career, Becenti would accumulate 396 career assists, which at the time represented the second-highest career total in program history. Her career average of 7.1 assists per game remains a Pac-12 record to this day, while her 17-assist outing vs. Marquette in 1992 still sits atop the team's list for most assists in a single game. With 15 points, 10 rebounds and 12 assists in a Jan. 25, 1992, game against Oregon State, Becenti became the first player in school history to record a triple-double and was the lone player in the NCAA – men or women – to record the feat that season.
Becenti's enormous popularity in the community and the Navajo Nation received national acclaim in March 1993, when she was featured in a Sports Illustrated article written by award-winning journalist Gary Smith.
As a member the 1993 USA team at the World University Games, Becenti became the first Native American female to earn a medal at the event. She would also go on to earn the distinction of becoming the first Native American to play in the WNBA as a member of the hometown Phoenix Mercury.
In 1996, she became the first woman inducted into the American Indian Athletic Hall of Fame adding to her list of enshrinements, which includes the Scottsdale Community College Hall of Fame, Arizona State University Hall of Fame and the Arizona High School Sports Hall of Fame.
A native of Fort Defiance, Ariz., Becenti earned high school All-America honors playing for Window Rock High School. Her stellar play continued at Scottsdale Community College where she earned junior college All-American recognition.