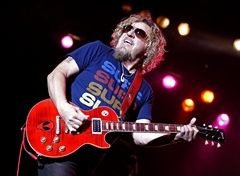 Source: The Herald
August is a busy month during the Summer Concert Series at the Tulalip Amphitheatre.
Up next is the Sammy Hagar concert on Thursday, Aug. 14. Tickets start at about $55 for the standing-room-only beer garden. It's one of Tulalip's most popular concerts this season. Earlier this week, the show was just about sold out.
The next day, Aug. 15, Tulalip hosts Sugar Ray, Gin Blossoms, Blues Traveler and Uncle Kracker. Tickets start at about $39, also in the SRO beer section. On Aug. 21, the 1970s band "Yes" plays the amphitheatre, with similar ticket prices.
Singer and songwriter Hagar, 66, will be joined in the show, "A Journey Through the History of Rock," by bassist Michael Anthony, drummer Jason Bonham and guitarist Vic Johnson. Anthony, another Van Halen alum, plays with Hagar in the band Chickenfoot and guitarist Johnson plays with Hagar in the group Wabos. Bonham is the son of Led Zeppelin drummer John Bonham.
The former front man of Van Halen and Rock and Roll Hall of Famer, Hagar was a young man when he "burst on the scene from San Francisco as the lead vocalist of Montrose, whose song 'Rock Candy' has gone on to become a certified rock class," according to Hagar's website.
After a bunch of solo albums and cross-country tours, Hagar, known as the Red Rocker, joined Van Halen in 1985.
Later he performed with his band the Wabos, enjoyed a 2004 reunion tour with Van Halen and now plays primarily with his current band Chickenfoot, which also includes guitarist Joe Satriani and drummer Chad Smith of Red Hot Chili Peppers fame.
Hagar's fans, known as "Redheads," can expect a variety of tunes from the rocker on Thursday.
A set from a stop on the current tour included the songs "There's Only One Way to Rock," "Rock Candy," "Good Times Bad Times," "I Can't Drive 55," "Whole Lotta Love," "Moby Dick," "Best of Both Worlds," "Right Now" and "Rock and Roll."
Along with his music, Hagar is known for raising money to benefit charities in the cities where he performs. Hagar plans to donate a portion of proceeds from the show to the Tulalip Food Bank.
More information about the Tulalip Amphitheatre shows can be found at www.tulalipresortcasino.com/Entertainment/TulalipAmphitheatre.