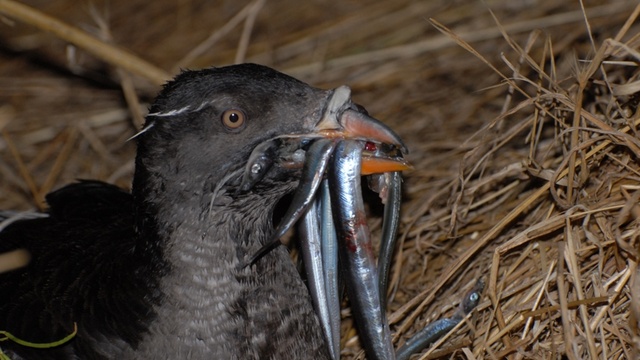 By Ashley Ahearn, KUOW
SEATTLE — Seabird populations in Puget Sound have declined since the 1970s and scientists believe pollution is partially to blame.
But how do you prove that? Study what the seabirds are eating. A new paper published in the journal Marine Pollution Bulletin found that seabirds in Puget Sound are eating fish that are two to four times more contaminated than fish on Washington's outer coast.
To gather the data, scientists camped out on three remote islands – one in Puget Sound and the other two on Washington's outer coast – that are nesting spots for Rhinoceros Auklets, a small dark seabird shaped "like a football," said Tom Good, the lead author of the study and a biologist with the National Oceanic and Atmospheric Administration in Seattle.
Good and his team waited in the dark for the mom and dad auklets to fly home with beaks full of fish for their chicks. Then, when the birds landed, the scientists flashed on their headlamps, startling the birds so they would drop their fish.
Watch: Rhinoceros Auklets landing at a remote island as scientists wait.
"It's called spotlighting," Good explained.
"It sounds worse than it is," Good said, "but yeah, we're stealing food from the mouths of babes, basically."
Good didn't harm any birds in his research. And the confiscated fish provided an immense amount of data.
Chinook salmon, sandlance and herring were the main items on the auklet menu. The top three pollutants found in the fish were PCBs, DDT and flame retardants.
Salmon samples taken from auklets on Tatoosh Island, near the mouth of the Strait of Juan de Fuca, had the lowest levels of contaminants, when compared to salmon caught at the other two islands in Puget Sound and along Washington's outer coast.