By Associated Press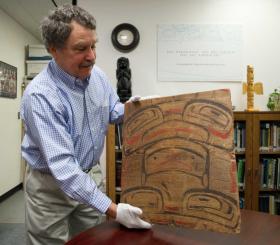 JUNEAU, Alaska (AP) _ The Annenberg Foundation has donated Alaska Native artwork to the Sealaska Heritage Institute, which hopes to pinpoint the artifact's originating clan.
The foundation bought the carved and painted wood panel at a Paris auction house last December when efforts failed to stop the piece and other tribal works from being sold, the Juneau Empire reported Thursday (SHI gets surprise donation).
There have been numerous attempts to circumvent the auction process, including sending U.S. Embassy letters, institute president Rosita Worl said.
The U.S. Embassy in Paris contacted one of the foundation's trustees last December about participating in a French auction to repatriate artifacts to tribal leaders, Annenberg Ventures manager Carol Laumen said.
The trustee, Gregory Annenberg Weingarten, agreed, and foundation representatives successfully bid on 25 Hopi and Apache items and later on the wood panel.
A week later, the foundation notified the heritage institute about the purchase and intention to repatriate the panel.
The institute plans to reach out to southeast Alaska clans to try to determine the rightful home of the work, which may have been part of a bentwood box. The origin of the object is unknown, although it can be traced to southeast Alaska or British Columbia.
"It's possible that somebody has that kind of detailed knowledge in a clan or a community," said Chuck Smythe, the institute's history and culture director.
The panel could be identified by comparing it with similar designs, historic photographs or matching the design with clan stories. Meanwhile, the Juneau institute is treating the object as a regional repository.
The panel will be displayed from time to time at the Walter Soboleff Center, which is being constructed. When not on display, it is being preserved as part of the institute's collection.
"It will be available for our people to look at," Worl said.
___
Information from: Juneau (Alaska) Empire, http://www.juneauempire.com