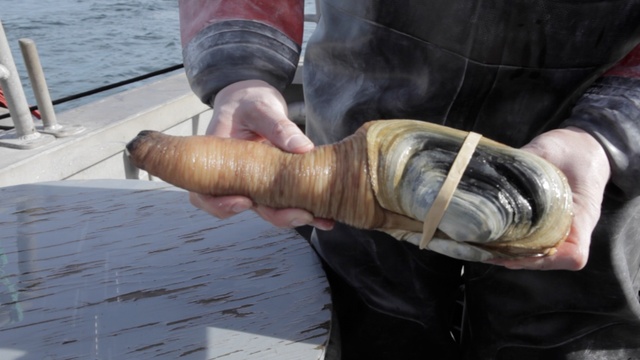 By Ashley Ahearn, KUOW
U.S. officials say they will develop a new testing protocol to detect certain contaminants in shellfish, following their meeting with the Chinese government to discuss an end to that country's ban on importing shellfish from most of the U.S. West Coast.
Representatives of the two countries' governments met in Beijing last week for their first face-to-face discussion of China's shellfish ban. China banned shellfish imports in December after officials there said they found high levels of paralytic shellfish poisoning in a geoduck clam from Alaska and high levels of inorganic arsenic in a geoduck from southern Puget Sound.
U.S. officials said during a briefing with reporters Friday that the Chinese are satisfied with U.S. testing methods for paralytic shellfish poisoning but they're still concerned about arsenic. High concentrations of inorganic arsenic, a carcinogen, were found in the skin of geoduck harvested near Tacoma, Wash., last fall.
Americans don't eat the skin. But the Chinese often do.
The National Oceanic and Atmospheric Administration's Paul Doremus said the U.S. will develop a new testing protocol for inorganic arsenic in shellfish.
"Ultimately it is up to China to decide whether they are satisfied that our testing mechanisms and overall protocols meets their standards," he said.
Doremus said it was impossible to say when the ban might be lifted.
U.S. officials will meet within a week to put together the new testing protocols.
The ban has been in effect since November of 2013, costing the industry hundreds of thousands of dollars.