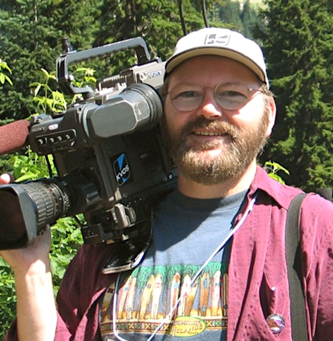 By Monica Brown, Tulalip News Writer        
TULALIP, Wa – Tulalip's Hibulb Cultural Center, on occasion, feature film screenings of films that star, are filmed by or are written by Native Americans, yet all tell one facet of the Native American life. Thursday, Oct 24th's featured screenings were of Jeff Boice's work with the Tulalip Tribes. Jeff Boice, a videographer/editor, has been working with the Tulalip Tribes since 1990, has also done video shootings for large media companies such as The Discovery Channel and CNN.
                The evenings screening were many short segments of the Walking Tour II with Ray Moses, History Minutes and a Williams Shelton's segment. The Walking Tour follows Tulalip tribal member Ray Moses as he tells stories about significant locations on the Tulalip reservation. "He's quite a historian. It was great working with Ray," commented Boice.
 History Minutes are under a few minutes, are produced for the museum and focus on one particular aspect of tribal life such as boarding school life or construction of summer homes that were used in the old days.
The William Shelton segment centered on the portion of William's life when he carved the Sklaletut pole, a culturally important piece of artwork. Boice has a genuine interest in documenting the past of the Tulalip Tribes and states, "Our hopes are that this video will help generate enough interest to be able to do a longer documentary [on William Shelton] but not just that but to generate interest in preserving the Sklaletut pole."
Most screenings events at the Hibulb are relatively intimate, are under a few hours and include a Q and A afterwards. For more about future film screenings at the Hibulb please visit their website or call 360-716-2600. To view the works of Jeff Boice, visit Boicetv.com.