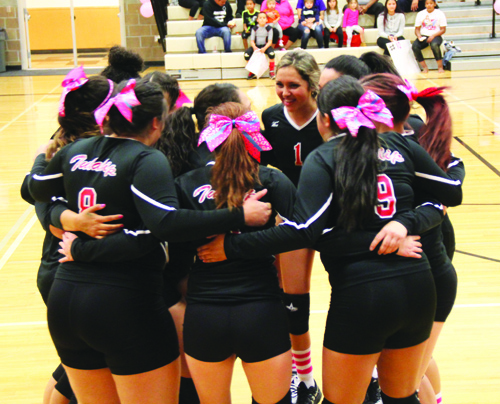 by Micheal Rios, Tulalip News
On Tuesday, October 6, the Tulalip Lady Hawks (2-4) volleyball team hosted the Rockets (1-5) from Skykomish. The Francis J. Sheldon gymnasium was decorated with pink signs, pink balloons, and pink ribbons to recognize October as national Breast Cancer Awareness Month.
It was clear just by watching the two teams warm-up prior to their match that the Lady Hawks had a decisive advantage in skill and athleticism. All the Lady Hawks had to do was execute their game plan and not commit turnovers that result in points for their opponent.
The 1st game started out rough for the home team to say the least. They weren't communicating, there was no hustle, and most of all they were scoring most of the points for their opponent by committing error after error. Coach Tina Brown called timeout when the Lady Hawks went down 9-10, but was unable to get her team going. The Lady Hawks were visually stunned after giving away the 1st game, 17-25, to the Rockets.
Before the start of the 2nd game, coach Tina told her team, "All we have to do out there is talk, that's it. Just talk and we'll win this match. If you don't communicate with each other then you make it very difficult to win."
The Lady Hawks took that 1st game loss personal, as they should have, and came out motivated and determined to make up for it in the 2nd game. Jumping out to a 10-3 point lead calmed the girls' nerves and allowed them to settle in and just play their game. They would win the 2nd game 25-15, tying the match at one game apiece.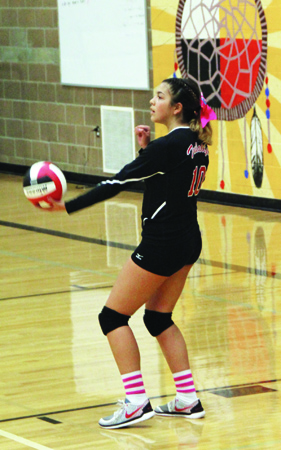 In the 3rd game, #13 Jaylin Rivera kept the momentum going for her team by serving up four straight aces. With #12 Aliya Jones leading the way with her active voice and energy, she sparked the rest of her teammates to follow suit and hustle their way to a 25-13 win to claim the 3rd game.
The 4th game would be the easiest of them all for Lady Hawks, as the Rockets best player appeared to strain her hamstring and come out of the game. Leaving little competition for the Lady Hawks, they took the game 25-12 and the match 3-1. It was the first home win on the season for the Lady Hawks, and moved their overall record to 3-4 and only 1 game behind for 4th place in the division standings.