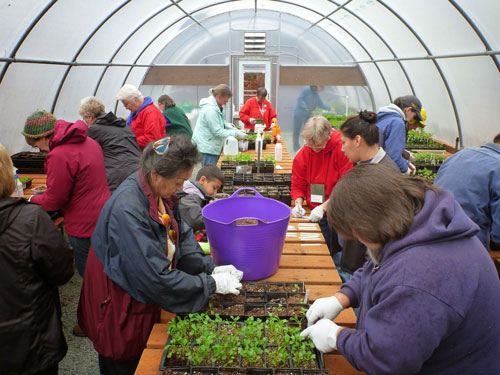 by Brandi N. Montreuil, Tulalip News 
TULALIP – Gardeners in training took part in a transplanting extravaganza on Sunday, March 16, at the Hibulb Cultural Center.
A new partnership between the Tulalip Tribes and the Washington State University Snohomish County Master Gardeners Foundation is making it possible for participants to learn the nit and grit of greenhouse gardening.
During Sunday's event, 40 gardeners of all ages transplanted 75 flats of broccoli, kale, and chard seedlings into larger pots. These seedlings will be part of a crop grown to aid local food banks, such as Tulalip Food Bank, and other Snohomish County Master Gardener food bank gardens.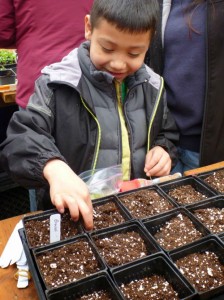 "We all got to know each other more and shared our passion and enthusiasm for gardening," said Veronica Leahy, Diabetes Educator at the Tulalip Karen I. Fryberg Health Clinic. The gardens began with the clinic's diabetes management care and prevention education as the 'Gardening Together as Families' program. The program expanded through the Rediscovery Program at the Hibulb Cultural Center to incorporate traditional plants and traditional foods
"Even in the rain we were warm and comfortable inside the greenhouse, enjoying each other's company," said Leahy.
An additional class was held on Wednesday, March 19, that focused on proper transplanting, water, and sanitization techniques, along with how to seed and label plants, and protecting young plants as they grow.
For more information on 'Gardening Together as Families' program at the Hibulb Cultural Center, please contact Veronica Leahy at 360-716-5642 or vleahy@tulaliptribes-nsn.gov.
Brandi N. Montreuil: 360-913-5402; bmontreuil@tulaliptribes-nsn.gov