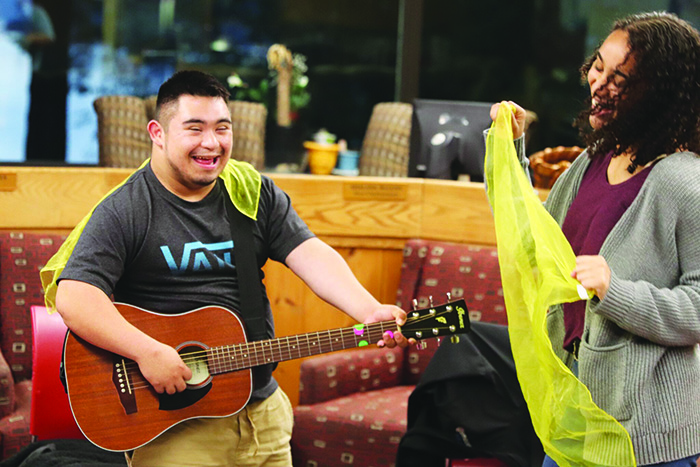 By Kalvin Valdillez, Tulalip News 
For one hour, every Monday evening, the Tulalip Youth Council board room is turned into a music studio where a live rock band rehearsal takes place. As you approach the building, you hear the sound of drum patterns increasing and decreasing in pace and volume, accompanied by small fits of laughter. In the middle of the youth council chambers was a small circle of young musicians banging out beats on large paint buckets. The band is so caught up in the moment and exuding so much joy that their smiles become extremely contagious and every four measures somebody ends up making the entire group crack up with just a grin. 
As the drums started to decrescendo, a voice that many local youth would instantly recognize, began to sing the hello song, welcoming everybody to the rehearsal. Victoria Fansler, of the Snohomish County Music Project (SCMP), led the band with the first song of the day. Victoria often works with the Tulalip youth at the Betty J. Taylor Early Learning Academy, Quil Ceda Tulalip Elementary and many other schools and tribal programs, helping the kids overcome traumatic experiences through music therapy. Over a year ago, representatives of SCMP attended a meeting held by the Tulalip Youth Services Inclusive Advocacy Committee,  and from the meeting, Music yoU ROCK was created – an interactive, inclusive rock band instructed by SCMP Music Therapist, Colby Cumine.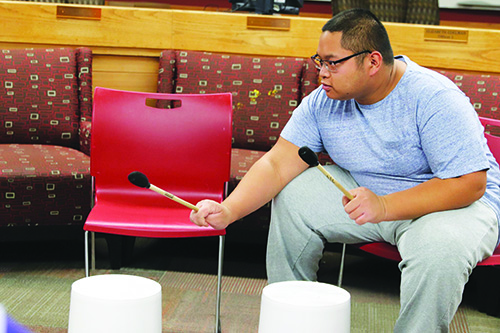 "We started about a year ago," says Colby. "We attended a few parent committee meetings for tribal youth with special needs and there was talk about a lack of opportunities for kids with special needs, especially those who are aging out of services. After high school, there are no federal requirements to continue providing services for individuals with disabilities who graduate from high school. We started the program a year ago and we had three or four people sign up each quarter. And we've had three other successful quarters since then."
After Victoria welcomes everybody to the class, the band practices a few more rhythmic exercises before Colby calls upon someone to pick a song the class can get down to. Colorful scarves are passed out as Colby queues up the jams on his phone. Once the beat drops, everybody is out of their seats, dancing and waving their scarves. Following the dance party, the group picks the instrument and partner of their choice and begin practicing a song. This particular day, the band worked on the Michael Jackson classic, Billy Jean. After practicing with their partners, the band reforms their circle in the middle of the room to perform the song altogether.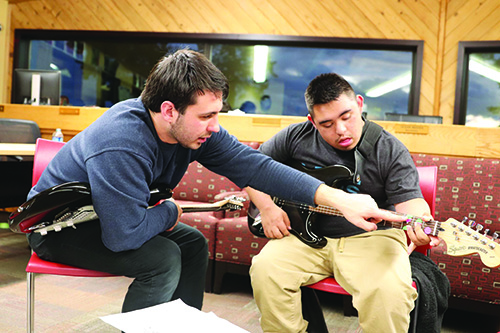 "We are using music for goals that aren't necessarily musical," says Victoria. "In Music-Ed or a typical rock band experience, the focus would be on the final product, the performance and quality of the music. Here we're focusing on that ensemble connection, noticing how each other plays and communicating together."
"Music is a level playing field, everyone enjoys music in some form or another," adds Colby. "In the music therapy setting, we don't emphasize how well you can play the instrument but how much fun you're having while playing the instrument. So if you're a super talented guitar player who can play all the chords, licks and chops, or if you're just strumming along having fun, both of those are equally as successful in this program.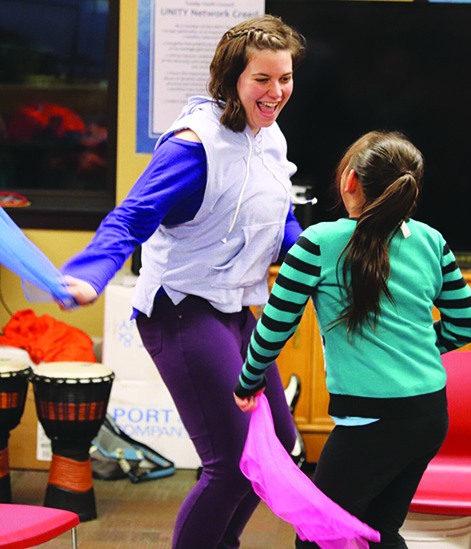 "It's a really good way to bring people together," he continues. "People are sharing songs here; every week we drum along to a song chosen by someone attending the group. Even today one of the guys was singing along to a song he doesn't listen to outside of this group but he's picking those lyrics up and connecting with other people through that song and that makes my day. It's always cool to see their growth, it's always such a rewarding reminder of why we started this program and why we want to continue it."
Before the class ends, Victoria sings farewell to her bandmates. Many of the musicians meet up briefly after the class to discuss their day and speculate on how much fun next week's class will be. 
"I come in every Monday," says young rocker Ernie Mapanoo. "I like to play the guitars and learn to play the piano. Today I was working on a Michael Jackson song, I like that song a lot too, it was fun. I work on all kinds of songs though because I love music. I play the drums and guitar, that's why I come out all the time to this rock band. [Colby and Victoria] are pretty cool too; I like them a lot." 
This quarter, the band was joined by future music therapists Lindsey and Kesha, Seattle Pacific University music therapy practicum students. Throughout the entire session, the young ladies assisted the musicians with chords and tempo and shared laughs during both of the dance and drumming sessions.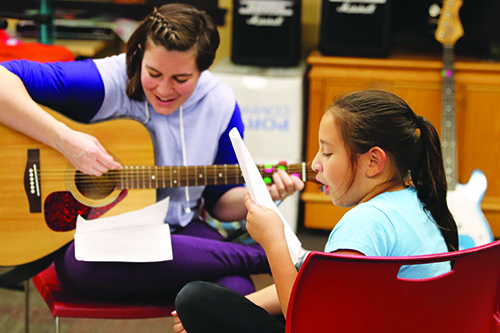 The musicians will continue vibing out the Youth Council board room every Monday from 4:30-5:30 p.m. until December 17. Towards the end of Music yoU ROCK, the band will record a few of their hits and have a listening party on the last day of the program.
Music yoU ROCK is funded through the Developmental Disabilities Administration (DDA). The program is open to the entire community. Those who are DDA participants can attend the program with no charge. For non-DDA particpants, the cost of the progam is $220.
For more information, please contact Tulalip Youth Services at (360) 716-4909 or the Snohomish County Music Project at (425) 258-1605.