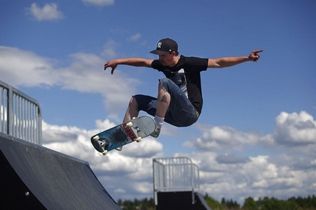 The Daily Herald
STANWOOD — The city's skate park got a makeover this month, with the older wooden ramps replaced by modular-style steel ones.
"It's a lot more interesting and a lot more fun," said Nate Brown, 19, of Stanwood, who was one of several people testing out the new ramps this week.
"It flows really good," said Terrance Patterson, 22, of Arlington.
The Vito Z Memorial Skate Park NW features a mix of these ramps around a two-step concrete platform and skate rail. The skate park is open from dusk to dawn and is located in Heritage Park at 9800 276th St.
The city paid $60,000 for the new ramps, which were installed by the American Ramp Co. over a couple of days earlier this month.
Christie Connors, director of the Community Resource Center, helped organize a meeting about the project in March with local skaters. She was one of the original park organizers in the late 1990s.
"These improvements are long overdue," Connors said. "I'm glad the city stepped up to provide skaters and others with a safe and healthy place to play in town."
The Vito Z Memorial Skate Park was opened in 2000 by a group of Stanwood students and adults. The park is named in honor of Vito Zingarelli, a 1-year-old, who drowned in 1993.
The park can be reserved for private parties through the city's Streets and Parks Department.
Reservations
For more information about the park and reserving it for events go to the city's website at www.ci.stanwood.wa.us or contact public works assistant Lisa Noonchester at 360-629-9781 or lisa.noonchester@ci.stanwood.wa.us.