By Amy McRary, Knoxville News Sentinel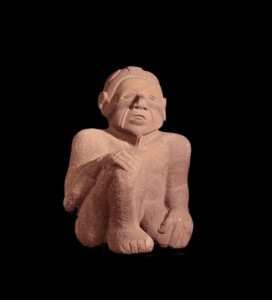 KNOXVILLE – Tennessee's got a state bird, a state flower, a pair of state rocks and several state songs. So why not a state artifact?
That designation likely will soon go to an ancient figure at the University of Tennessee's McClung Museum of Natural History and Culture.
The 700-year-old Native American sandstone statue is called "Sandy" by the museum and is often used as a symbol for the center. It's an ancient sandstone figure of a kneeling, older man carved sometime between 1250 and 1350 AD. The 18-inch figure from prehistory's Mississippian period likely represents a chief.
"Sandy" was found in a Wilson County farm field in 1939. It's on exhibit as part of the McClung's permanent exhibit, "Archaeology and the Native Peoples of Tennessee."
A bill that would make Sandy the official state artifact passed the state Senate and House and awaits Gov. Bill Haslam's signature. The bills were introduced by legislators at the request of the Tennessee Council for Professional Archaeology.
"Naming Sandy as an official Tennessee symbol acknowledges the state's ancient past, and will encourage Tennesseans to learn more about and work to help preserve our shared history," TCPA President Tanya Peres, a Middle Tennessee State University associate professor of anthropology, said in an announcement about the bill's passing. "Listing Sandy as the state artifact also honors the legacy and accomplishments of Native Americans who lived in Tennessee for more than 10,000 years before the arrival of European settlers."
"The McClung Museum is thrilled to receive this recognition of Sandy and our museum," said McClung Director Jeff Chapman. "Sandy is such an important example of prehistoric Native American art, and we are proud to be the stewards of this piece of Tennessee history."