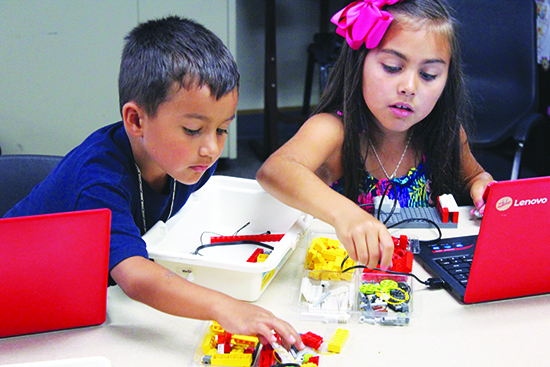 By Kalvin Valdillez, Tulalipo News
Tulalip Summer School students spent the week of August 7-11, creating robots at Tulalip Homework Support, located behind the Boys and Girls Club. Students, kindergarten through twelfth grade, participated in STEM (Science, Technology, Engineering and Mathematics) Week in which they used Legos and laptops to build and program robots.
The Summer School partnered with Matthew and Kathy Collier, founders of the Robotics.How.com website, to bring the hands-on STEM experience to the Tulalip community, teaching the youth about coding through the use of Lego Mindstorms Robots.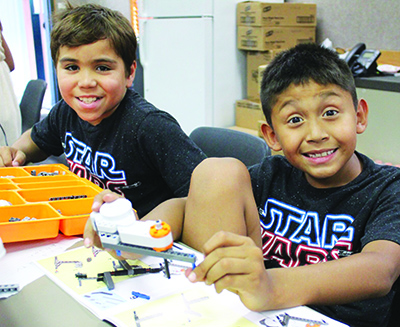 "We've been working with the Lego Mindstorms Robots for nineteen years," Kathy explains. "We have a variety of Lego Robotics education products and software. The youngest students are using what is called WeDo Lego Robots and they are actually programming tiny little Lego critters to dance, sing, flap and do all kinds of things. We have a monkey that drums, we have a giant that lifts himself from sleeping, so through the week they do different projects. What's wonderful about the program is they are actually coding.  The same coding a software engineer does on a big scale, on a much smaller scale. Each one of those children is building a little software program. The third through fifth graders are using what's called the NXT Lego Mindstorms Robots and sixth grade and above are using the EV3 Lego Mindstorms.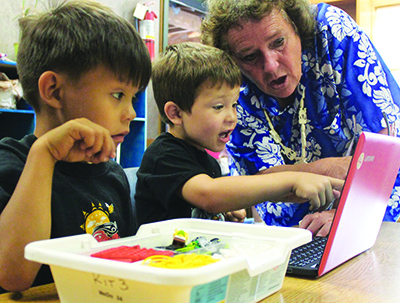 "There are colleges such as MIT that use the Lego Mindstorm Robots to do different demonstrations. These are sophisticated robots," she continues. "The kids are learning not only to design and build ideas, they're learning to program. By the end of the week, all of these children will understand what many adults don't, how to program a robot to dance, move and say things. The emphasis for STEM Week is discovery. Learn by discovery, learn by inventing, and learn engineering by doing, testing, trial and error; and we use a lot of Legos to do that."
The kids were instantly intrigued and listened both excitedly and attentively to instructions before assembling their robots. Throughout the week, the fourth through twelfth grade students work in teams of two to fine-tune their bots. Students, sixth grade and older, are utilizing a new technology to control their machines with their minds. Without prior programing or the use of controllers, the students operate their Lego Robots by wearing a brainwave reader. The younger students spend their week creating new robots and projects each day.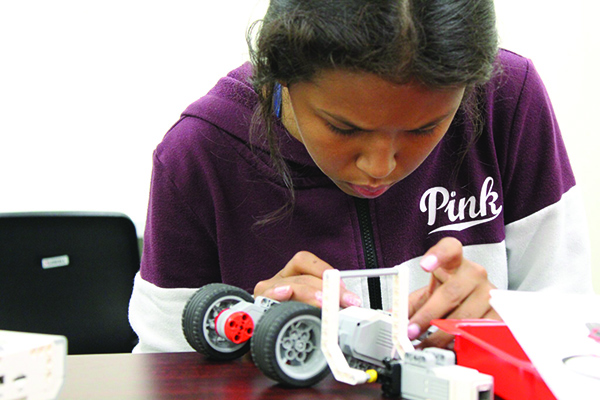 "I think that robot camp is a fun place to think about robots," states Summer School Student, Jordan Bontempo. "My favorite thing I did was playing with my robot, I like experimenting with it."
Fellow classmate, Alo Williams added, "Its fun and I really like to learn here. I like that we get to build and program robots."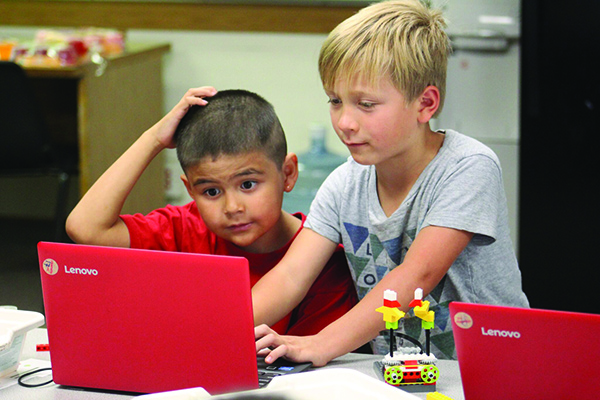 Due to the program's popularity and interest, the Tulalip Education Department intends to start a Lego Robotics team, comprised of teens from the community, to construct robots to perform in local competitions.
"To get these kids, especially the teenagers, to buy into this and not say 'oh, this is boring' is amazing. We haven't had to push them once to participate, they want to do this," says Homework Support Teacher Seiya Kitchens. "We're trying to get a team together to represent Tulalip.  The kids will be able to win awards and get to travel. I think there are a lot of kids that will benefit from STEM Week. Nowadays kids use more technology, so I think a program like this will reach more kids because it's a transition from pen and paperwork to this."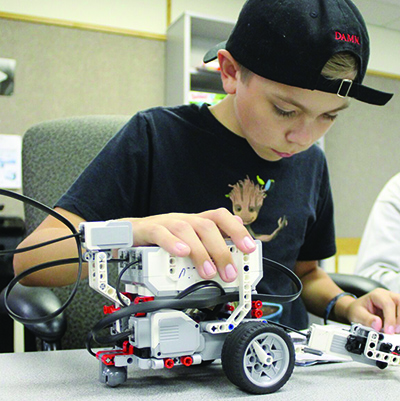 STEM Week provides a fun foundation for the children who wish to pursue a career in any of the four fields.
"This is such a techy age, kids are exposed to so much more," Kathy states. "If these young minds start to show a hint of potential, we can start steering them towards thoughts that inspire engineering ideas. We give them the tools and let them learn and experiment. This is not about following a set of building instructions, we are turning them loose to explore, invent and create."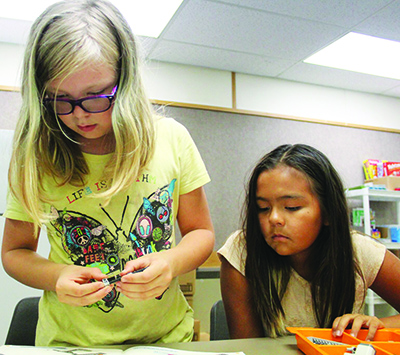 For additional details please contact the Tulalip Homework Support Program at (360) 716-4646.