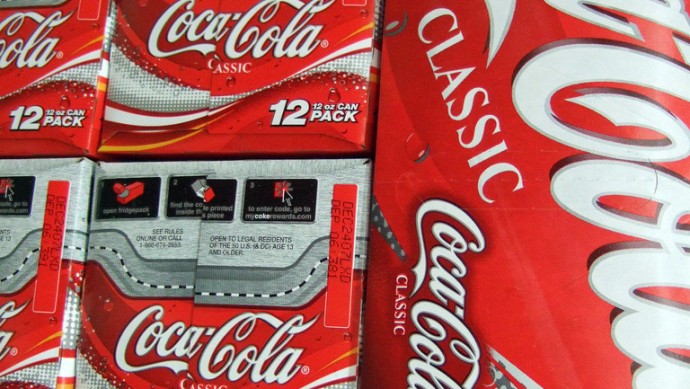 By Trisha Marczak, Mint Press News
Coca-Cola sales are plummeting in the wake of a growing movement away from sugary soft drinks in the U.S. and increasing concerns over the link between sugar, obesity and diabetes.
Profits for the global soda giant dropped by 4 percent this quarter, compared to last year at this time. The overall drop was influenced by a total soda sale decline of 4 percent in North America, where consumers are caught in the midst of a battle between retail advertising and government warnings over the negative health impacts of soda.
In June, the American Medical Association labeled obesity a disease, pointing a finger directly at the increase of U.S. sugar consumption and calling on the United States Department of Agriculture to cut sugary drinks out of government-sponsored food assistance programs.
The call to cut back Americans' intake of sugar comes after New York City Mayor Michael Bloomberg's soda ban, a proposal that would have banned sale of sugary drinks — mainly sodas — that come in containers larger than 16 ounces. While the proposal is still being worked out in the courts, the Bloomberg's proposal brought the debate about soda's health impact to the front lines.
Coca-Cola isn't pointing to the social debate over sugary drinks as the main component of its decline in sales. Instead, it's talking about the weather.
"Our second quarter volume results came in below expectations, reflecting an ongoing challenging global macroeconomic environment and unusually poor weather conditions in the quarter," Coca-Cola CEO Muhtar Kent said in a press release following the second-quarter earnings release.
While Coca-Cola claims its downturn in North American soda sales is largely due to weather, arguing that people drink fewer sugary beverages when it's just not nice out, it comes in the midst of a U.S. health-inspired trend that's moving consumers away from the sugar-filled drinks that make up the company's portfolio.
"Soft drinks are the devil product at the moment," London Metropolitan University nutrition policy professor Jack Winkler told the Wall Street Journal.
Coca-Cola denial and the growing scientific debate
In an attempt to stay relevant in the midst of a society growing more aware of the impacts sugary drinks have on health, Coca-Cola is in the midst of attempting to create a soda that uses low-calorie sweetener while still providing a full-body taste.
This follows a campaign launched at the beginning of the year that attempted to brush off the obesity scare, urging Americans instead to get out, exercise and quench their thirst with a Coke product.
"We're watching, we're learning," Steve Cahillane, who heads Coca-Cola's North American division told CBS News.
The company is also engaging in the nationwide conversation, portraying itself as a leader in the fight against obesity. A commercial released recently aims to market Coca-Cola as a company intent on reducing calorie consumption and battling the obesity epidemic.
According to the American Medical Association, 36 percent of American adults are obese or overweight. If trends continue, experts predict that could rise to 50 percent of Americans by 2040.
On top of obesity, the nation is also seeing a rise in Type 2 diabetes. A recent Harvard study indicated that people who drank two cans of sugary drinks a day had a 26 percent greater risk of developing diabetes. It also found that men and women who increased sugar consumption with a 12-ounce serving per day gained an average of 4 pounds every year.
"For over 125 years, we've been bringing people together. Today we'd like to come together on something that concerns all of us: obesity," the Coca-Cola commercial states. "The long-term health of our families and the country is at stake. And as the nation's leading beverage company, we can play an important role."
The commercial goes on to give a glowing report of just how hard Coca-Cola is working to provide "healthier options" for American consumers, claiming that a growing percentage of products are ones that have been severely limited in caloric content.
"Across our portfolio of more than 650 beverages, we now offer 180 low- and no-calorie choices and most of our full-calorie choices now have low or no calorie versions," the ad states. "Over the last 15 years, this has helped reduce calories per serving across our industry's products in the U.S. by about 22 percent."
Will Coca-Cola win the 'health' battle?
By the end of 2013, Coca-Cola plans to help limit portion sizes by offering smaller bottles and cans of various sodas available in 90 percent of the country, according to the advertisement. This adds to what it claims are efforts to help consumers make the right choices.
The commercial states that elementary and high schools throughout the nation have been equipped with Coca-Cola vending machines that have increased the choice of low- and no-calorie drinks, including diet sodas.
According to a Wall Street Journal report in March, one-third of North American Coca-Cola sales came from low- and no-calorie beverages.
"We are committed to bring people together to help fight obesity," Stuart Kronauge, Coke's North America Sparkling Beverages Division general manager told Time magazine. "This is about the health and happiness of everyone who buys our products and wants great-tasting beverages, choices and information. The Coca-Cola Company has an important role in this fight."
In line with Coca-Cola's push for no-calorie drinks in U.S. schools, a study published in the American Journal of Clinical Nutrition indicates that from 2007 to 2008, 12.5 percent of children were consuming artificially sweetened beverages during a 24-hour time period — double the amount children were drinking 10 years ago.
And while that gives the company a favorable statistic in terms of sugar content, with a 90 percent reduction in beverage calories sold in U.S. middle and high schools since 2004, it doesn't eliminate health concerns.
Concerns over the no-calorie push
A mock Coca-Cola anti-obesity advertisement addresses this issue, citing health concerns related to the use of no-calorie sweeteners.
"Even though we've reduced the calories per serving, these beverages can still cause kidney problems, obesity, metabolic syndromes, cell damage and rotting teeth, which leaves 470 beverages which have extremely high unhealthy levels of calories," the mock ad states.
The ad that took a stab against Coca-Cola is based on studies conducted on aspartame, the ingredient that is most often found as a substitute for sugar in low- and no-calorie beverages.
It wasn't too long ago when no-calorie sweeteners were considered dangerous chemicals.
In 1958, Congress required the FDA to ban any additive that was known to cause cancer in animals or humans. In the 1960s, cyclamate was removed from U.S.-sold products when it was linked to cancer. Specifically, chicken embryos that were exposed to aspartame began to develop deformities. A later study showed rats fed the product grew bladder tumors, according to a Time magazine report.
By the 1980s, aspartame moved on to the market, becoming the preferred additive for diet colas. This was after a 1980 Food and Drug Administration Board of Inquiry study that initially deemed the additive to be potentially dangerous and a carcinogen.
"The Board has not been presented with proof of a reasonable certainty that aspartame is safe for use as a food additive under its intended condition of use," the report states.
However, a year later a new set of studies favorable to aspartame emerged, and it was approved for U.S. market consumption.
In 1985, Monsanto purchased G.D. Searle, the company that owned the aspartame patent. Since then, it has become the go-to for the soda companies, including Coca-Cola in their quest to produce low- and no-calorie beverages not just throughout the U.S., but throughout the global market.
"The key here is to ensure that in every market where we operate to have no- or low-calorie beverages of our main brands available," Kent said in a conference call, according to the Wall Street Journal. "We do not have that consistently across the world today."