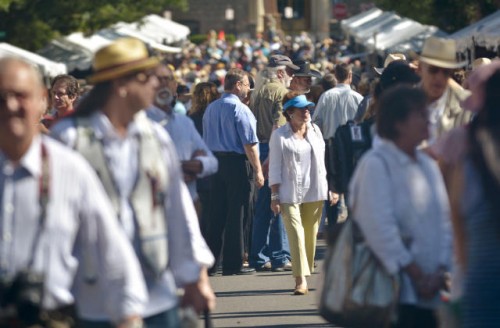 By Jackie Jadrnak, Albuquerque Journal
Bouncing back from financial and staffing controversies last year, the Santa Fe Indian Market this August is promising a newly contemporary flavor.
It's not that the standards are changing substantially for the main market on the Plaza, although last year and this year some rules have been loosened to allow some non-traditional materials and techniques – variations that must be disclosed, said Dallin Maybee, chief operating officer for the Southwestern Association of American Indian Arts.
"We want to protect the collectors, as well as the artists," he said.
More important, this year's market will see a new expansion called Indian Market Edge, which will offer indoor spaces at the Santa Fe Community Convention Center to galleries and Native American artists who create contemporary fine art, he said.
"I'm particularly excited about this," Maybee said. "We can present some contemporary artists who don't show with us now."
While some artists who produce works in a contemporary style have complained in the past that they didn't feel there was a place for them within the traditional bounds of Indian Market, Maybee said he felt that he had seen many artists include innovative works in their booths. Adding this contemporary showcase, though, will shine a spotlight on modern works being produced by Native artists, he said.
"The people I've approached about the concept are really excited," Maybee said. "This will help us stay fresh. We have to change with the times or we lose aspects of our culture." Contemporary art is an aspect of tribes' cultural evolution, he noted, adding that he creates some contemporary works himself, as do many of his friends.
"I'd like SWAIA to be known not just for traditional mediums," he said.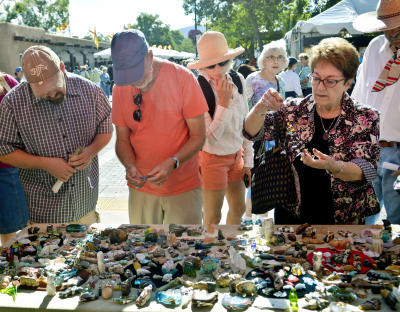 The idea is to offer 12-15 spaces to galleries that represent Native artists to show their works, while SWAIA will review applications from independent artists and choose about six to eight to showcase in its own space. He said the IAIA Museum of Contemporary Native Arts has expressed an interest in participating.
Altogether, Maybee estimated that 30 to 40 artists will have their work in Indian Market Edge. Booth fees won't be charged, but SWAIA will take a "small percentage" of any sales, Maybee said.
Some 900 artists take part in the outdoor Indian Market, slated for Aug. 22-23 on the Santa Fe Plaza. Those artists keep the proceeds of their sales, but pay a fee for their booths.
SWAIA, the organization that makes Indian Market happen, went through some turmoil last year when former operating officer John Torres Nez left with two other staffers to form the Indigenous Fine Arts Market, which presented artists in the Railyard on some days overlapping Indian Market and promised a greater voice to artists in how the market was produced.
According to its website, IFAM intends to present a market again this year Aug. 20-22.
That split came about when SWAIA was experiencing financial troubles and reduced work hours of some of its staff.
Maybee said this week that the organization no longer is experiencing financial woes. It paid off its loans after last year's market and hasn't taken out any new loans since, he said, partly due to the fact that last year's gala auction raised a record amount of more than $400,000.
"We got a groundswell of support among the artists," who donate artworks for the auction, Maybee said. "They wanted to support and protect the legacy (of Indian Market)."
And the Winter Market, which usually doesn't make money, came out ahead this year, he said, "between the Festival of Trees and good business decisions."
The Festival of Trees was a program in which various businesses and artists decorated Christmas trees that were auctioned off as a fundraiser.
Eventually, Maybee said, he would like to see Indian Market go from producing events to being a year-round presence – about 50 acres would be a good size for a site to establish a permanent presence with art on display and for sale, not unlike the Indian Pueblo Cultural Arts Center in Albuquerque, he said.
That's all still in the talking phase, though, and would require a considerable amount of fundraising, Maybee said, adding that a new development director should be coming on board in a month or so. Santa Fe would be the location for such a project, if it came to fruition, he said.
Meanwhile, Maybee said this year's Indian Market, in its 94th year, also will include:
The Native Cinema Showcase, starting earlier that week, along with the Classification X winners for submitted films.
A Thursday-night private preview reception where donors and tribal leaders can mingle and view the Best of Show winners; jeweler Raymond Yazzie, whose family currently has a show at the National Museum of the American Indian in New York City, will conduct a book-signing.
The Native American Rights Fund, a nonprofit law firm from Denver that defends Native sovereignty and other issues, will offer panel discussions exploring various Native issues in Cathedral Park on Saturday and Sunday.
Fashion events to showcase both contemporary and traditional fashions produced by Native designers.
An auction that will feature many artworks, including a four-place table setting that will be auctioned off en masse with everything from place mats to wineglasses produced by a bevy of Native artists.
A farewell party, by ticket purchase, Sunday night at La Mesita Ranch past Pojoaque, organized in collaboration with Buffalo Thunder Resort and Casino, with music, food, wine, spirit tastings and more.