By Denise DePaolo, KSFY News
KSFY News – Sioux Falls, SD News, Weather, Sports
South Dakota's nine Indian reservations exist as sovereign nations. But what does that mean? KSFY News talked with tribal, state and federal leaders about what it means to lead a nation within a nation.
Sovereignty may seem easy to define on paper, but in practice, it's complicated. To some, it's a feeling. A way of life.
"Sovereignty, to me, is something our grandfathers gave us. That we need to respect, because it's a tool that protects us here in Indian Country," said Rosebud Sioux Tribe President Cyril Scott.
It's a way of life that involves an ongoing power struggle, colored by a history of eradication.
"The states, the government, they want to take that sovereignty away from us. They don't want to acknowledge that Adolf Hitler got his ideas from the United States," said Crow Creek Sioux Tribe Chairman Brandon Sazue.
For tribal governments, sovereignty comes with a limited autonomy.
"When you look at South Dakota, we're unique in a sense that we have nine different tribes that through treaties and congressional action enjoy a level of tribal sovereignty. That means they have the ability – while they are certainly South Dakotans – that they have the ability to vote in our elections, but they also have a separate sovereignty that allows them to control certain matters within their borders," said South Dakota Attorney General Marty Jackley.
"We have control of our schools, our courts, our police, so those do make us sovereign, but there's a lot of things where we are not sovereign. We are still dependent. We are still dependent on the federal government because they have not met their trust responsibility in meeting our needs through economic development," said Oglala Sioux Tribe President Bryan Brewer.
"They gave us the treaties 200 years ago, 100 years ago, however long ago. Did that give us our sovereignty? In a way, it should have. But today, we don't have sovereignty," said Sazue.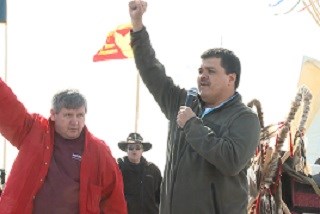 Tribes must follow state and federal laws, which can mean problems when those limits are tested.
"For any community in the United States, there are limits. The constitution still needs to be followed and respected. The federal laws still need to be followed and respected," said South Dakota U.S. Attorney Brendan Johnson.
For example, Pine Ridge is looking into the legalization of marijuana within its borders. Jackley says while he respects tribal sovereignty, pot still is illegal.
"He said he's going to come to Pine Ridge and arrest us if we did do that," said Brewer, "And we realize that we have to follow federal law and that. But again, we need to exercise our sovereignty. Pine Ridge has already passed an ordinance years ago legalizing hemp – to grow hemp on our reservation. Yet when a person did, they were arrested."
Another limit to tribal sovereignty is who can and cannot be prosecuted in tribal courts.
"There are further limitations if there is a non-Indian committing a crime against a non-Indian within the reservation boundaries, the state or the state's attorney would have jurisdiction over that," said Jackley.
"I believe we're going to start arresting everybody. Non-Indians. If they commit a crime on a reservation, we're going to arrest him, take them through our courts and see what happens. We know it will go to the Supreme Court, but we want to test it, we want to test our sovereignty and we talk about our sovereignty. We're going to test it through the judicial system," said Brewer.
"We're seeing tribal courts strengthened. We're seeing police departments growing and I think that's very good, because I think the future of tribal sovereignty means more local control for the tribes, less involvement from federal government," said Johnson.
According to Brewer, many families living in reservation communities depend on the federal government as well, because job opportunities are few and the cost of utilities like propane and electricity are high.
"We're all wishing and praying one day that we can be completely sovereign, but as long as we're within the confines of the United States government, we will probably never be truly sovereign."
A recent emphasis on economic development and inter-tribal trade aims to change that.
"The future of tribal sovereignty, I think, is about creating alliances. Sovereignty is strongest when you're using it to create alliances, and I think in South Dakota we're starting to see that now," said Johnson.
"We all have something to offer. We can trade with each other. So this is something we're really looking at," said Brewer, "We've talked to tribes in the northwest. They said 'Bryan, we'd like to have your buffalo. We have so much diabetes out there. Send us buffalo meat. We'll send you lumber, we'll send you salmon.' The Seminoles out of Florida – 'We'll send you oranges. You can use those for your people or you can sell them to communities.'"
South Dakota's tribes are working on many fronts to become more independent.
Wind energy will help cut down on the high cost of electricity. Several tribes have projects in the works.
The launch of dozens of tribe-operated businesses – like Lakota Popcorn on Lower Brule and Tanka Bars on Pine Ridge – are helping to alleviate the unemployment problem.
Many tribes are also putting an increased emphasis on tourism. For example, the Oglala Sioux will likely become the first tribe to operate a national park in the Badlands' South Unit.
While tribes are using the increasing connectedness of our world for the betterment of their people, assimilation and eventual obscurity aren't part of the plan.
"What we are telling the people of the United States and the state of South Dakota – we are a nation. The first nation of this country," said Scott.