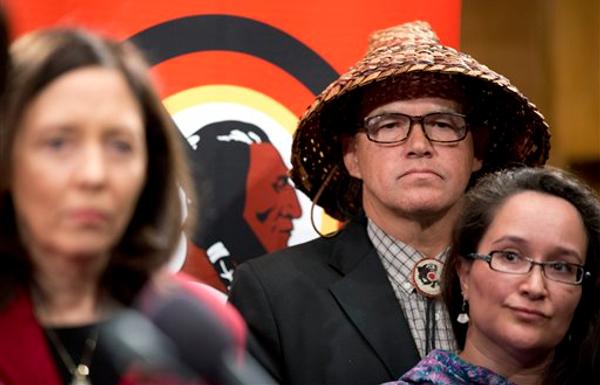 The National Football League is obviously a hugely profitable enterprise. According to Forbes, its net revenues are more than $9 billion, more than any other sports league. NFL Commissioner Roger Goodell's pay package last year was reportedly $29.4 million. The teams make a lot of money, Goodell makes a lot of money, and the league has as much as it needs to spend, as evidenced by the $36 million it shelled out for its new New York City headquarters.
Yet according to the U.S. governement, the NFL is a nonprofit—and therefore not subject to taxes. Earlier today, Senator Maria Cantwell (D-Washington) announced that she will introduce legislation to revoke the league's tax-exempt status due to its refusal to take action on the Washington Redskins name, which is defined in most dictionaries as a derogatory racial slur.
"The NFL needs to join the rest of Americans in the 21st century," Cantwell said, according to the Washington Post. "It is about right and wrong."
Cantwell was speaking at a press conference organized by the Change The Mascot campaign, which has been spearheaded by Oneida Indian Nation Representative Ray Halbritter. Change the Mascot announced that it is sending a letter, signed by Halbritter and Brian Cladoosby, President of the National Congress of American Indians, to all NFL team owners. It reads, in part:
The league is promoting this racial slur with the resources of every team, including yours, which makes it a league-wide crisis. Indeed, Congress has granted the league tax exempt status and anti-trust exemptions, in part, because it is a singular American institution—one in which you are a financial stakeholder. That status provides you both the opportunity and obligation to act so that your own resources—and taxpayer resources—are no longer being expended to promote this slur.
Change the Mascot goes on to suggest that the NFL should put pressure on Washington Redskins owner Dan Snyder. According to the NFL's own bylaws, the league can take disciplinary action against any "owner, shareholder, partner or holder of an interest in a member club (who) is guilty of conduct detrimental to the welfare of the League or professional football."
Read more at
http://indiancountrytodaymedianetwork.com/2014/09/16/want-keep-racist-name-nfl-then-start-paying-taxes-says-senator-156923