Updated: 4/11 3:20 pm | Published: 4/11 3:08 pm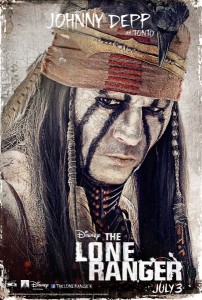 Actor Johnny Depp was thrilled to become an honorary member of the Comanche tribe while he filmed The Lone Ranger in New Mexico last year, insisting the 'adoption' was "possibly the greatest memento".
The movie star, who plays Native American hero Tonto in the new film, was thrilled when tribe elders invited him to become a member of their extended family and he jumped at the chance to be a part of a sacred ceremony at the home of activist LaDonna Harris in Albuquerque.
He says, "When the request came in, I couldn't believe it. It was an honor beyond all honors… The name they chose for me, Mah-Woo-Meh, means shapeshifter, which I suppose is quite apt, and I take great pride in that choice."
Depp tells EntertainmentWeekly magazine that the honor helped convince him that he's chosen wisely when it came to creating Tonto for the film.
The actor explains, "Even with what little knowledge I have of the degree of indigenous blood within me, our Native American brothers and sisters gave me the passion and drive to build my character with great care."
The Lone Ranger hits cinema screens this summer.