By Micheal Rios, Tulalip News 
Human trafficking ranks as the second largest criminal industry in the world today. It has become an ever increasing global problem and only continues to worsen. The International Labor Organization 2012 report estimates there are 21 million victims of human trafficking. Of that number, 4.5 million are children and women exploited by the global commercial sex trade. Most Americans view the sex trade as more of an international issue and aren't aware of its prevalence within U.S. borders. In fact, thousands of American women and children are trafficked in the U.S. commercial sex industry.
Washington's international border with Canada, its many ports, rural areas and agricultural make the state prone to human trafficking. In 2003, Washington became the first state in the nation to enact legislation making human trafficking a crime. Seattle police and the U.S. Department of Justice see a trend of victims and pimps being sourced out of the state along the west coast track from Vancouver, B.C. to Seattle to Los Angeles. The Seattle area including Snohomish County has seen an increase in illegal internet activity (e.g. prostitution) as a result of human trafficking along the I-5 corridor.
Snohomish County has been a major part of several sex trafficking stings led by law enforcement agencies over recent months. Most recently, in September 2016, ten men were arrested in Operation Anvil and charged in Snohomish County for crimes including commercial sexual abuse of a minor, rape of a child, and attempted rape of a child. Operation Anvil garnered national media attention and was an eye-opening moment for viewers of any local news shows. There was a similar sting operation in February 2016 where six men were arrested and charged for similar crimes.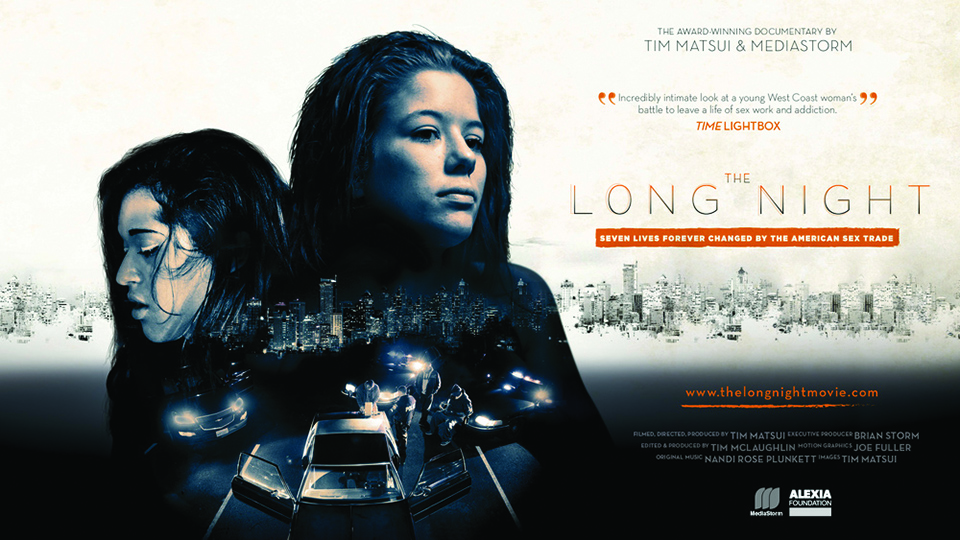 Further emphasis on the need for sex trafficking awareness in Snohomish County has rose from special screenings of the award-winning documentary, The Long Night, within the past month. Set in Seattle, The Long Night explores the crisis of minors who are coerced into the American sex trade. The film, by Tim Matsui, weaves the stories of seven individuals whose lives have been affected.
On Thursday, November 17, the League of Women Voters of Snohomish County arranged a screening of The Long Night at an Edmonds church. Tulalip Girls' Group coordinator Sasha Smith, Chairman Mel Sheldon, and Tulalip News staff were among those invited.
Following the screening, Sheriff's Department detective Joan Gwordske reviewed sex trafficking problems in Snohomish County and urged all community members to help raise awareness on sex trafficking in order to help prevent future incidents.
"Anybody in here have teenage daughters or granddaughters that go to high school in this area? What school?" Detective Gwordske posed this question to the audience. Hands went up and crowd members responded with several local high schools. "I have [sex trafficking] cases with girls in every single one of those schools and probably every other one that you can think of in Snohomish County," she said.
Long-time community member and former Northwest Indian College (NWIC) professor, Karen Shoaf-Mitchell has made it a personal mission of hers to help raise awareness on sex trafficking.
"As former public school teacher of forty years, I realize how vulnerable teens can be. In June of 2014, the Washington State legislature mandated that all school districts have information about this crime on hand for its counselors, school nurses, health classes, PTAs, etc. Yet, it was an unfunded mandate, so I decided that I should do something," explains Karen. "Therefore, I've given an informative presentation on sex trafficking to the Everett Public Library, to a World Problems class at Cascade High School in Everett, several times to the sovereignty class located at NWIC Tulalip, and now to the Tulalip Girls' Group."
Karen credits Tulalip for openly discussing subjects like abuse and exploitation in the tribal newspaper. She also points to former Board of Director Deborah Parker, who has spoken publicly about how she was taken advantage of, as another example of the Tulalip Tribes motivation to protect the most vulnerable, our children.
"[Sex trafficking] is a crime that is perpetrated upon the vulnerable and that outrages me," continues Karen. "I presented to the Tulalip Girls' Group a documentary about sex trafficking that shares stories from trafficking victims. Upon viewing the film, the girls had shocked and worried expressions on their faces. I shared that they could be vulnerable or their friends could be vulnerable to this manipulation by others. I also gave the girls cards from Dawson Place in Everett to put in their wallets with a phone number on it from D.P. to call if they ever needed help."
"The girls and I were surprised that it is happening in our backyard," says Girls' Group coordinator Sasha Smith of their reaction to the sex trafficking presentation. "I had no idea that it was happening so close to home, thought it was something you only see in the movies. It was a good wake up call for myself and the members of Tulalip Girls' Group."
Sex trafficking is a very real problem in Snohomish County and our local communities. For better awareness and understanding of the issue please visit www.SharedHope.org for more information.
Contact Micheal Rio, mrios@tulaliptribes-nsn.gov