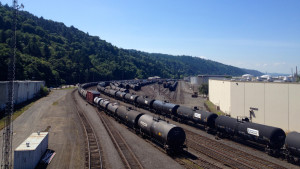 By Courtney Flatt, OPB
This week's fiery oil train derailment in West Virginia has lawmakers thinking about oil-by-rail safety through the Northwest. There has been a dramatic increase in oil trains traveling through the region to reach West coast refineries.
Committees in the Washington legislature are considering two bills. Senate Bill 5057 — supported by the oil industry — would expand the barrel tax to include oil shipped by rail. House Bill 1449 — supported by environmental groups — could change how oil-by-rail is regulated across the state.
"If there were to be an accident in Washington state, I, personally, would want to be able to say I did everything I could do to make sure that didn't happen," Sen. Christine Rolfes, D-Bainbridge Island, said during a Ways and Means committee hearing.
Oil safety bills are also moving through the Oregon Legislature.
Darcy Nonemacher, the legislative director for the Washington Environmental Council, said the recent derailment has more people thinking about how oil is transported.
"I think the lesson is that we do need to act. There's lots of things that need to happen whether it's at the federal, state, or local level," Nonemacher said.
The train that derailed in West Virginia was hauling oil with newer tank cars. Those newer designs are supposed to better handle derailments than older cars.
That's why oil-by-rail critic Eric de Place says oil transportation safety is a major concern.
"We need to just hit pause. We need to stop doing it until we have a way to transport that oil safely, which we don't have right now," says de Place, a researcher at Seattle-based think tank Sightline Institute, which doesn't support oil-by-rail.
In Washington, the oil and rail industries are supportive of Senate Bill 5057. The bill, sponsored by Sen. Doug Ericksen, R-Ferndale, will also take $10 million from the Model Toxics Control Account to allow the state Department of Ecology to provide grants for equipment and first responders.
"We believe it's critical to implementing the policy in the underlying bill. We also believe this funding complements the efforts we have underway within the railroad to train locally first responder preparation efforts," said Bill Stauffacher, with BNSF Railway.
House Bill 1449 would require planning for oil spill response in Washington state and it would require companies to disclose information about transportation routes.