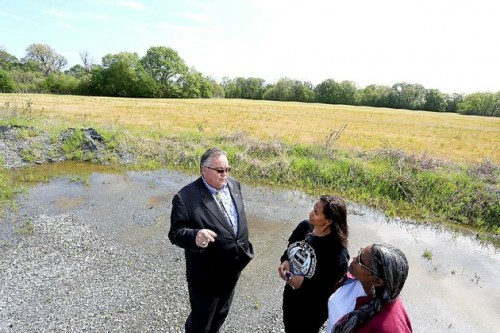 By Emily Walkenhorst, ArkansasOnline.com
In a deep, commanding voice, Quapaw Tribe of Oklahoma Chairman John Berrey said he feels the presence of his ancestors on the former Thibault plantation southeast of Little Rock.
"There's something physical that happens to us out here," he said, looking out onto the green pasture and trees that surround the graves of Quapaws from more than 100 years ago, when the tribe still inhabited Arkansas before members were moved to northeast Oklahoma.
Tribal elders cry when they arrive at the land, he said, standing at the edge of a vast puddle at the land's western border, dressed in a dark suit and textured brown leather boots, with large jeweled rings and metal wrist pieces matching a turquoise bolo tie.
His journey across Pulaski County last week included a stop in which he was greeted like an old friend at the Arkansas Heritage Museum, where his family members are quoted in the tribal exhibit.
As Quapaw Tribe of Oklahoma officials seek to have its 160 acres in Pulaski County placed into federal trust, taking it out of local jurisdiction, tribal leaders have faced suspicion from the city and the county that they intend to build a casino on the property.
Tribal leaders haven't said no, but they maintain that they don't have plans to pursue a casino. They focus on the history of the land, which is just south of the multimillion-dollar Little Rock industrial port.
"We really believe it's our responsibility to protect it," Berrey said.
The tribe would need only for the land to be accepted into trust and determined as "last recognized reservation" land for a casino to be built. Berrey said the land could be considered "last recognized reservation" land in the future, but that's not a process he is pursuing.
Little Rock leaders are concerned that the city and the Little Rock Port Authority don't have binding agreements about what the tribe would do with the land, if acquired into trust.
"It's that dangling fear of the future — what might happen," At-Large City Director Dean Kumpuris told Berrey at a city board meeting.
Some note the tribe's problems with plans for two casino projects in Kansas — one of which resulted in a state lawsuit against the National Indian Gaming Commission and U.S. Department of the Interior, and the other of which was eventually dropped — as signs that the tribe may not be straightforward.
"I think that's our biggest concern," City Director Lance Hines told Berrey. "What's to stop you from changing your mind?"
HISTORY OF THE LAND
The tribe secured its 160 acres outside Little Rock through 80-acre purchases in 2012 and 2013 for a total of $1,372,000. The tribe has no other land in Arkansas, although it's interested in purchasing acreage near the Big River Steel project in Mississippi County.
The Quapaw tribe — native to Arkansas and the source of the state's name — has reclaimed a little of what it lost over the years, through the discovery of tribal artifacts and grave sites where the tribe later purchased the land in Pulaski County.
Several years ago, historians from the University of Arkansas at Pine Bluff uncovered pottery fragments and other items from Quapaw burial mounds, including an iron spike, an iron buckle and parts of bowls and bottles.
Berrey said these artifacts are distinctly Quapaw, representing craftsmanship that was so popular it can be found among artifacts from across the Americas.
The Quapaw tribe isn't alone on that land; the graves of American slaves were discovered on top of the Quapaw burial grounds.
The tribe has since formed a partnership with the Little Rock-based Preservation of African-American Cemeteries group to protect the area. The groups' bond has even translated into a joint conference at the Oklahoma Downstream Casino Resort in May on preserving the graves of ancestors.
Carla Coleman, co-founder of the Preservation of African-American Cemeteries group, recalled the time that she and other group members visited the grave sites on the Quapaw land for the first time.
"It was just spiritual," she said.
Tamela Tenpenny-Lewis, another co-founder, said many graves in other places are lost because of development, agriculture or industry.
Berrey said he wants to protect these graves by acquiring the land into federal trust to prevent alienation, which is the ability of a property or property rights to be sold or transferred.
QUAPAW IN OKLAHOMA, KANSAS
The tribe operates two casinos, both in northeast Oklahoma, that have generated more than $1 billion of economic impact in the past five years, benefiting schools, scholarships and roads.
The Downstream Development Authority opened the 1 million-square-foot Downstream Casino Resort in Quapaw, Okla., on July 5, 2008, on behalf of the Quapaw tribe at the cost of $301 million. A casino fact sheet describes the spot as a "Las Vegas-style destination resort."
The tribe owns a second casino — a much smaller venture called Quapaw Casino — just 4 miles south of Downstream.
A few months ago, the tribe announced plans for a third casino, this one in Kansas, to be built with Kansas native Phil Ruffin, a Las Vegas billionaire known for casinos and his joint venture with Donald Trump to put up Trump International Tower in Chicago.
But the tribe withdrew from those plans after Kansas officials sued the federal government March 9, arguing that federal law was improperly applied on a different piece of Quapaw land just north of Downstream Casino Resort in Cherokee County, Kan., where the tribe had planned an expansion of Downstream Casino.
Kansas Attorney General Derek Schmidt wrote that tribe officials also broke their promise that the land — acquired into federal trust in 2012 — would not be used for a casino when they announced plans last year to expand the Downstream resort.
A Kansas law passed in 2007 allows for casinos with a minimum investment of $225 million in Cherokee and Crawford counties in southeast Kansas, Dodge City, Kansas City and Wichita, although no casinos have been established there since then.
In 2014, Kansas legislators passed a new law that would decrease the minimum amount of investment required to build a casino from $225 million to $50 million.
Afterward, Kansas proposed three state casinos in Cherokee and Crawford counties that are now awaiting approval from the Kansas Lottery.
Berrey said that change in law presented competition to the tribe's Oklahoma casino that borders Kansas, prompting the tribe to pursue the casino projects. He added that the tribe had already considered its Kansas property to be gaming land and did not deceive government officials.
The Downstream Casino Resort is so close to the border that the casino has parking spaces in Cherokee County, Kan., where the tribe owns 124 acres of "last recognized reservation" land.
Under federal law, tribes can establish gaming on land acquired into federal trust after Oct. 17, 1988, only if it is "last recognized reservation" land, meaning it was acquired in a recognized treaty and the tribe is present. Presence includes the tribe's exercise of its own authority on the land and the presence of tribal members on the land. The land also must be in a state with no present-day reservation for that tribe as of Oct. 17, 1988.
Berrey said that same designation could apply in the future to its Pulaski County property, where the tribe had land through an 1800s treaty, but "that's a whole 'nother application. That's something we're not even looking at."
The tribe acquired its 124 acres in Cherokee County, Kan., nearly 10 years ago and placed it into federal trust in 2012.
According to the Kansas attorney general's March 9 complaint in U.S. District Court in Kansas, state leaders wrote letters objecting to the trust before it was granted, believing the property would be used for gambling. The complaint adds that Cherokee County officials withdrew their objection after tribal leaders assured them that the land would not be used for gambling.
In 2013, according to the filing, tribal leaders requested a legal opinion from the National Indian Gaming Commission on whether the land could be used for gambling.
In late 2014, the commission's acting general counsel issued an opinion that said it could be used for gambling, citing its "last recognized reservation" status.
Tribal leaders then quickly announced plans to expand Downstream Casino Resort into Kansas.
Less than two weeks after the Kansas attorney general filed suit over the National Indian Gaming Commission's decision, Berrey said tribal leaders would no longer pursue the casino with Ruffin.
WHAT'S NEXT IN ARKANSAS
The Quapaw tribe now leases most of the land in Pulaski County to a soybean farmer. But Berrey said the tribe eventually plans to grow crops on the land to give food to the Arkansas Foodbank.
Berrey also has offered memorandums of understanding to Little Rock and to the Little Rock Port Authority that would be binding agreements on certain issues, such as how the Port Authority should handle any Indian remains it might uncover.
When asked whether the tribe intended to include provisions in those agreements that would subject the land to state laws governing gambling, Berrey said, "I don't think so.
"We're not talking about that. It's about the cultural stuff."
Berrey said he would "probably" sign an agreement restricting the tribe from acquiring more land in the area.
"We don't want to bind ourselves in the future, 20 years from now, based on something signed 20 years ago," he said, adding that he believed Pulaski County residents would eventually see "a lot of value" in the tribe's use of the land.
Arkansas law allows only for Oaklawn Racing and Gaming in Hot Springs and Southland Park Gaming and Racing in West Memphis to exist, but not all state laws may apply once land is acquired in federal trust.
The tribe's application indicates that placing land into federal trust would remove it from state and local jurisdiction, but the application also states that activities on the land would remain subject to state laws "to the extent afforded by existing federal law."
Berrey said the laws that would remain intact would be criminal and civil procedures — offenses that would lead to arrests, such as raiding a grave site.
But Little Rock and county officials are concerned that those laws wouldn't govern everything they're worried about.
Pulaski County Judge Barry Hyde and County Attorney Amanda Mitchell have until May 13 — after receiving a 30-day extension — to respond to a request by the Bureau of Indian Affairs in Nashville, Tenn., for information on the financial effect of removing the land from local tax rolls.
Although the land was purchased for nearly $1.4 million, it is appraised at only $85,350.
Hyde said he's still gathering opinions and information and doesn't know what the county will say to the Bureau of Indian Affairs. But Hyde said he doesn't understand why the tribe isn't considering keeping the land in local jurisdiction and seeking protections for the land through conservation easement, which would prohibit development, or some other arrangement with local government.
"It's hard to be a real part of the community when you play by your own rules," he said. Hyde said whether the county would oppose gambling on the land depends on input from the land's "neighbors," including the Port Authority and College Station.
The state also has the opportunity to give input to the Bureau of Indian Affairs. Gov. Asa Hutchinson spokesman J.R. Davis did not respond to requests for more information.
Port Authority Executive Director Bryan Day said he is opposed to any use of the land that doesn't benefit or complement the industrial port, which is a large public-private investment just south of the Arkansas River. Day said an inappropriate use could be a casino, a water park or a fast-food restaurant — anything that would increase nonindustrial traffic.
Little Rock Chamber of Commerce President and CEO Jay Chesshir echoed Day's concern and said the tribe's activities in Kansas "give rise to questions."
"Hopefully, the Bureau of Indian Affairs will take any concerns that we bring forward into consideration," Day said.
Metro on 04/20/2015
Print Headline: Quapaw leader: No plans for casino on land near LR port