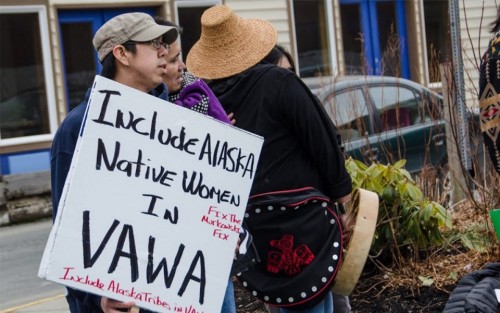 Complicated history sets Alaska Native women apart from Violence Against Women Act
By Kayla Gahagan, ALJAZEERA America
Opponents of the reauthorization of a federal law passed last year say it has created a dangerous situation for Alaskan domestic violence victims and are urging lawmakers to support a repeal.
Proponents of the original 1994 Violence Against Women Act say it was signed into law with the purpose of providing more protection for domestic violence victims and keeping victims safe by requiring that a victim's protection order be recognized and enforced in all state, tribal and territorial jurisdictions in the U.S.
According to the White House, the VAWA has made a difference, saying that intimate partner violence declined by 67 percent from 1993 to 2010, more victims now report domestic violence, more arrests have been made and all states impose criminal sanctions for violating a civil protection order.
Last year the law was reauthorized, clarifying a court decision that ruled on a case involving civil jurisdiction for non–tribal members and amending the law to recognize tribal civil jurisdiction to issue and enforce protection orders "involving any person," including non-Natives.
But almost all Alaska tribes were excluded from the amendment, with only the Metlakatla Indian community from Alaska included under the 2013 law. The rest of Alaska remains under the old law.
The change has created confusion, opponents say, particularly in cases when there is a 911 call about enforcing a protective order.
"The trooper is waiting, because he's not sure who has jurisdiction," said David Voluck, a tribal court judge for the Central Council of Tlingit and Haida Indian Tribes of Alaska. "We need to get rid of those exceptions that create confusion."
An ongoing debate
The reauthorization highlighted an ongoing debate about Native communities and tribal courts' and governments' jurisdiction, particularly in cases of policing and justice.
The reauthorization made sense, according to Alaska Attorney General Michael Geraghty, who noted that Alaska has always been treated differently because of the 1971 Alaska Native Claims Settlement Act. In exchange for 40 million acres of land and about $1 billion, he said, tribes forfeited reservations and the notion of Indian country to form Native corporations.
He said the state needs to find better ways to collaborate with institutions in small communities to provide better protection and justice but disagrees with giving pockets of tribal authority throughout Alaska.
"We do have an issue with violence and domestic violence," he said. "We have a challenge in providing safety."
But Geraghty said he has never heard of a situation when a victim was in danger because of confusion over jurisdiction.
"There's nothing in the act that expands or retracts the jurisdiction of tribal courts," he said. "If tribal courts had jurisdiction before, they do now. Troopers are not lawyers. If they are faced with a situation, they are going to protect the public. These concerns are overblown."
'A cloud over Alaska'
Lloyd Miller, an attorney who works on Indian rights and tribal jurisdiction litigation, disagrees and said things did change with the 2013 reauthorization.
"What he's saying is that an Alaska village only has the authority to issue a protective order if that man is a member of the tribe. They can't if he's from the neighboring tribe," he said. "Why would we not want to have Alaska villages have all the tools to protect women from domestic violence?"
Voluck agreed. "Does it really matter if a woman is hit in a mall somewhere or the south corner of where the tribe lives?" he said.
Opponents of the Alaska exemption recently urged a task force convened by Attorney General Eric Holder to study the effects of violence on Native American children to support the repeal of Section 910 of the law.
"VAWA creates a cloud over Alaska, and the last thing women and children need is a delay in an emergency," said Voluck. "A matter of minutes can mean life or death. It's unequal protection under the law for a very vulnerable part of the population."
Lack of law enforcement
Voluck was one of a number of experts who testified last month before the Task Force on American Indian and Alaska Native Children Exposed to Violence about the special circumstances surrounding Alaska Native domestic violence, including geography, a lack of law enforcement and difficulty for victims to travel to safety.
Experts attested to a number of facts, including that Native American and Alaska Native women are 2.5 times as likely to be raped or sexually assaulted than other American women. About 140 villages have no state law enforcement. Eighty have absolutely no law enforcement. One-third of Alaska communities do not have road access.
It's a serious issue for communities, said Valerie Davidson, a task force member who lives in Alaska. "Even if you only have 300 people, you still need law enforcement," she said.
The debate continues, this time in Congress as the Senate Indian Affairs Committee works on legislation, which includes a provision repealing Section 910 of the 2013 reauthorization. Geraghty and the governor oppose a repeal, but the U.S. attorney general's office has voiced its support.
Associate U.S. Attorney General Tony West attended the Alaska task force hearing and said arguments about the scope of authority of Alaska Native villages and tribes shouldn't get in the way of protecting Native children from harm.
"If there are steps we can take that will help move the needle in the direction for victims, we need to do it," he said. "When a tribal court issues an order, the state ought to enforce it. If not, the orders are worth nothing more than the paper they're written on."
More than just symbolic
Repealing the law won't resolve the multilayered issues of jurisdiction, but it would be a step in the right direction, West added.
"It is more than just symbolic," he said. "Repeal of Section 910 is an important step that can help protect Alaska Native victims of that violence and, significantly, the children who often witness it, and it can send a message that tribal authority and tribal sovereignty matters, that the civil protection orders tribal courts issue ought to be respected and enforced."
The Task Force on American Indian and Alaska Native Children Exposed to Violence will make a recommendation to Holder by late October.
"Alaska is frozen in time," Voluck said. "Why in the world would you hold the worst state when it comes to domestic violence in the old law? Forty-nine other states have figured out how to work with their tribal courts. Let's work together. People are getting hurt and dying. That's why I'm upset."