Editor's note: This is the first in a three-part series examining how drought affects Native Americans and their communities.
Drought maps this winter have shaded swaths of the American West in oranges and reds to signify severe, extreme and even exceptional levels of drought.
And exceptional drought gets attention, especially when it hits America's vegetable basket, California's Central Valley.
Speaker of the House John Boehner in January stood in his shirtsleeves in a dusty, bare field in Bakersfield. He supported a state bill that would quash salmon restoration in the San Joaquin River delta, joining the cry that scarce water should go to farms, not fish.
President Barack Obama, a month later, stood in his shirtsleeves in a dusty, bare field in nearby Fresno, offering $183 million in aid and announced an initiative on climate change to address larger issues affecting the three-year drought.
But living in the dry is nothing new for Native Americans in the West. Nor is being overlooked.
In wet years as well as dry, many American Indians live in chronic droughtlike conditions, thanks to decades' worth of dams that hold water back or divert it from reservations which were usually sited on already marginal land.
"We are definitely one of the overlooked groups of people in the U.S.," said Margaret Hiza Redsteer from her office in Flagstaff, Ariz. A member of the Crow Nation, Redsteer is a geologist with the U.S. Geological Survey and has been monitoring 18 consecutive years of drought conditions in the Southwest, primarily on Hopi and Navajo lands.
"The California drought is getting a lot of attention right now, and I keep thinking 'You know, we've been facing this problem for a while now' … [but] we don't supply the food to the rest of the country, so people haven't noticed," she said.
The dry side of reservoirs
Her concerns are echoed in the Great Plains — where reservoirs behind federal dams have displaced Indians — and in Northern California, where once teeming salmon streams shrink as water is diverted south.
During the last century, California constructed a massive system of dams, reservoirs, tunnels and canals to funnel water to the Central Valley, which has become an industrial agriculture wonderland. According to the USGS California Water Science Center, Central Valley agriculture is a $17 billion per year industry that supplies a quarter of America's food, including 40 percent of its fruits and nuts.
Lettuce, carrots, tomatoes and fruit take tremendous quantities of water, and the dry fields where Obama and Boehner were standing during their media events are often irrigated with water that comes from far away.
In fact, 557 miles to the north, amid the forested ridges that outline the sinuous Trinity River, Rod Mendes reflected about being on the dry side of the Central Valley Project dams.
People need to keep in mind, as [drought] legislation is drafted, that farms can be bailed out but fish populations can't.
Dave Hillemeier
fisheries manager, Yurok Tribe
"For the most part, the Hoopa Indian Reservation is kind of in a drought situation all the time anyway," said Mendes, who is writing an emergency drought plan for the tribe. "We have a lot of dams in the area. They control the flow of the river whether we're in a drought year or not. We're not getting the flows we were getting before the dams."
A half-century of lesser flows has reduced coho salmon runs to the point they are on federal and state endangered species lists. Officials with both the Hoopa and Yurok tribes say they are concerned that California's declaration of a drought emergency in January will make things worse by loosening environmental protections known as CEQA, California Environmental Quality Assurance.
"We're concerned because during the process the tribes really haven't been consulted with," said Hoopa Valley tribal chairwoman Danielle Vigil-Masten. "All this legislation that's getting put through really fast. They have legislation to increase water flows into the Shasta Reservoir. They have other bills to do with the Trinity River. We have to constantly go online and look and try to understand what the information is that we are reading. We have our attorneys on it."
"People need to keep in mind, as [emergency drought] legislation is drafted, that farms can be bailed out but fish populations can't," said Dave Hillemeier, fisheries manager for the Yurok Tribe. "Once you lose the genetics that make up your fish population, they're gone."
Salmon returning from the ocean last year faced such obstacles as low flows in the Trinity and Klamath rivers, higher water temperatures, algae blooms from agricultural runoff and even dewatering — stretches that were sucked dry by irrigation or consumption.
"Too much water has been allocated to too many people," said Konrad Fisher, executive director ofKlamath Riverkeeper. Along the Scott River, an important tributary of the Klamath, Fisher said, "an 18-mile stretch … was completely dry," because of overappropriation of water rights.
Dry stretches strand returning salmon, keeping them from reaching spawning grounds.
Talking to the elders
Pressure on Northern California water may be especially dire this year. According to the California Water Science Center, "2013 was the driest calendar year for California in 119 years of recorded history."
Foreshadowing a bone-dry 2014, snowpack in the north ranged from 22 percent to 25 percent of normal by late February. Snowpack provides about one-third of the water used by California's cities and farms, the center said.
In the Southwest, "It's a year without a winter here," Redsteer said from her USGS office in Flagstaff. She has chronicled the worsening scarcity of water by setting up her own weather stations and interviewing up to 100 tribal elders about changes they observed during their lifetimes, which included winters without snow, summers without monsoons and vanishing streams, plants and animals.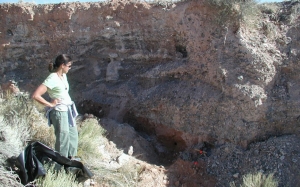 Streams on the Navajo reservation have dried up one after another. Without moisture in the ground, perennial grasses don't grow. Without grass cover, sand dunes begin to migrate and advance on dwellings, roads and grazing land. Dry riverbeds release fine sediment to the winds, and the airborne dust settles on the snowpack of the southern Rockies. Dust absorbs more heat from the sun and melts the snow more quickly.
Is it climate change? "That's the $10 million question, and frankly it's a question I don't think you'll ever be able to answer. It'd be like trying to claim which cigarette gave the person lung cancer," Redsteer said.
What can be said, she added, is that drought conditions are intensified by warmer temperatures. Plants don't remain dormant in winter anymore. They germinate and use up scant moisture. Higher temperatures increase aridity, which steals water from plants through evapotranspiration.
Use it or lose it
But haven't indigenous cultures in the Southwest long adapted to arid climates?
"First of all, the traditional way of adapting to dry seasons was to move," Redsteer said. These days, "If you have a reservation, and the reservation is established where there are the most limited water resources in the region, the odds of you being able to make it through dry seasons are stacked against you."
Indeed, she said, census data shows the reservation population in decline even as there are more Navajo. "There is a notable emigration from the reservation and mostly it's young people who are leaving because they can get jobs in cities," she said. This is due in part from the limited, land-based economies on the reservation.
"There's not a lot of alternatives out there," Redsteer said.
When it comes to drought planning, she praised the Navajo and Hopi tribes but added, "What is it that we do after the first 10 years?" Redsteer asked. "People on the reservation use one-tenth of the water that people in Phoenix use every day. How do you conserve when you are already using so little? They don't have lawns, they don't wash their cars on a regular basis. It's hard to say, 'Well, we really need to conserve now,'" she said with a laugh.
And Phoenix, a desert city that glimmers with emerald golf courses and backyard swimming pools when seen from the air, highlights the archaic nature of water laws.
"One of the real ironies is that western water law is 'use it or lose it'. Phoenix … to keep its Colorado River allocation, has to use that allocation or it will lose its rights to it. So in some ways there's a disincentive to conserve," Redsteer said.
The aftershocks of dam building resonate throughout Indian Country, even on the Great Plains.
"It is no coincidence that the major dams on the Missouri are on Indian reservations," added Gary Collins. Collins is a member of the Northern Arapaho Tribe who has spent much of his career in natural resource and water issues.
"Actually, the tribes on the Missouri didn't get the dams, they got the reservoirs," said Bob Gough, secretary of the Intertribal Council on Utility Policy, based in Rosebud, S.D. "When the dams were built for flood control, it actually means the tribes were permanently flooded and someone else is in control. That's what 'flood control' means if you are an Indian."
An ugly history
Collins and Gough recently attended a drought-planning conference in Nebraska sponsored by the National Integrated Drought Information System.
Collaboration among tribes and federal and state agencies is welcome but is fraught with ugly history such as Indians being flooded out by dams. "It was forced displacement, and that provides the mistrust tribes have with the government," Collins said.
Some tribes, such as those on Wyoming's Wind River Reservation, have fought for more control by having their water rights adjudicated — which clarifies how much water a user has a right to use and who has priority during times of scarcity.
"It was 37 years in the courts," Collins said. "We are constantly having pushback from non-Indian society wanting more of the tribes' assets."
Tribes are first affected and most affected. They are the ones on the ground who sustain themselves with subsistence hunting and fishing and gardening.
Gary Collins
Northern Arapaho tribe
With drought, Collins said, "Tribes are first affected and most affected. They are the ones on the ground who sustain themselves with subsistence hunting and fishing and gardening."
Gough is among the lead authors of a chapter on the effects of climate change on indigenous people — the first time they have their own chapter — in the forthcoming third edition of the National Climate Assessment.
Among the observations: "A significant decrease in water quality and quantity caused by a variety of factors, including climate change, is affecting Native Americans' and Alaska Natives' drinking water supplies, food, cultures, ceremonies and traditional ways of life. Native communities' vulnerabilities and lack of capacity to adapt to climate change are exacerbated by land-use policies, political marginalization, legal issues associated with tribal water rights and poor socioeconomic conditions."
It often comes down to poverty, Gough said. "When you get to Indian Country, you see that these reservations have already been beset upon with with all sorts of vulnerabilities."
Poverty often means that even if tribes have senior water rights, "they don't have a lot of money for infrastructure to actually get the benefits of those water rights," Redsteer said. It's not uncommon for tribes to bargain away some of their rights to have water returned via someone else's pipes.
"It doesn't do any good to have water rights on paper," she said.
Meanwhile, as they prepared for the predicted dry summer, people enjoyed the few days of late-winter rain that spattered Northern California.
"I love the rain. I went out and took a walk in the rain," Yurok chairman O'Rourke said.
"I love the smell of rain," Hoopa chairwoman Vigil-Masten said. "It seems that when it rains, we are all happy, really. Because you can see the water in the river start to increase."