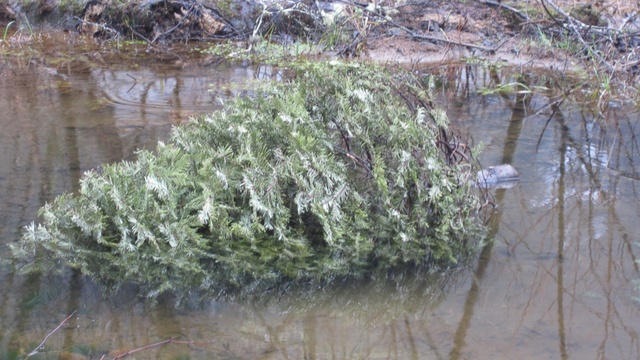 Cassandra Profita, Earth Fix
Before you kick your dying Christmas tree to the curb, consider this: Members of the conservation group Trout Unlimited would love to turn that tree into fish habitat.
On three Saturdays in January, the Tualatin Valley chapter of Trout Unlimited will be collecting Christmas tree donations at two locations in the Portland metropolitan area. Later, they'll place the trees into a side channel of the Necanicum River near Seaside, where they will provide predator protection and food sources for baby coho salmon.
The group is entering the third year of a program called Christmas for Coho. It's is one of many groups across the country turning old Christmas trees into fish habitat. Similar projects have taken place in California, Missouri, Ohio and Louisiana.
Tualatin Valley Trout Unlimited board member Mike Gentry helped place Christmas trees into a coastal stream the first year of Christmas for Coho – back in 2012. He said he saw baby coho swimming to the site as soon as the trees hit the water.
"Even while we were still working in there placing the trees, we could see many little bitty fish gathering around us and coming in under the trees," he said. "We weren't even done with the project."
Once submerged in water, Christmas trees provide places for microorganisms to grow and attract other critters that baby salmon can eat before they head out to sea.
"They're like magnets for fish," said wetlands restoration consultant Doug Ray of Carex Consulting, who is also a member of the Tualatin Valley chapter of Trout Unlimited. "The fish will stay under the cover of the branches during the day and come out at night to feed."
The Pacific Northwest could be using recycled Christmas trees all over the place to help salmon, Ray said. Within days of putting the trees under water, a brown algae starts growing on the needles. Other critters flock to the branches to eat the algae, and a new food web is born.
"They're covered within a couple of weeks," said Ray. "It's like a Chia pet. Just add water."
Ray and Gentry are hoping that the Christmas for Coho program will encourage more people to start turning Christmas trees into salmon habitat.
"If everyone in Oregon took their Christmas trees and put them into a stream instead of chipping them into mulch, it would be a really valuable gift to salmon," said Ray.
The Tualatin Valley chapter of Trout Unlimited will be collecting trees on Jan. 4, 11 and 18th from 9 am to 4 pm at two locations: Royal Treatment Fly Shop, 21570 Willamette Dr., in West Linn; and Northwest Fly Fishing Outfitters, 10910 NE Halsey, in Portland.