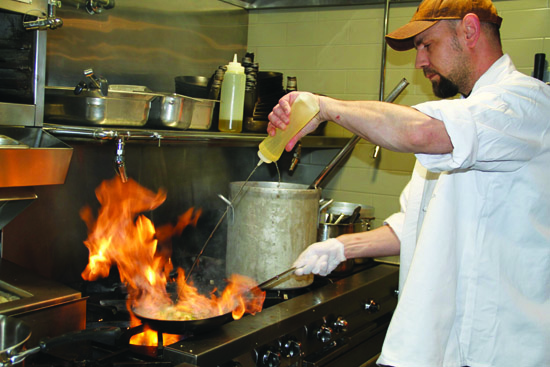 By Kalvin Valdillez, Tulalip News
A few short years ago, the Tulalip Resort Casino (TRC) released a number of renovation plans to update the venues, restaurants, resort rooms and gift shops to a more modern design. Since then, Club Impulse has been replaced by the Draft Sports Bar and Grill, a consolidation of two gift shops led to the opening of Journey's East, and the relocation of the poker room provided the space for the popular pizza joint, Blazing Paddles. The resort rooms have received makeovers featuring beautiful Tulalip artwork in each room, and a new lounge welcomes resort guests as they arrive from a long day of travel. TRC's latest endeavor, however, might be its biggest change yet, transforming their highly-popular and extravagant fine-dining restaurant, Tulalip Bay, into an urban eatery that welcomes gamblers, nightlifers, wine connoisseurs and families alike, named Tula Bene Pastaria + Chophouse. 
"It's a livelier space," expressed Tula Bene Chef and GM, Jeremy Taisey. "Formally it was fine-dining, very intimate and quiet. We tried to create a more fun atmosphere where you can come in, sit down with friends, have some wine, have some great food and relax and enjoy company. And we strive to make the food a part of that conversation. It's a lot more open but it still has a certain intimacy at the same time. And the way we approach the food in the kitchen is to bring it back to the basics, get rid of all the fancy stuff and keep it clean and simple. The atmosphere is casual and fun, the food is presented nice, we have a lot of great wines and the pricing is affordable for our guests. We want to give the guests fine dining without them realizing it's fine dining."
With delicious dishes including a variety of steaks, chops, burgers and pastas, the restaurant's new menu is sure to have something for everyone in your party. A number of meals and drinks are made tableside, adding to the fun experience. 
"Tulalip Bay had a fine-dining theme and even though I want the food to be just as good, I want Tula Bene to be more of a fun restaurant, something that's more approachable and that people will leave saying, we had a good time," expresses Tulalip Resort Casino Executive Chef, Perry Mascitti.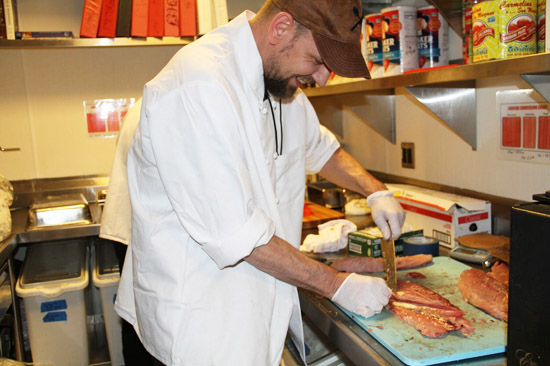 The Tula Bene menu was created by a team that included Chef Perry, Chef Jeremy, TRC Sommelier Tommy Thompson and TRC Food and Beverage Director Lisa Severn. Once an idea for a dish was agreed upon, Chef Jeremy took to the kitchen to create the recipe from scratch, using only fresh ingredients and local meat for the dishes.
"It's focused on Italian cuisine, everything is made fresh to order," Chef Jeremy expresses. "Some of our signature items would be our lobster ravioli, which is very unique in that there's a lot of lobster that actually goes into it. We bring in seventy live lobsters a week for the restaurant. We have a real commitment to freshness. Our steaks are all hand-cut here in the kitchen, we have custom dry-aged steak, we have wagyu steaks.  Our beet salad is fantastic, it has a great balance of roasted beets and all these different flavors and has a really nice presentation. For our salmon carpaccio we cure our salmon in-house. We bring in all of our fish whole, nothing is pre-fileted, we break everything down here. Again, it's just that commitment to quality and freshness.
"We used to be fine-dining and at the heart all of these guys are fine-dine cooks and chefs, so to go causal was a bit of a challenge," he continues. "Our mantra is, we don't do easy, we make easy happen through hard work and learning. When a guest comes into the restaurant and orders, it may appear simple or something easy to cook, but really these guys do about four to five hours of prep every day before we open. For an example, all of our peas are fava beans. We bring them in whole and shell them by hand, it takes hours and hours of work. It's easy to buy a bag of frozen peas, but we're very committed to quality and freshness and letting the flavors shine through."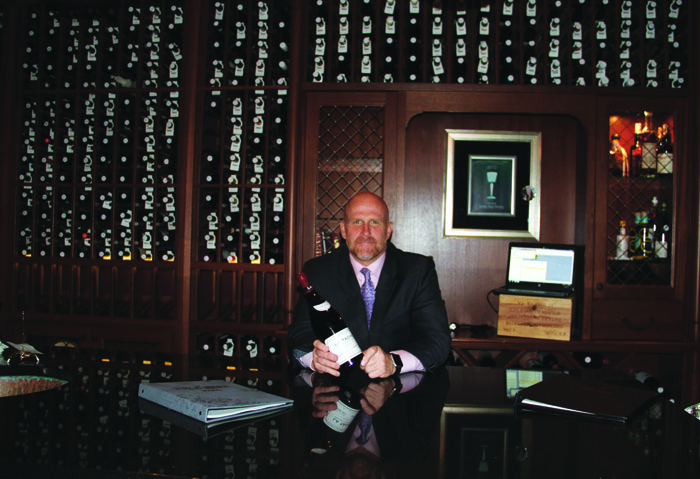 Sommelier, Tommy Thompson spoke of the many wines offered at Tula Bene. With two wine cellars, the restaurant certainly has wide variety of red and whites for their guests.
"We're wine-centric," says Tommy. "We have a pretty cool selection of wine for people looking for an experience. We have the Italian wines, thirteen of those, and thirteen international wines as well. We have keg wines with Italian and Washington fruit. You're not paying for the fluff, the bottle, the cork, the wrap, but you're getting high-end fruit. There's a stigma about wine, that it's pinky out and high-end only, and we're here to challenge that and say just relax and enjoy a damn good glass of juice with Washington fruit for around eight-dollars a glass."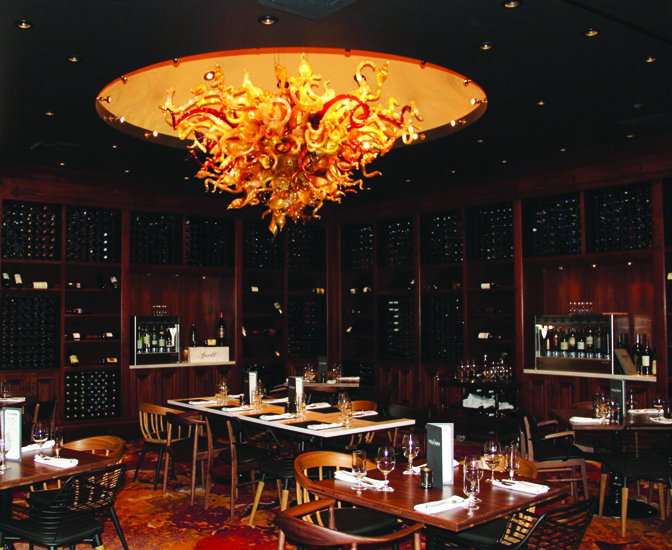 Tula Bene features a full bar located near the gaming floor, separating the machines and the restaurant. The famous Chihuly glass chandelier that hung at the heart of Tulalip Bay is still in place, highlighting the stylish new floor plan. Tommy also paired a few of his favorite wines with a couple new Tula Bene menu items to suggest to the guests upon their first visit to the restaurant.
"Chef Jeremy and his team put together an excellent menu and did a fantastic job," he states. "One of the most simple foods is the French fry and they took it and put out the best parmesan fries, it's ridiculous, they're addicting. My favorite wine to go with that would be a killer prosecco. Fries and bubbles are perfect together. I'm also currently geeking out on a wine called Domain Mercouri. It's a white wine from Greece and it's grown in volcanic soils, so it gets ripe but retains really good acidity, that goes great with the pancetta wrapped halibut."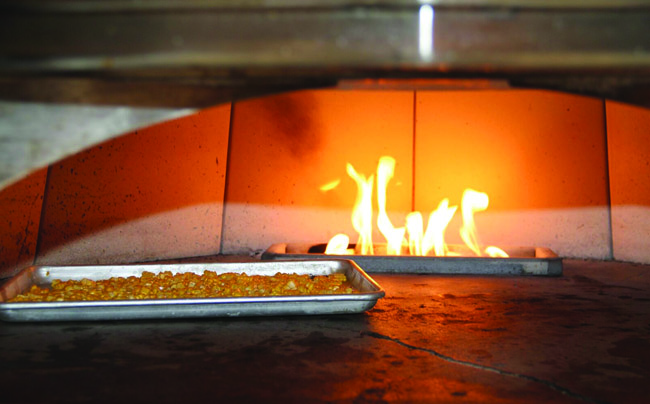 Since Tula Bene's recent opening on June 14, the restaurant has received several great reviews. Chef Jeremy, Chef Perry and Tommy all expressed the joy they feel when seeing a family have a great time while at the restaurant.
"The main course I want to serve here is fun and a fun experience, the sharing experience," says Chef Perry. "To see our guests come in for great food and leave with great memories, I think that's what's most important. It's always nice when people say, we had great food in your restaurant, but it's always that much better when we get a guest who leaves saying they had a great experience."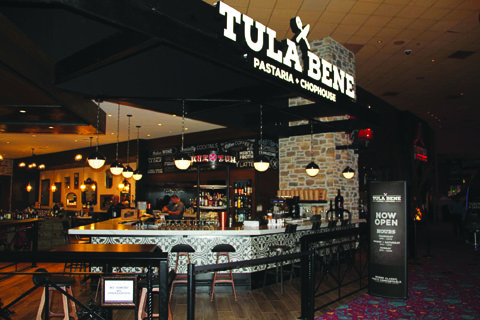 For further details and to view the Tula Bene Pastaria + Chophouse menu, please visit www.TulalipResortCasino.com